I use Twitter a lot and sometimes the responses I get lead to that Twitter user reaching out to DM me. But I'm sure some are fake! How can I tell which Twitter users are legit and which are scammers or bogus?
If someone's actively using Twitter, they're already a bit suspect. No, just kidding, I'm a big fan of Twitter and have used it since the beginning! Heck, I even wrote a book about Twitter called Twitter Power (along with my friend Joel Comm). Anyway, it's definitely changed over the years from being a humble, quiet little place where you could group chat with dozens of friends to a massive powerhouse that the President of the United States uses as a primary communications channel and spies use to manipulate foreign nationals. Along the way, it's also lured in thousands of scammers, spammers, hustlers, criminals and worse.
Heck, now we have to worry about 'bots, fake accounts that aren't even associated with a human being but instead are focused on disseminating inaccurate information to manipulate people. How do you spot those??
First off, know that Twitter is focused on shutting down overtly bogus accounts and analyzes accounts on a daily basis. Follow the news and stories like this one from NPR about Twitter closing thousands of manipulative accounts is pretty commonplace. But it's still a smart Twitter user who learns some basics of evaluating accounts to see if they're legit.
Let's start with my own – @DaveTaylor – to demonstrate some of the concepts. Here's my profile: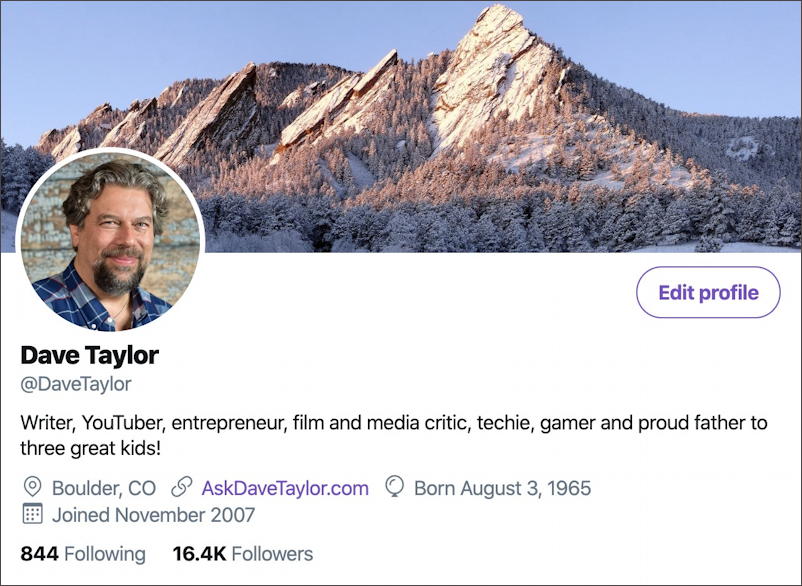 At a glance you can ascertain a couple of things that suggest it's legit: There's a profile photo and there's an account photo too. As we'll see momentarily, lots of scam accounts don't ever bother to upload a profile pic! Also look at the additional profile info shown: location, linked web site and birthday. If there's no profile info, it's more possible that it's a fake account.
Look at that joined date too: November, 2007. I told ya I'd been on for a while! If you see that the account joined days or weeks earlier, well, it might be a post and go account used for a specific disinformation or scam campaign.
More subtly, there's also a really important ratio you can calculate of following : followers. This is probably the easiest way to quickly ascertain the legitimacy of an account or Twitter user. Anyone with something interesting to say is going to have a ratio like mine: small number:big number.
For example, find a Tweet from The White House @WhiteHouse and tap on it or let the cursor hover over the account ID. You'll see some basic stats: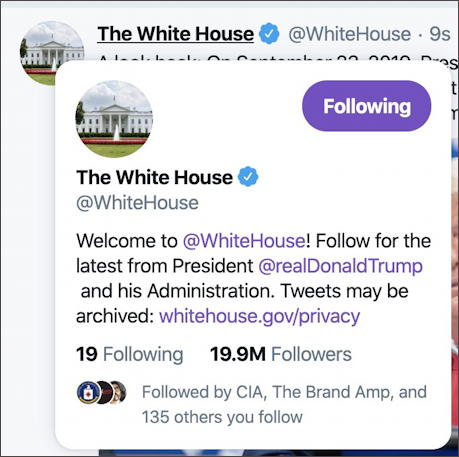 This is a huge following : follower ratio, as you would expect from the real account. 19.9million!
Amusingly, one of the 19 accounts that WhiteHouse follows is Norad Tracks Santa. Now you know.
Compare those numbers to the following account:
Following 12 people, zero followers, no profile photo, an account ID that only a computer program could love. This is undoubtedly a 'bot or other bogus account.
Sometimes it's a slightly gray area too: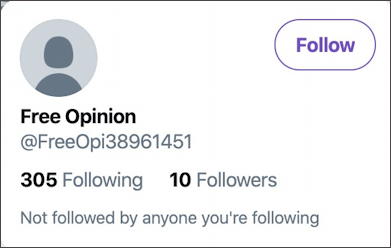 Just about everything is equally questionable, but they have 10 followers. Except that can be other 'bots following each other to get rid of that 'zero' flag for users (and programs). Key is that ratio: 305:10 is far off from little:big as discussed earlier.
So what about this one?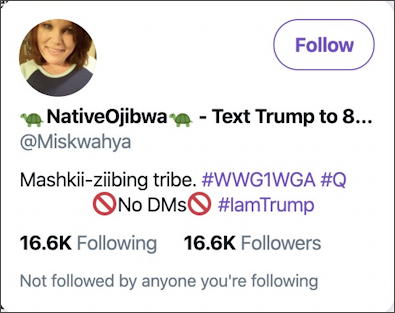 This might be legit; they do have a profile photo and they've taken the time to add at least a snippet of bio information. But that ratio again: 16.6K : 16.6K. This is likely someone using what's known as a followbot, a program that follows tons of people on your behalf, gives them a few days to follow back, then jettisons those who don't reciprocate. Eventually, Miskwahya might well stop following the people who followed her back too, giving her that desirable small:big ratio. (that's why it's not a foolproof way to know an account is legit)
Note that these manipulation utilities are a violation of Twitter's terms of service, so please don't be tempted to use followbots, unfollow non-reciprocating accounts automatically, etc. Just post good stuff.
Another way you can assess a Twitter account is illustrated by my friend Heidi's account profile info:
Her following : follower ratio is pretty close to 1:1 but look at the join date and, on the very top, the number of tweets. Impressive: 59,800+ tweets in 11 years. That's an active account over the long term and she's definitely not a scammer or 'bot.
If she was, you could also click or tap on the "•••" button and get this menu: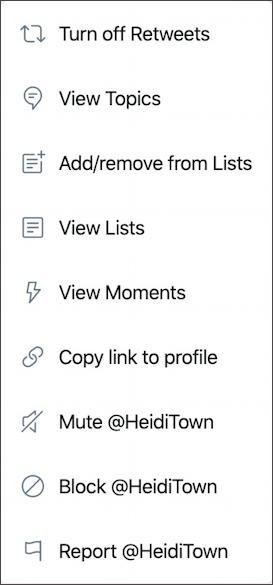 Lots of control over her interaction with you! You can mute her, block her, report her to Twitter security, even disable retweets. Not so critical with Heidi, but with those clearly bogus Twitter accounts? If they've been responding to every one of your posts, being able to mute or block them might be a blessing.
Anyway, that gets you the basics of how to look at a Twitter account and ascertain if it's legit or likely bogus or a 'bot. Be skeptical and be careful out there!
Pro Tip: I've been writing about Twitter since I first logged in. Please check out my extensive list of Twitter help pages for lots more info, and do follow @DaveTaylor when you're next on Twitter too. Thanks!