When I look for books and other products on Amazon.com, I often see used copies listed. Where do those listings come from? Can I sell my own used books through Amazon and show up as an option for buyers?
Anyone who can set up an Amazon Seller account is eligible to sell products through the Amazon system. That's true if you want to list a half-dozen items every few months or thousands of products across a wide range of products. In fact, Amazon used to have an auction service that competed directly with eBay but that's been gone for rather a while. Instead, Amazon just realized that blending new & used made a better shopping experience, allowing those who really wanted shiny, pristine, perfect versions to pay a premium for the new item, and those that sought a bargain to acquire used from a third party instead. Certainly I buy a LOT of used books through Amazon rather than paying the premium for a new copy.
Indeed, as it turns out, I've been reading up on the Windscale nuclear disaster that happened in the late 1950's in England and bought myself a used copy of the book Windscale: A Summary of the Evidence and Argument off Amazon, thinking it would be a great starting point in my research. Once done, however, I really didn't need to keep it so I figured why not just sell it to someone else through Amazon? Since it's long out of print, the pricing for this particular slim volume is pretty impressive:
Notice that Amazon has nothing in the warehouse so it's just listings from used sellers and the least expensive is $84.88 plus $3.99 shipping!
To sell on Amazon, you need an Amazon Seller account which you set up at Seller Central. That can be found at sellercentral.amazon.com:
There two different types of Seller accounts from which you can choose: If you're going to sell a lot of products, the  Professional plan costs $39.99/mo as a flat rate, plus various per-item selling fees. Not going to be pushing a lot of goods? Then the Individual plan is going to be a better choice with no monthly fee and a base $0.99/item charge plus various per-item selling fees. This math is easy: If you're selling 40 or more products each month, the Professional plan is going to save you money. 🙂
I'm an Individual seller because I list something once in a blue moon, approximately, so paying $39.99/mo would definitely be a losing proposition for a casual seller like me. You'll likely be in the same boat (and you can upgrade if you really get into it and find it a great source of revenue!)
Sign up, get approved (which can take a few days or longer), and now, finally, you'll be able to sell your books and other products on Amazon.
Let's go back to the book listing on Amazon to see how it's done:
Check out the lower right corner of the above image. Do you see it? "Have one to sell? [Sell on Amazon]". Yes, every page makes it super easy to add your product, if you have eagle eyes!
Once I click on that, I go straight to a product listing page with information like the book ISBN already filled out and much of the critical information already populated. It's really easy: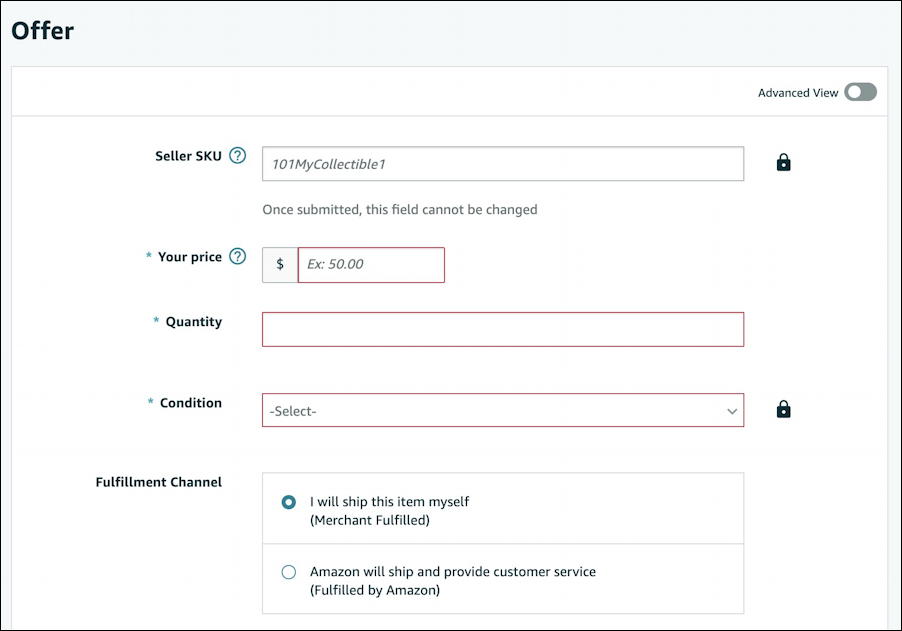 It's a bit confusing if you're not retail minded, but a SKU is a stock keeping unit and it's basically a unique descriptor or identifier for each and every product you offer. In a supermarket it'll be a UPC label which is then also used to create the bar code for scanners. With books it's an ISBN number. Companies always have unique SKUs for their products, hence your TV isn't a "55 inch HD TV" it's a "M55U11-R6" or similar. I make up my own SKU for products that's usually just the book name. Easy.
The most important item here is the price. I encourage you to price your product just a bit below what everyone else seeks so you can gain a quick (or quicker) sale. In my case, $80 and above is rather ridiculous for this book, so I'm going to price it quite a bit lower, but still enough to make a nice few dollars if/when it does sell. Quantity's easy.
But condition. This is really critical because you don't want to disappoint the buyer. For collectors especially, condition is really important. Here are all the choices Amazon offers:
Again, I encourage you to be honest with your grading; if it's in mediocre condition then just say it's Used – Good or, if the cover's a bit banged up and someone highlighted the daylights out of it while in school, maybe Used – Acceptable is appropriate. I'm lucky, the book I have is really in pristine condition, perfect cover, no splitting on the spine, basically looks like it was just pulled off the shelf unread, so I'm going with "Collectible – Like New".
The final question you'll have to address is how much hassle you want to go through to ship the product once sold and what options you want to offer the buyer for speed/price:
There is the Fulfillment by Amazon option which involves you sending your product to their warehouse and them shipping it, but that can be pretty expensive and I'd tread carefully before choosing it. Instead, you are most likely going to be looking at the range shown above. Notice it's a shipping credit once the sale is complete, so it's still up to you to package and pay for shipping. Books can go media rate (and you really DO want to specify that option at the post office) but I generally assume I'm going to lose a few dollars on shipping because somehow when I get to the Post Office, UPS or FedEx, it ends up costing more than Amazon anticipates. Tough luck, you as the seller just eat that loss, so compensate by adding a few dollars to your original listing price.
In the above "Intl" is international and keep in mind if you opt to allow international shipping you might be on the hook for customs forms and other paperwork too. Is that worth expanding the potential buyer pool? In my case, yes, because Windscale is really unknown outside of the UK so I expect my buyer will be from England or Wales. Someday.
And that's it. Push the Submit button once you have it all filled out as desired:
Now I suggest that you sit back and relax. It'll take a few minutes for your listing to show up on the main Amazon page. In fact, I have found it takes 30-60 minutes, so I'm guessing there's an approval process involved, though that might be for Individual sellers only. Finally, I show up on the page as one of the used options for this particular book:
You can see that unlike the other sellers, I have included a photo, it's listed as condition "Collectible – Like New" and it's a lot less expensive than the other options. If someone wants this book, I'm the clear choice! Then again, who knows, it might be years until someone comes along with an interest in purchasing this title 🙂
Anyway, that's the process. There's no fee involved if your used listing stays up for months or even years, so it's easy to list dozens of books and "let it ride" until you make some sales. Have fun, be honest, and good luck to you!
Pro Tip: I've been writing about eBay, selling on Amazon and other online shopping topics for quite a while. Please check out my Selling on Amazon help area for lots more useful tutorials!