I'm bored with my Start Menu in Windows 10. I'm glad I don't have to use a Start Page, but the big, boxy menu hasn't changed in a really long time. When will Microsoft update its appearance?
I understand your boredom and Start Menu Fatigue (is that a thing? It should be) after all these years of exactly the same "active tiles" appearance for that menu you use every few minutes on your PC. The great news is that the timing of your question is splendid: It turns out that an upcoming Windows update actually has some changes and improvements to the utilitarian Start Menu in windows 10.
In fact, it's known as the October 2020 Update even though it's almost the end of October and it hasn't officially rolled out for everyone yet. I think Microsoft might be a bit shy with this update because of the kerfuffle they got into with the previous system wide update that added some Microsoft Office apps to your PC without permission or notification. Or they're just fine tuning the update. Either way, the good news is that if you go to Check for Updates, you'll find it listed as an optional download. I'll show you…
But first, the Start Menu, pre-update:
Notice how many of the tiles are an inappropriate color for an "automatically match wallpaper colors" theme and especially how the icons associated with each program on the left column's "all apps" view are each stuck within a square background. Rather clumsy, if you ask me. But the update will fix those things!
Launch the Check For Updates Control Panel. Hopefully you're up to date with the key security patches: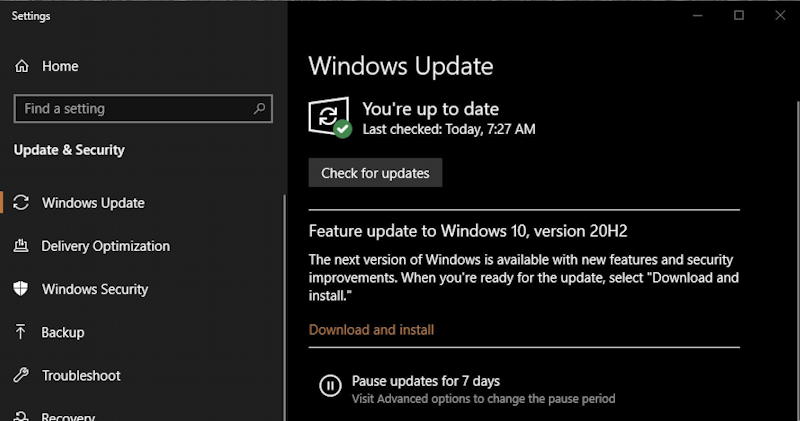 This can be a bit confusing if you're not a hardcore Windows person: It's showing that the computer is up to date and that there's an update. Huh? That's because feature updates (as opposed to security updates) are not automatically installed. This release – Windows 10, version 20H2 – is worth the update, however.
To do that, click on "Download and install" just under the informational paragraph about the 20H2 release.
It'll start downloading…

The process is download > install > restart, so after a period of time (and it can take a while!) you'll be prompted to restart to properly install all elements of this Windows update: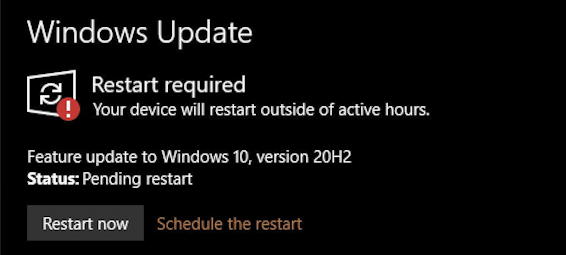 Close out all your other apps, documents, files, anything else you're working on before you proceed, then come back to this window and click on "Restart now" to have all the magic happen!
Once it's done a full restart, which might be a few seconds or a few minutes depending on your system and whether you were up-to-date with Windows 10 beforehand, you'll find that everything basically looks the same.
Except the Start Menu. It has indeed been updated:
Look closely and you'll see that the active tiles are now properly picking up the color scheme (no blue tiles!) and that the clumsy square background behind the icons on the all apps listing are gone. It's not a big update, I admit, but I do think it looks sharp and is a meaningful and attractive improvement. What do you think?
Pro Tip: I've been writing about Microsoft Windows since way before Windows 95. Please check out my quite extensive Windows 10 help library for hundreds of useful tutorials and how-to guides. Thanks!