My friends and I use Venmo all the time and it's good fun, sending a few bucks to pay for a beer, getting the reward from winning a bet, etc. Last night my buddy showed me that he has a scan code to make it easy for others to pay him. So cool. How do I get one on Venmo?
Most people don't realize that the popular person-to-person payment system Venmo is actually a part of PayPal. That means it's solid, reliable, and really well designed to make it fun and easy to work with. My family and I use Venmo all the time too, actually. Heck, my daughter just paid me back for buying Animal Crossing: New Horizons for her Nintendo Switch last night via Venmo. Generally you search for your friends by email address or phone number, but you can also just use their names. Still, that can be a bit risky because money is transferred immediately, so if you get the wrong Jane Smith, well, you might even be out of luck. Not so good.
As with many other services, however, it turns out that Venmo has what's known in the biz as a quick response or "QR" code you can generate, save, share with friends, print on your business card, plaster on a billboard, whatever inspires you! Okay, maybe not a billboard. Still, if people want to send you money…
The easiest way to get your Venmo scan code is from within the Mobile app. Launch Venmo and this is what you'll see:
People paying each other, a shortcut to some shopping sites, and a toolbar of options along the top. What you want to do is tap on the so-called "hamburger menu" (the three horizontal lines) on the top left. This reveals a menu of different options and settings: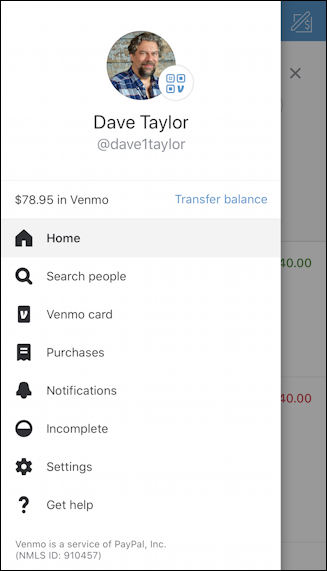 Before you look too closely at the menu items, however, it turns out that none of them are what you want to choose!
Instead look closely at your profile pic. That superimposed graphic is the shortcut to the QR scan code for Venmo. Tap on it and you'll see…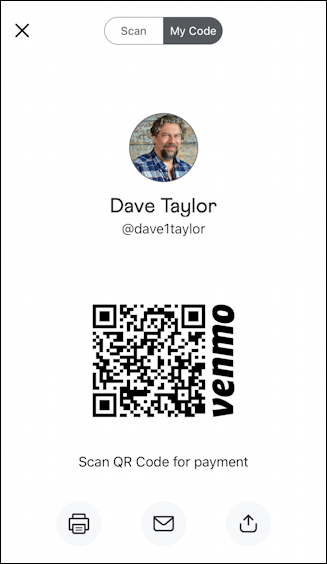 So there's the code. Scan it, you can send me money. Thanks! 🙂
More seriously, though, if you want to share it, easiest way is save the image itself by using the "share" button. That's the tiny upwards arrow on the lower right. Tap on it and you can easily share with friends, post on Facebook, etc, or choose "Save Image" to save the QR code itself.
You can scan someone else's QR code from within the Venmo app too by tapping on "Scan" along the top. It then requests access to your camera: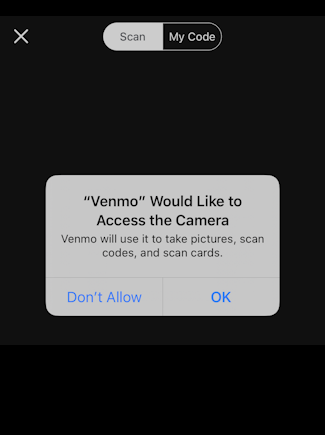 Turns out that if you have an iPhone, however, the regular camera knows what to do too because it automatically looks at its image screen for any QR Code. Once you have the right person on screen, it's a few extra taps to pay them money. Or to have them pay you money, as the case may be. And… done.
Pro Tip: I've been writing about online payments, shopping and online systems for many years. Please check out my online shopping help area for content on Paypal, Venmo, and related too!