Borrowed my Dad's Jaguar F-Pace and it was delightful. So much nicer than my Forester! Before I return it I want to unpair and delete my phone from his Bluetooth phone list, however, and cannot figure it out! Help!!
I've written about the process of pairing and unpairing smartphones from quite a few different types of vehicles, and you're right, the Jaguar is in a class all its own with how complex the task proves to be. Perhaps the developers of the infotainment system forgot about the feature until just before they were going to release the firmware, then added it at the last minute? Nah, probably not, but it's surprising just how many steps are required when most cars let you go from home screen to deleted phone in 3-4 taps.
Having said that, I will also agree with you that the Jaguar has come a long way from the iconic 60s sportscar and is now a plush luxury vehicle with just about every amenity, feature, and safety tech you can imagine! The cost of all these features is complexity, and that's what we're really bumping into with the Bluetooth device deletion task. In a similar way, I never did figure out how to change the main gauge display on the 2022 Jaguar F-Pace I drove for a week. Anyway, suffice to say, it sounds like you quite enjoyed the chance to drive that Jag while your Subaru Forester was unavailable. So let's figure this out…
FIND SETTINGS MENU ON A JAGUAR
The main problem is that when you tap on the "Home" button on the Jaguar, it takes you to a screen split into three panes, none of which are settings. Okay, but the Settings button that should show up on the lower right is also missing. Instead, go to the home screen for your Apple CarPlay or Android Auto. Here's my iPhone's display on the Jag screen:
What you need to tap on is the gear icon on the lower right corner of the screen. I expect most users are focused on the left side since it offers handy shortcuts for key features and areas of the infotainment system, but it's that gear that takes us to the right place. Tap on it.
This offers up a view of the "Quick" shortcuts for the most useful changes to the system, including screen brightness and day/night theme. Still not in the right place though. Tap on "ALL" along the bottom row.
Now we're in the right place, the topmost level of the entire Jaguar Settings area.
GETTING TO BLUETOOTH SETTINGS
Tap on "Connectivity" to get to the Bluetooth and device settings: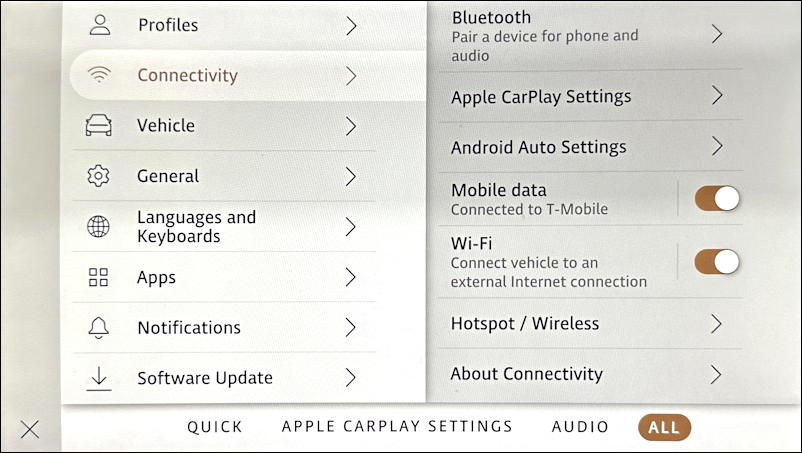 Lots of interesting options and choices, including the ability for the car to use or ignore hotspots (or create one of its own, if you subscribe to that service). But we're still not in the right place. Tap on "Bluetooth".
Ah, finally, a list of devices that are known by the vehicle for Bluetooth connection. Want to add a new phone? Tap on "Pair new device" at the top of this screen. The black CarPlay icon shows which phone is in use currently, and it's my iPhone 14 Pro, called "iDave 14 Pro".
To proceed, tap on your smartphone name from the list.
Oops. And how sophisticated too; "Bluetooth settings are not available whilst Apple CarPlay is active." What other car uses "whilst" in an error message?
Fortunately, remedying the problem is easy. On your phone, turn off Bluetooth. It'll immediately drop the CarPlay connection (which requires both Bluetooth and Wireless) and this error will vanish. Instead, you'll see this:
More options, but where's that delete button?
DELETING A PAIRED PHONE FROM A JAGUAR
Almost there. Tap on the "v" icon to scroll downward on the settings list. At the bottom, finally, is what we seek:
After all that work, it's surprising that tapping on "Forget device" doesn't bring up a confirmation window or anything. It just does the task and drops you back to the list of known Bluetooth devices, sans your phone:
Mission accomplished. But it's sure a lot of taps to get there, so it's no wonder people get a bit confused trying to delete their smartphone from a modern Jaguar infotainment system!
Pro Tip: I've been writing about basic computing, including automotive systems, for many years. Please check out both my auto tech help and computer basics tutorials to see what other helpful articles I've written!