The wildly popular Google Chrome web browser has always had a limited ability to tweak colors and themes (typically with downloads), but with the release of version 113, it's now front and center. Here's how to customize your own Chrome to make it exactly what you enjoy…
There's no question that Chrome is one of the most successful software projects from Google, along with Android and Google Docs. It's the most popular Web browser across the Internet, including both mobile and desktop systems, Mac, PC, even Linux. Well, maybe Firefox wins the Linux space as the default browser, but even Microsoft Edge that's the default browser on Windows is based on Google Chrome too, so we should probably count it as part of the user base.
But while Google has a hit with its Chrome browser, the user interface itself has always been a bit wanting. To add some color we were stuck downloading extensions or themes or just living with the industrial grey. it's no wonder some Mac users preferred the metallic finish of Safari. That era is no more, however, because with the release of the latest version of Google Chrome – v113 – customizing your browser experience is front and center on every blank window. Let's have a look!
RUNNING THE LATEST VERSION OF CHROME?
The easiest way to check your Chrome version number is to click on the "•••" button on the top right, then choose Help > About Google Chrome. It will show you the current version number and check to see if there's a later version available, all at the same spot:
You can see that I'm currently running Version 113.0.5672.126 (Official Build) (arm64). You can ignore everything but the first number when you're checking version, and by the time you read this, who knows, it might be Version 117 or even Version 132!
Open up a new, empty tab or window in Chrome and you should see something vaguely like the below:
Can you see the button on the lower right? It's a pencil icon and the words "Customize Chrome". Oh, and the two-tone blue color scheme is something I have already customized using the tool, if you're wondering. We'll get there!
BASIC CHROME CUSTOMIZATION
Once you click on the "Customize Chrome" button, it'll slide open a window on the right side, a new and much more user friendly approach to interacting with the internals than the usual settings and preferences full screen window: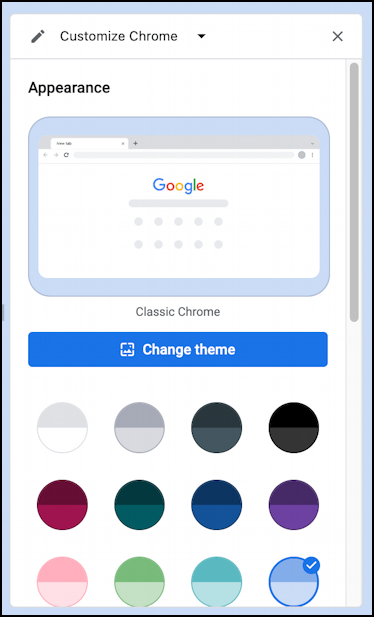 For this it's showing "Classic Chrome" (grey and white) but notice the two-tone color circles and how the dual light blue has a corresponding checkmark. Click on one of these and you'll instantly see the change in your whole browser. Nice!
Scroll down to the bottom, however, to check out some of the other options associated with the new customize theme actions: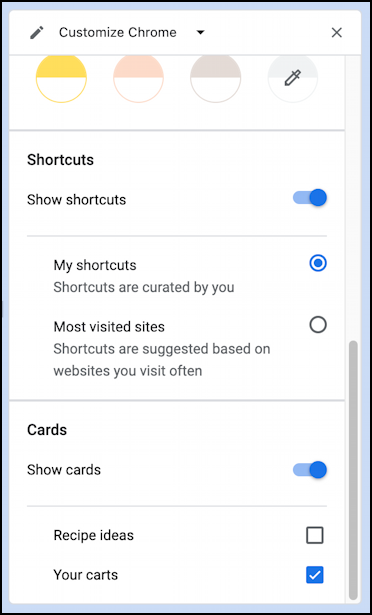 Personally, not much interested in recipes, so I unchecked that, but otherwise, I enable most everything. It's so easy to change these settings, why not?
"CHANGE THEME" FOR GOOGLE CHROME
Where it's more interesting is if you scroll back to the top and click on "Change theme", so do that. You'll find that there are hundreds of wallpapers now accessible, all organized thematically (which makes sense, right?):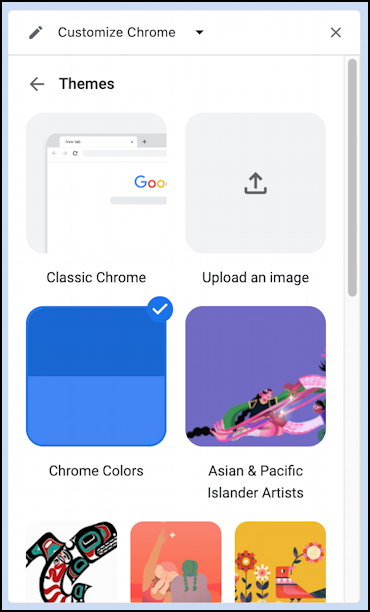 Note that you can upload your own image if you have a perfect photo of your baby or your new puppy (or a favorite spot like your alma mater), but it's the other themes that are where the fun resides! Scroll down a bit and you'll see the major thematic categories: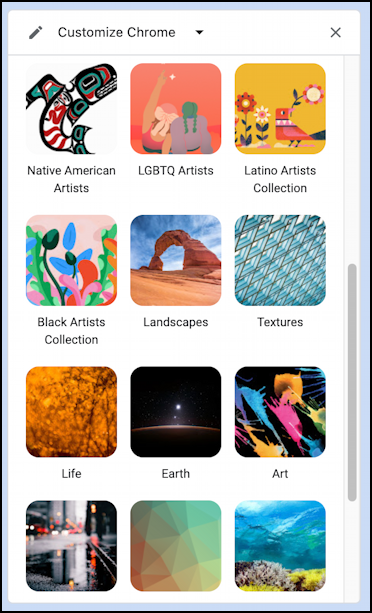 Like the galleries of an art museum, you can pick or ignore whatever categories you like. I've always been intrigued by space imagery, so I'll choose "Earth" from the third row…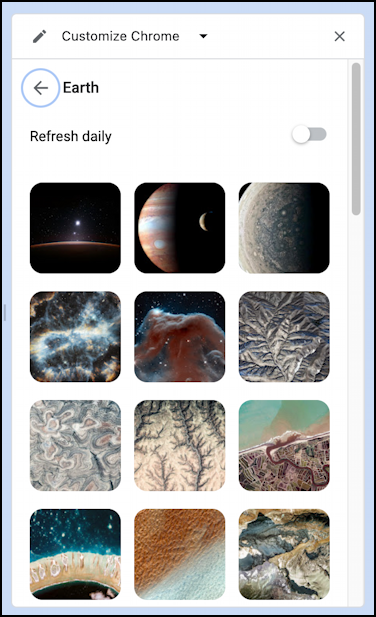 There are about 25 curated images in this category, any of which can be chosen by simply clicking on it. Or, add a bit of randomness to your day by choosing "Refresh daily" at the top.
PHOTO THEME IN ACTION
When I click on one of the images from space, it not only makes it the wallpaper background of my empty windows, it changes to a compatible highlight color scheme too: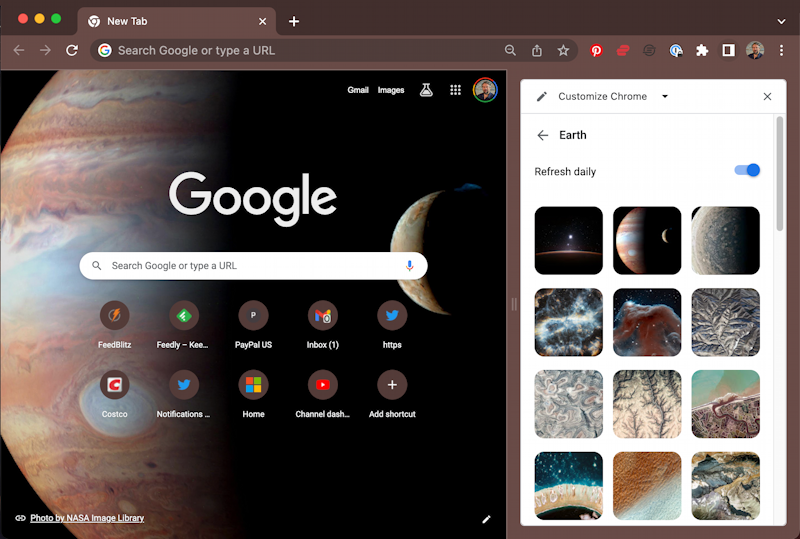 Quite a different experience than the Classic or light blue color scheme. But we're not done, because you can stick with the photo background while changing the highlight colors. I'll do that to make the buttons stand out a bit more from the dark background: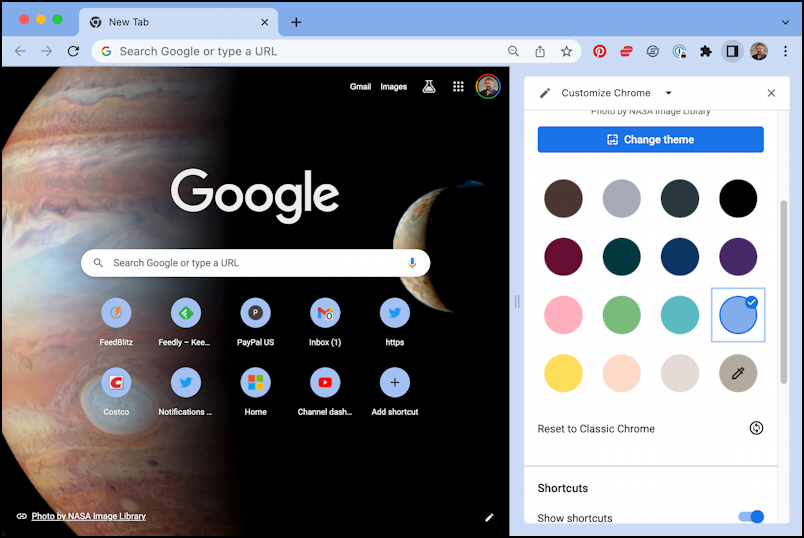 I predict that since there's the option of having the image change daily, it won't be long before there's an option to have the highlight color be automatically switched to be similar or contrasty. Maybe Version 114?
One final note: At the top it shows "Customize Chrome" but it's actually a menu because there are other things you can customize and tweak for your own Google Chrome browser:
Check it out when you have a few minutes. I really appreciate all the work that's gone into making Google Chrome more easily customized!
Tip: Microsoft Edge has a similar capability already included in its latest release – also V113 – if you look for the tiny "edit background" pencil icon on the lower right of a blank tab/window in the browser!
Now, do tell, what's your favorite photo or image theme from the available library?
Pro Tip: I've been writing about Google tools forever! Please check out my extensive Google tools help areas while you're here, for lots more useful tutorials and guides! Thanks.