Hey Dave! I can see my current weather on the Notifications Center but is there a way to have the current weather and temperature right on the menubar instead? Running MacOS 13.1 on an iMac.
While it might be one of the more mundane features of a modern operating system, we humans find it darn helpful to know the temperature and weather in our current location. Lots of us also track weather in other locations too, so we can keep track of loved ones or dream about distant tropical islands while we're stuck in a blizzard. Given that, it's surprising that Apple has added weather both in the Notifications Center and as a standalone app, but doesn't offer a way for you to have the weather on the top menubar.
Heck, even Windows has a simple weather forecast and temperature icon you can add to your Taskbar at the bottom of the screen. But on a Mac, if you want to have the weather on that menubar along the top, you'll need to resort to a third-party application. There are quite a few of them, many with in-app purchases or a modest price tag of $0.99 or thereabouts, but there are also some very good options that are completely free. Let me show you what I mean…
VIEWING THE WEATHER ON A MAC
You can launch the newly revamped Weather app on your Mac to quickly get a simple and attractive update on the weather, including a dozen or more additional cities if you want a full world update. Utilizing the same feature set, there's a weather widget you can add to the Notifications Center so that every time you click on the top right of the menubar (the date and time) it shows up: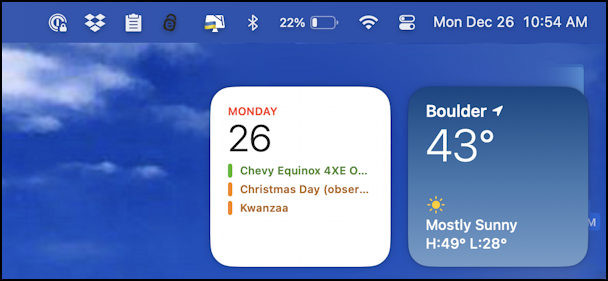 The weather widget can be resized if you want to see more information, but temperature, an icon to represent the weather, and a high and low temperature all add up to the key information you'd like. But… you have to click on the Notification Center to get this to show up, so it's not optimal.
WEATHER APPS IN THE MAC APP STORE
Open up the App Store (off the 🍎 menu) and search for "weather" or "weather menu". Lots of results: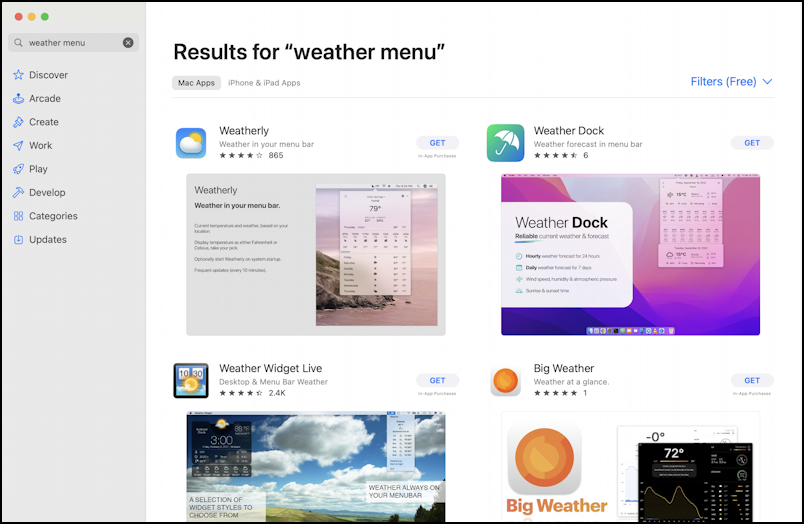 There are two I noticed that don't have in-app purchases or a pricetag: WeatherDock and Weather Forecast. Since they're both free and easy to install, I'll add both to my Mac system. This is easily done by clicking on the associated "GET" buttons, then actually opening up the programs.
In both cases they will request location access so they can automatically deliver your local weather forecast: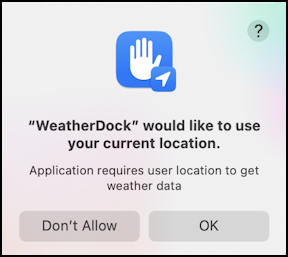 I recommend allowing this, but if you prefer not to do so, you can always add the default "home" location in the app once it's running. And indeed, after just a few moments, both apps are running, which means that they both just show up on the menubar.
COMPARING MAC MENUBAR WEATHER APPS
With both running and both reporting the same temperature with the same forecast icon (see below), it's hard to tell which is a better choice, but clicking on them reveals their additional info display. Here's Weather Forecast: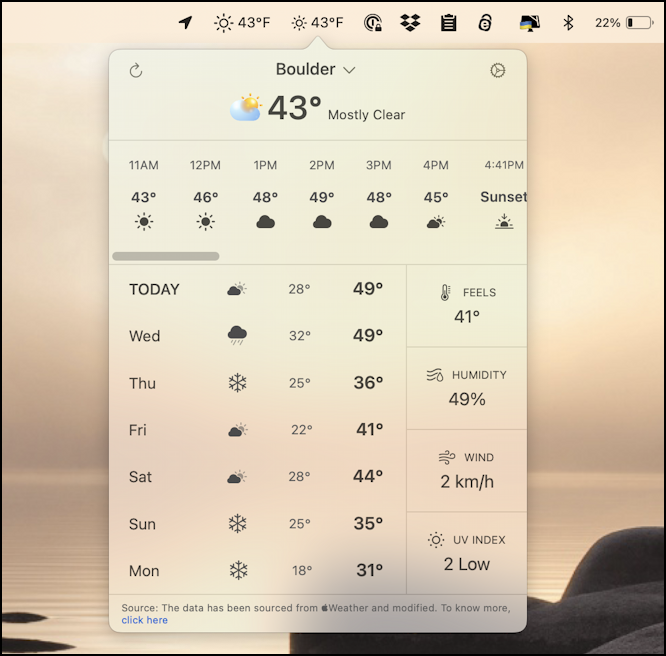 It could use a bit more color, perhaps, but at least the current weather image is in color, right? Notice the wind-chill "feels" temperature, humidity, wind speed (in km/h), and so on. Very similar to the weather information shown on an iOS / iPadOS system, actually.
What about WeatherDock? That has a similar, but not quite identical display: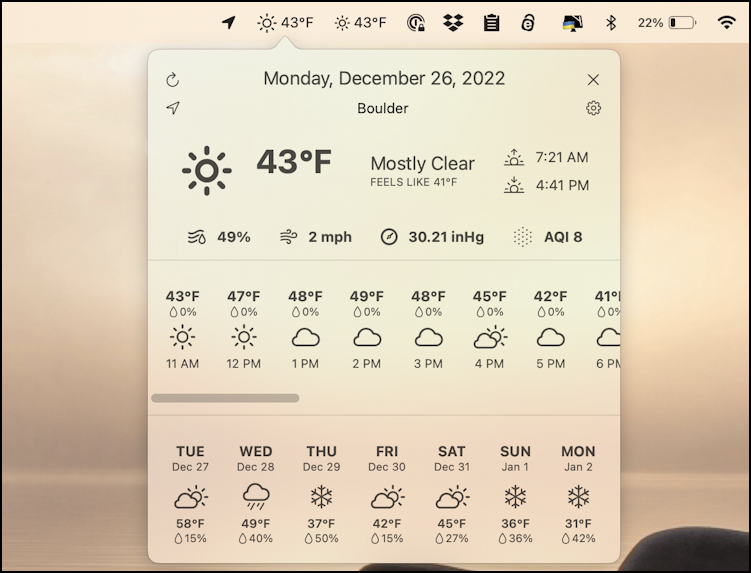 More information is shown, including air quality ("AQI" = Air Quality Index) and the wind speed is shown in mph, not km/h, but otherwise fairly similar, though with zero color. Me? I like the color so I'm going to actually choose to stick with Weather Forecast.
To delete an app, simply go into the Applications folder and Control-Click on it to remove it from your Mac (or if you have a utility like CleanMyMac [affiliate link] it can also remove apps and get rid of their preference files too).
SETTING PREFERENCES IN WEATHER FORECAST APP
With the other contender removed, it's time to tweak Weather Forecast as needed. This is done by clicking on the tiny gear icon on the top right of its pop-up window:
Here's where you can change between Fahrenheit and Celcius as you prefer, and change wind speed from mph to km/h. Click on "Start on system startup" and you'll get a notification that it's been added to your login items:

Finally, the menubar looks perfect with just a single forecast neatly tucked into all the other info shown:
Mission accomplished. Well done. Picked a different weather app to try? Let me know in the comments how it works for you and what you most liked about it when you compared them all.
Pro Tip: I've been writing about the Mac since the very first system was released. I even started my computing career using an Apple II. Please check out my extensive Mac Help Library while you're visiting. Thanks!