I'm in the middle of a legal problem and want to set up my Gmail so that any email from my attorney produces a text message alert on my phone. Is there any way to do that?
At first, I was thinking that there wasn't any way to have email trigger text messages without enlisting the help of a third party service, but in fact all major US-based cellphone carriers have email gateways that let you send email to a specified address and turns them into text messages to a specified phone number. It's a bit of cobbling things together getting this to work, and it'll end up forwarding the first portion of the message itself, not just a notification, but it's definitely something you can set up in 5-10 minutes with the following step-by-step directions.
What you'll need is access to your Gmail account, your lawyer's email address and both your own cellphone number and your cellular carrier. Sounds like you already have those data items anyway, so it's not too onerous!
The first step is going to be figuring out what address your carrier uses for its email -> SMS text gateway.  Here's a table of all the major gateways: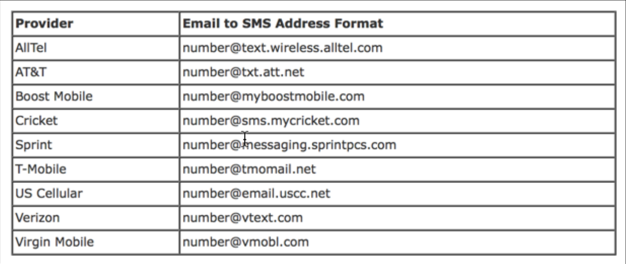 You can see that if you're on AT&T, for example, as we are, you'd use NUMBER@txt.att.net to send a message. It's important to use your fully qualified 10-digit phone number here, so if you're at 949-123-4567 then your address would include all the digits (without the dashes): 9491234567@txt.att.net. Same number on Verizon? use 9491234567@vtext.com.
Make sense? Good. send yourself a quick test message so you can see that it works and how it formats. When I do the same, sending a message with the subject "This is a sample email message" and the message body containing the words "converted to text!", I get this as a text message on my AT&T iPhone:
As you can see, it's not pretty. The sender becomes FRM, the subject SUBJ and the message body MSG. But it's still quite capable for what you seek.
Once you've tested and confirmed that the address you've created works properly, it's time to turn to Gmail itself.
The first thing you'll need to do is a bit of a hassle: You need to confirm that you have the ability to forward messages to the new email address before you can set things up. Start out by going to Settings:
Once you choose that, you're looking for the "Forwarding and POP/IMAP" tab along the top of the (huge) settings information page. Click on it and this is similar to what you should see:
The most important thing here is to Disable Forwarding. Make sure that it's set or every single email you get will end up being sent to you as an SMS message. Most assuredly not what you want!
Now click on "Add a forwarding address" to proceed and enter your cellular carrier's gateway email address for your phone:
To proceed, I have to use my real cellular phone number, so I'm blurring it out. No offense, but I don't want to have you call me at 3am 🙂
Anyway, enter the forwarding address and click "Next". Gmail will show you this:
Click Proceed to, um, well, proceed…
Now Gmail will send a confirmation code if you want to proceed:
This is where things get a bit tricky, because on your mobile device you'll now get a confirmation message like the following: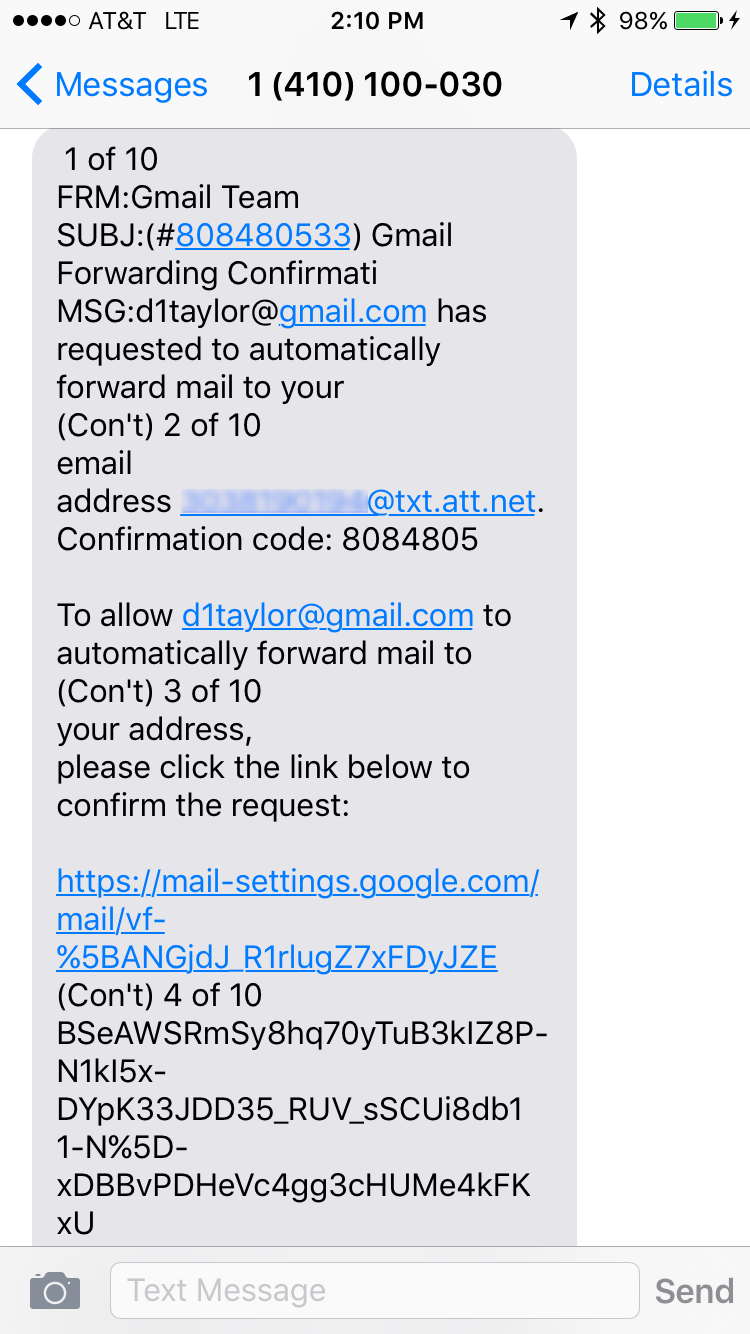 Why is this tricky? Because the email to sms text gateway breaks the URL, as you can see if you look very closely. Right in the middle of the confirmation email is "(Con't) 4 of 10" which is a problem. So you can either reassemble it on your phone, or if you have something like iMessage, grab the URL on your computer through Messages and hit that Web page from your computer instead, which is considerably easier.
One way or the other, you'll need to go through the confirmation, but the good news is that it'll only be once for the entire life of your Gmail account.
Now on the computer or phone, depending on which you choose to confirm, Gmail will then ask for a second confirmation:
Another step. You'd think they wanted us to be very careful with this feature or something!
Click on "Confirm" to confirm that you want to have the email address available for forwarding.
Ah. Finally!
Now the easy part, setting up the actual email filter. Find an email from your lawyer or attorney (or whomever else you want to set this sort of filter up for, an ex, your fiancée, your boss, the IRS, whatever), then choose "Filter messages like this" (or, if you have more than one message in the thread, "like these") from the "More" menu:
Gmail will then show you a window that gives you a lot of different ways you can designate and identify the messages you want to forward:
As you can see, I'm just using the simple filter rule of who sent the message. For your situation, you'd want to ensure it's your attorney in that field.
Looks good? Click on "Create filter with this search" to continue.
Here's where the magic happens now that you've confirmed your new forwarding email address with Gmail: check on "Forward it to" halfway down, then choose an address by, well, clicking on "Choose an address":

You can see that I have the choice of my non-Gmail address and my new AT&T wireless number, via the handy AT&T gateway. I choose the latter, and click on "Create filter" on the lower left of the window.
DONE!
Now when you get an email, you'll get a notification similar to this: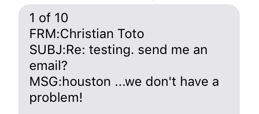 Quite the task, but now any time your attorney emails you, a copy of that email will be sent to you via text message. Most likely you'll then immediately switch over to your email program to read it since it's going to be broken up and pretty ugly, but you will get immediate notifications of any messages received. Free and courtesy of Gmail's filter capabilities and your cellular carrier's handy email to SMS message gateway.