For some reason I set the parental controls on my kindle while I was fiddling with it, goodness knows why? I now wish to remove it, but cannot remember my password, even with the 'hint' that comes up. I am a pensioner with an awful memory, and although I've put in every password I can think of, I cannot remove the controls, which I do not need on my kindle. Please could anyone help me? I'm worried that if I ask kindle for a new password – if indeed that is possible – I will lose the 300-odd books I have at present on my kindle.
The good news is that there's no reason to panic. If all 300 of those books are purchased and downloaded through the standard Amazon Kindle Store, then they all actually exist in the much-discussed "cloud" and it's just a copy of them that's on your device. All neatly tied to your Kindle account.
What does that mean? That if you were to buy a new Kindle or reset your current Kindle to its original factory state, everything will magically just appear and download on demand once you log in to your Amazon account. So, as they'd say Down Under, "No worries, mate!"
To demonstrate, I actually did a hard reset on my own Kindle Fire HD to see what would happen. Yes, we take helping people that seriously here at AskDaveTaylor!
To get started, I set up parental controls on the device, then went to the system menu by pulling down the menu from the top and tapping on "Parental Controls". The Kindle, properly, then prompted me for a password: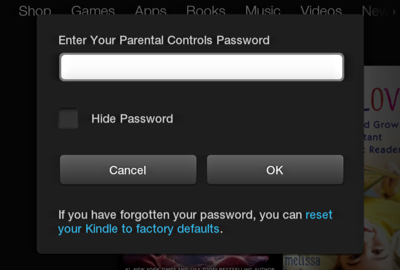 But what if I too had forgotten my password and even after a dozen attempts, I just couldn't get in to the device to change its settings? Simple, tap on
reset your Kindle to factory defaults
.
Tap on that small link and a warning will pop up:

It says: "You are about to reset your Kindle to factory defaults, which will remove all of your personal information, Amazon account information, downloaded content, and applications. Continue?"
Go for it. Trust me on this. Tap "Erase Everything".
and…
time passes…
Finally, the device will restart and show you a choice of languages, along with a few more base level "just out of the box" configuration options. Choose wisely and you'll eventually be asked to register the Kindle: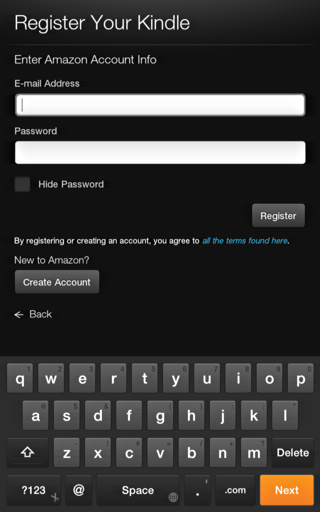 Once you've entered the credentials associated with your Amazon account tap "Register" and it'll log you in, confirming the name associated with the account: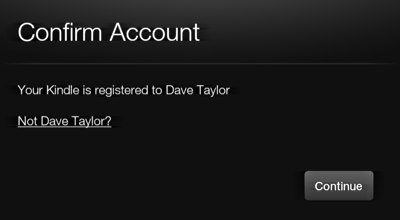 Looks correct? Then tap on "Continue" to proceed. Now your Kindle will display one of the interminable ads and promos that keep Amazon afloat…
If you've signed up for a 30 day trial before, this doesn't give you an additional 30 days, btw. They're smarter than that. But for a lot of people, Amazon Prime's a pretty sweet deal…
Not interested? Okay, I tried, right? 🙂
Tap on "No thanks, continue without Prime" and you'll be able to breath a big sigh of relief as you realize that yes, everything's still there!
These are actually placeholders for the ebooks, so don't be surprised if you tap on a book cover and it has to download the contents from the Internet the first time. Once you've done that for each book you want to read or reference, however, you'll never have to do it again, so you'll be back to where you were, Kindle reset, no parental controls enabled.
Which could be a problem, actually, so don't forget to re-enable parental controls if you really want them on the device and were just resetting the password:
In any case, Amazon's done a nice job with the usability side of the Kindle so you can definitely zap the device without losing any of your ebooks or other content. Apps might need to be downloaded again, but if you've paid for them once, the system should recognize that and let you download new copies without charge.
Good luck and be careful with those passwords!