Just rented a Chevy Equinox and paired my Samsung Android phone. Noticed there were other phones already paired! Now I'm poised to turn it in and want to remove my paired phone and its info beforehand. How do I accomplish this with the Chevrolet Infotainment system?
The convenience of pairing a smartphone with a car entertainment – sorry, "infotainment" – system is huge. Utilizing Bluetooth there are so many safety and convenience features enabled, not the least of which is hands-free conversation while you're driving. (As an aside, how is it that so many drivers chat on the phone with the device in hand when it's supposedly illegal to do that?) When you pair your iPhone or Android phone with a car, however, you also share information with the car's computer system, most notably your entire contact list. That way you can tell the car "call mom" and it'll work. Convenient!
The problem is that all of this is really designed for car ownership, not fractional ownership, car sharing, rentals or loaner vehicles. Whether it's a few day loaner while your car's being repaired at the dealer, a company car for a business trip or a rental, smart drivers pair their device on first startup and UNPAIR their device before turning the vehicle back in. Which is done differently in each car, of course.
I have been driving a 2021 Chevy Blazer so was able to go through the steps needed to unpair or have the infotainment system "forget" a Bluetooth paired smartphone. This vehicle has Chevrolet Infotainment 3 Plus installed, but I imagine that the process is quite similar on any of the Chevy line…
Start on the HOME screen: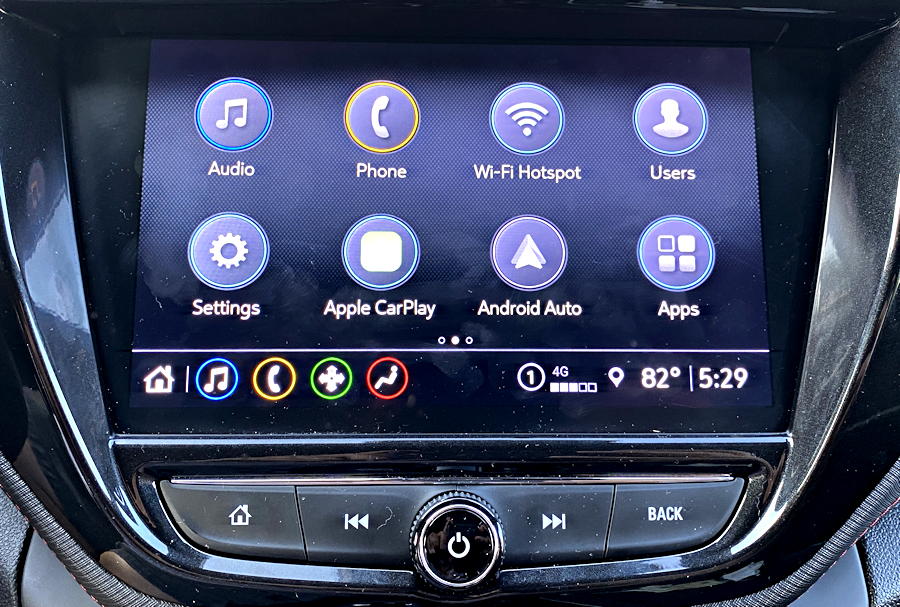 Curiously, you can't unpair your smartphone through "Phone", so tap on "Settings" to proceed. You'll be presented with this set of choices: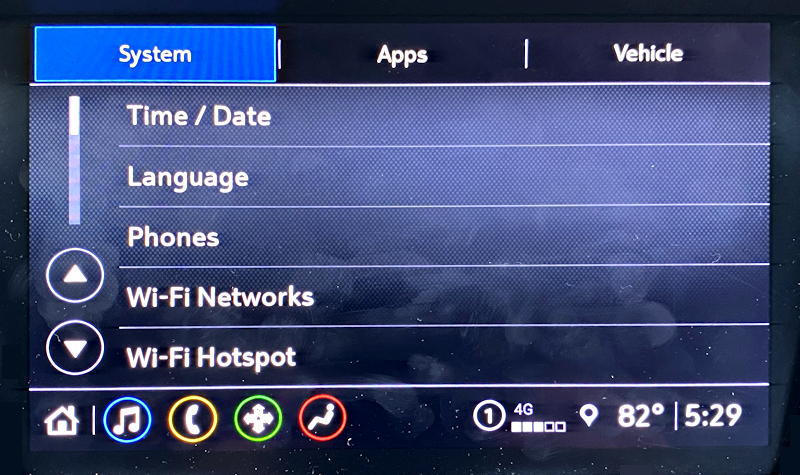 Now you can tap on "Phones" from the list and you'll be able to proceed.
Note to Chevy Infotainment engineers: Why not have a shortcut to Phones settings from the Phones screen itself?
Here's the list of phones I've got paired to this Blazer:
I'm iDave 11 Pro, but have no idea who Chuck or Galaxy Note9 are. And yet, their information is still in the car's computer system, which is an obvious privacy problem. No worries, I'll delete their entries too.
For now, however, tap on the "i" in the circle adjacent to your own phone. When I do that, here's what I see: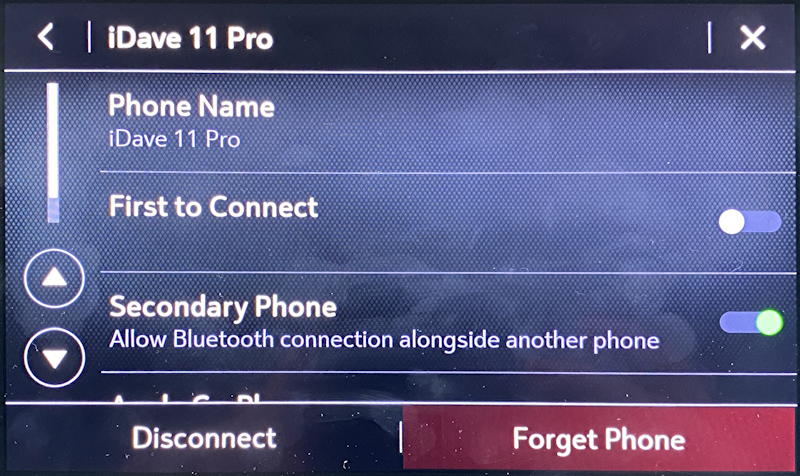 I didn't realize you could pair more than one phone at a time, which is pretty cool. This system also features wireless CarPlay, which is fantastic, but that's another story. For now, I'll tap on "Forget Phone"…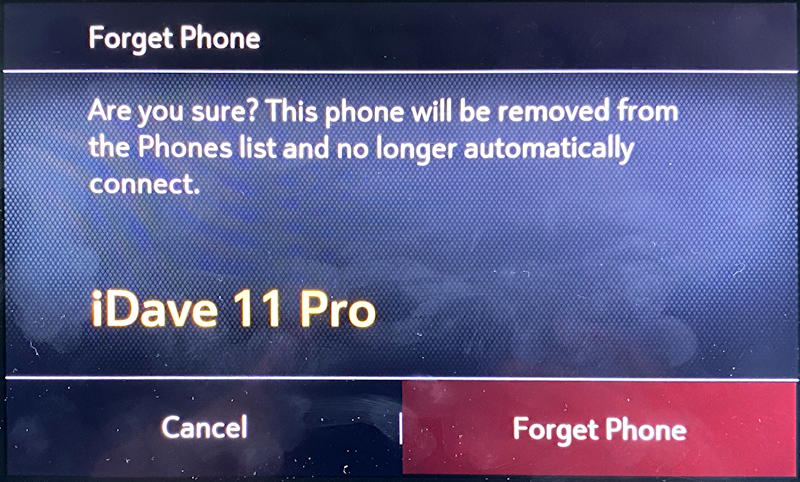 Yup, that's what I want to do. At least the prompt is clear and leaves nothing ambiguous!
As you might imagine, a second tap on "Forget Phone" and I'm outta there.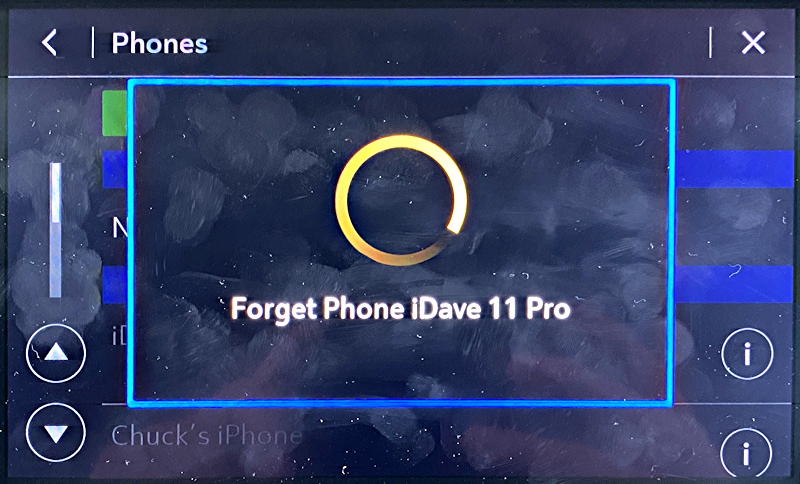 And, finally, now the list of paired phones does not include my own device: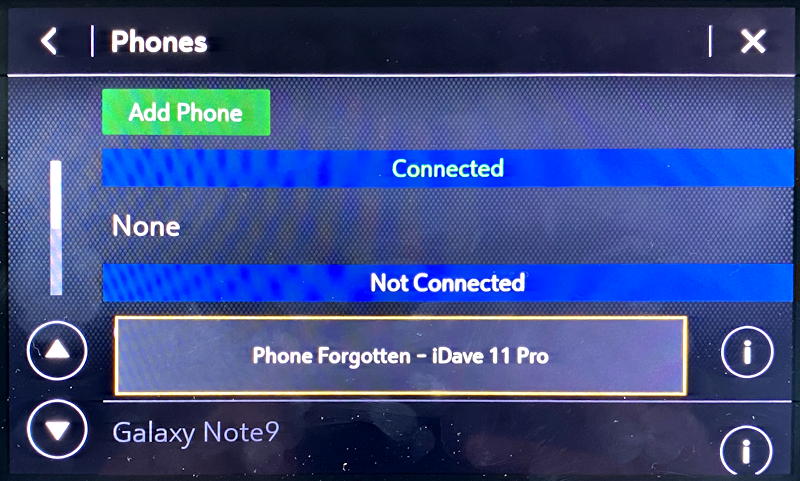 Mission accomplished. Now, want to be a good samaritan and delete everyone else's phone records too? Now that you know the sequence of taps, it's a matter of maybe 45 seconds/phone. Finally, we arrive at a clean slate with nothing paired at all: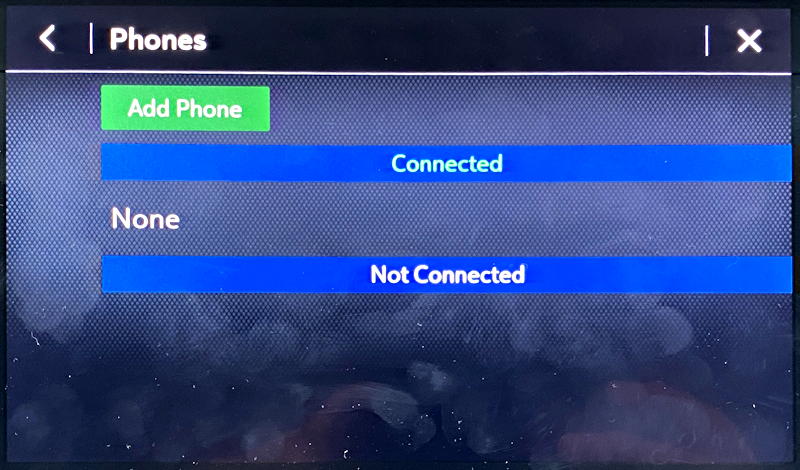 Hopefully the next driver of this vehicle will appreciate the lack of clutter!
Pro Tip: I've been writing about computers and tech for years, including automotive electronics. Please check out my computer basics help for lots more interesting tutorials and how-to guides while you're here. Thanks!