I think I have automatic updates set for my Windows PC, but it never seems to tell me there's an update, and my experience with Windows and Microsoft is that there are updates typically every week or so. Is there some way i can manually run a Windows Update to see if there's anything pending or available for my Win7 laptop?
It's definitely smart to have automatic updates enabled in any operating system, whether it's Windows or Mac. My suggestion is to have it automatically check for updates but have you manually decide when to apply them, so you don't find you have to restart your system in the middle of an important work project, but that's easily set.
The problem with these automated systems, however, is that they're generally designed for computers that are on all the time. I know that on my Win7 system, for example, it's set to check for updates at 3:00am every morning. Problem is, if my computer isn't turned on, that time will come and go without the update utility ever launching. Result is that if I don't use the computer for a while or only use it business hours and power it off at other times, I can go weeks — or longer — without applying important operating system updates. That's a problem, and doubly so for Windows with all the nefarious code, spyware and malware floating about.
In this article, I'll show you two easy ways to force a Windows Update and along the way we'll also bump into the spot where you can change when the system checks for updates too. One possibility in that regard might be to set it to noon if it's common that you leave for a lunch break.
But let's start at the beginning. My favorite way to launch Windows Update is to do it through MS Internet Explorer. You probably have your system set up like mine, so it's easy to launch MSIE from the taskbar:



A click on the "e" icon and Internet Explorer pops up, ready to go:


Notice on the right there's a menu called "Safety". If we look a bit more closely at it, you'll see that the bottom option is "Windows Update":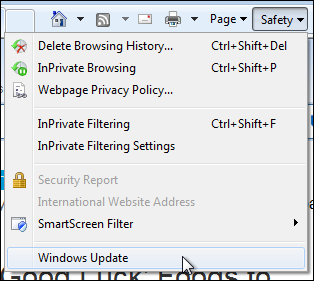 Choose "Windows Update" and it'll open up a Control Panel that then checks and tells you what updates, if any, are available and ready for download: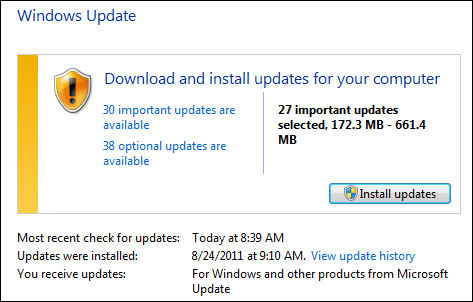 27 important updates. Sheesh.
The other way to get here is to actually go through the "Control Panels" start menu option: one of the specific panels available is "Windows Update", as you can see here: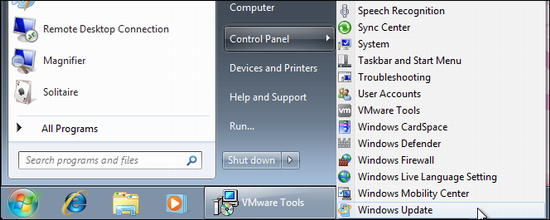 However you get to here, notice on the left side of this Control Panel window that there's an option for "Check for updates" (what we've been doing) and also an entry for "Change settings":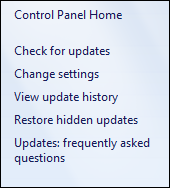 Choose "Change settings" and you'll see that this is where you can modify the time that Win7 checks for updates: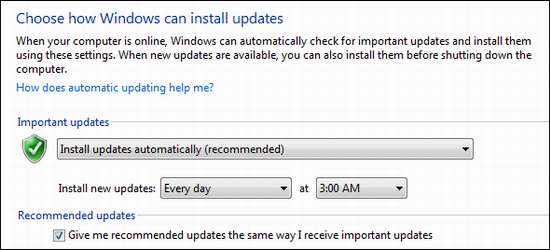 Click on "Check for updates" again, once you're ready, then click on "Install updates" so you can start downloading and installing everything as needed: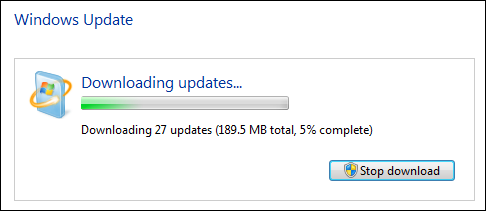 Remember that once it's downloaded all the updates you'll need to restart so it can actually install things, but usually that's just part of the process.
Hope this helps you tame the wild Win7 windows update jungle!