I write about the fashion business on my WordPress blog and then share my posts on social media. If I want to include links to specific photographs, is there a way to get the actual permanent link to the image, or am I stuck with the wp.com cached image URLs?
In the early days of the Web, things were easy; you added an image to your Web page and if people wanted to link to it, they'd just grab that URL. Fast server, slow server, it was certainly easy to understand. Then the Web started to speed up through the use of both caches and CDNs, content delivery networks. Now while an image might start out on one server, it might well be duplicated across multiple servers throughout the world.
Adding an additional layer of complexity, too many people had a tendency to upload enormous images and then click-and-drag to resize them for online publication. This slows down the Web (why get a huge image when it's only filling a small spot?) so resizing caches were developed that would create a new, shrunk, version of the image and automatically include that version instead of the original. Another file!
And so, while this question seems really easy to answer, it can be surprisingly complicated. Let's have a look by checking out an image from my PlanetDave Web site…
HOW TO GRAB AN IMAGE URL ON THE WEB
Here's the top portion of my review of the indie horror film "The Last Ghost Hunters":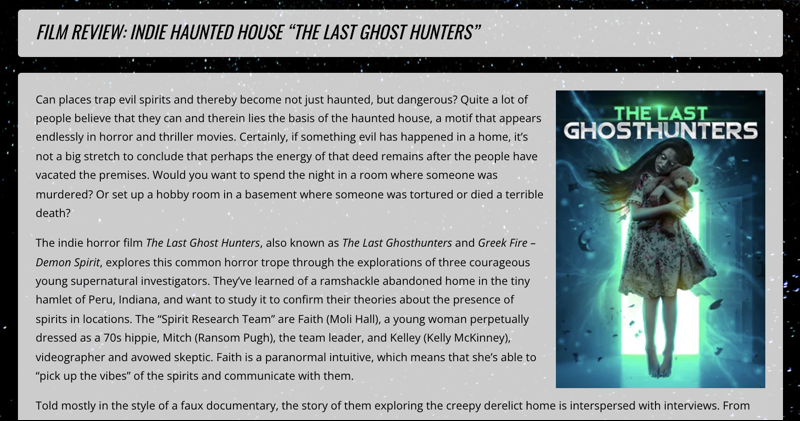 Kind of a creepy movie poster! If I wanted to share this image on social, the easy way to grab the URL is to right-click (or, if you're on a Mac, Control-click) on the image, which brings up this menu: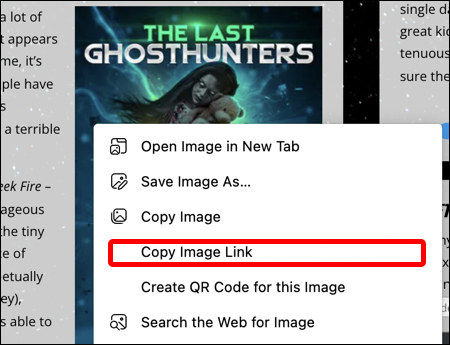 If I grab this image URL with "Copy Image Link", however, here's what I get:
https://i1.wp.com/planetdave.com/wp-content/uploads/2021/11/TheLastGhosthunters-one-sheet-poster.jpg?w=300&ssl=1
What the heck is i1.wp.com? It's a caching server tied to JetPack, an image caching plugin I have enabled on PlanetDave. It's also not a great URL for me to share since, who knows, this URL might change if they reconfigure the server. Where's the "planetdave.com" URL? That's going to require some digging…
FINDING IMAGE PERMANENT LINK WITHIN WORDPRESS
Since it's my own site – as you are talking about with your blog – then you can also go into the backend to see a lot more information about any given image. Open up a Web page for editing and click to edit an image that's included and here's what you see: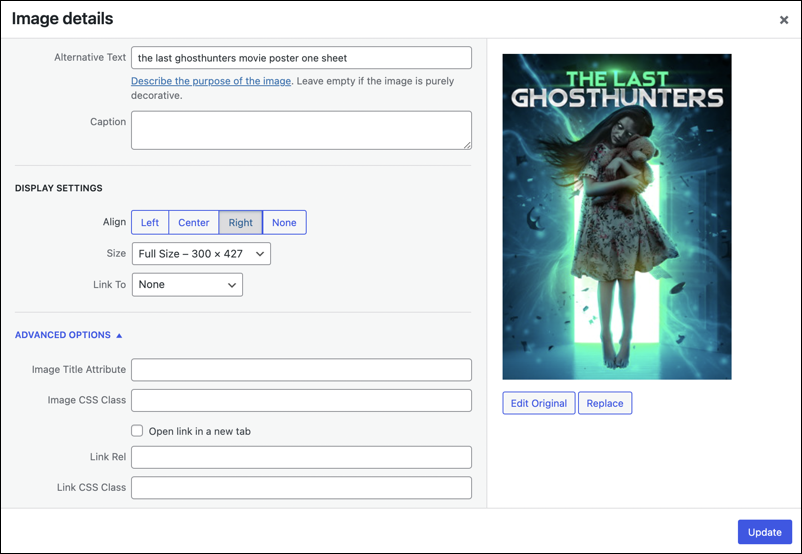 Lots of fields to fill out and settings that can be tweaked, but these are focused on how the image is included in the post, not on the image file itself. It's a bit confusing, but instead of this, close the window and look to the left side of your WordPress admin view.
Click on "Media" and choose "Library":

Then find and click on the exact same image in the library, rather than directly from the including post. It shows very different information because it's focused on the image file not on how it's embedded in your post:
Notice the "Uploaded to" field, which is an easy way to see what article is including the specific image file. This also specifies file size and original image dimensions (50KB and 300×427, respectively).
Look closely at the bottom corner, however, and you'll finally find the URL you seek:

There's even a convenient "Copy URL to clipboard" because at least one person on the WordPress development team realizes this is something that people might want to access easily. 🙂
And that's the right way to grab an image URL from your site for subsequent social sharing.
Pro Tip: I've been running and writing about WordPress for many years. Please check out my extensive WordPress help area here on the site for more tutorials and guides while you're visiting!