I recently had an opportunity to interview well-known video game expert and celebrity Fatal1ty, mostly asking him about the current state of the art with computer gaming and what he sees coming in the future. Oh, and why he's called "Fatal1ty", for that matter. I hope you enjoy this interview, which – as you'll see – is, uh, powered by Creative Labs, makers of the Fatal1ty line of computer gaming gear…
Q: What do you think is the best all-around PC game of 2008?
Call of Duty: World at War.
Q: Are games getting better, or has the industry passed its prime, just coming out with sequels and such?
Games are getting easier to play and basically even your grandma could get a kill on a top player now. She won't win the war, but she can win some battles. We need to expand and offer new ways to see the games and hear the games. Creative and Fata1lty Gaming Gear have stepped it up with our new Sound Blaster X-Fi Fatal1ty Titanium sound cards, creating a real experience through your speakers and our new Fatal1ty Gaming Gear headphones.
Q: What advice would you give to a kid wanting to get into competitive gaming today?
Compete online in leagues and tournaments and travel to as many local LAN events as possible and become the best in your city! After that, watch the top players and try to learn from watching their demos, etc.
Q: Do you think competitive computer gaming will ever gain a wider audience, like other sports?
It's a niche thing, but I think it's still a matter of time before people really understand FPS games since they're the leader in competitive play.
Q: What qualities do you look for in a game?
I look for talent, skill gap, & multiple expertises in different categories. I also look for movement, timing, strategy, aim, fighting ability & understanding how to use sound to determine where your opponent is and anticipate where he's going
Q: Have you done any game or level design, and if so, for whom?
No, but I do give feedback on games and ideas. I had some discussions with iD software and Sony online entertainment. Nothing major, though I am working on a solo project.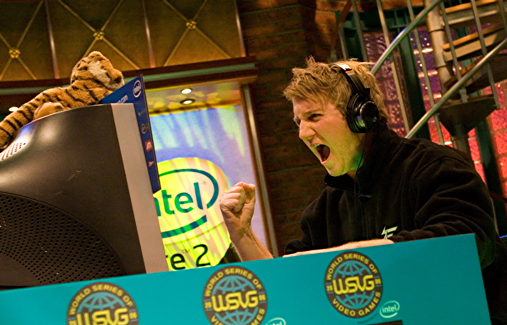 Q: Fatal1ty Soundcards, Headsets, Power Supplies and Memory. What the heck? What kind of involvement have you had with development and design of these products from Creative?
Fatal1ty Gaming Gear is tested and co-developed with my input. Fatal1ty Gaming Gear is licensed and produced by high-quality companies. They already produce good products within their respective categories. What we do at Fatal1ty Gaming Gear is work to develop products specifically geared for video gaming and focus on features for competitive gaming good enough for pros to use.
Q: What's your gaming rig of choice nowadays?
I love my desktop. Using Fatal1ty Gaming Gear products, I work with Creative, OCZ & XFX for my whole line of products.
Products I use in my current rig…
Sound Blaster X-Fi Fatal1ty Titanium sound card
OCZ Fatal1ty 700w Power Supply
OCZ Fatal1ty DDR2 4 gig
Intel Core 2 Duo Extreme
XFX Fatal1ty nVidia graphic card
Q: Why "Fatal1ty"? Where'd the name come from?
I got my name from Mortal Kombat in 1991-1992. I've had this name ever since. "Fatality" was the normal way I had my name spelled, but I used "Fatal1ty "with the number one to keep my stats different when I switched from my dial up account to my broadband connection.
Cool, thanks. Remind me not to go against you in a computer game, okay? 🙂