Hi Dave! I'm looking at different PC laptops and am wondering if there's an easy way to compare their performance? Ideally something I could run or check while at the store…
There are dozens of different performance tests for Windows computers, ranging from 3D Mark and PC Mark up to some pretty complex pro-level verification and performance suites that take hours to fully analyze everything about a computer. At some level, however, the computer that's best for you is the one that do a good job with the programs that you actually use. A fast gaming computer optimized for graphics performance isn't going to make your Word documents scroll any faster, for example!
There is a simple benchmark you can try so you get a reasonable comparison of different Win10 systems, however, that's built into the Windows 10 operating system and pretty easy to launch and interpret. It used to be called the Windows Experience Index but now goes by the rather more technical name of Windows Management Instrumentation. It's a set of system properties generally used for software developers building programs for Windows computers, but we mere mortals can access it too!
You'll want to launch PowerShell for this (yes, it involves typing in a command, not just clicking on a button) so go to the Cortana / Win10 search box and type in, well, powershell. Then type in exactly: get-wmiobject -class win32_winsat
On my main test system, here's what I get as the result: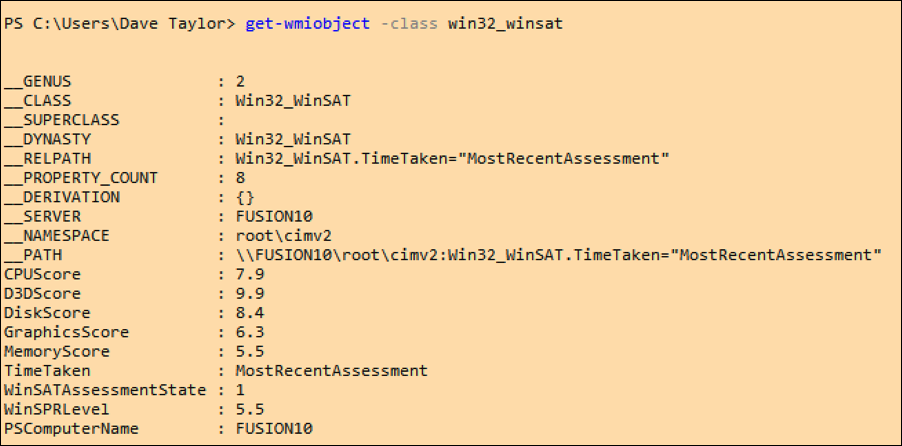 Looks confusing, but it's the latter set of numbers that you want to study: CPUScore, D3DScore, DiskScore, GraphicsScore and MemoryScore. Each is ranked on a 1-10 scale, with 10 being the best and 1 being, well, you're hopefully never seeing a 1 on even a reasonably modern device. The lowest score is then considered to be what's known as the WinSPRLevel, so above you can see it's 5.5, the same as the MemoryScore.
Here's what each represents:
CPUScore = processor
D3DScore = gaming graphics
DiskScore = primary hard disk
GraphicsScore = graphics
MemoryScore = memory (RAM)
As you can see, the gaming graphics on the above computer is rockin' at 9.9 out of 10 possible, while the amount of RAM on the computer is its weak link with a pretty crummy 5.5 score.
Before we go further, however, it's possible you ran the test and got all zero values!
This doesn not mean that your computer is dead and it's a miracle that you can even run programs on it! It just means that there's a tiny bit of setup you need to do while you're using the command line in PowerShell. There are two commands to type in. First, type winsat prepop which initializes an internal database (it might take a minute or two, don't worry), then type winsat moobe which is super fast. Then give that get-wmiobject command another whirl. You can see me fix the problem in the below example: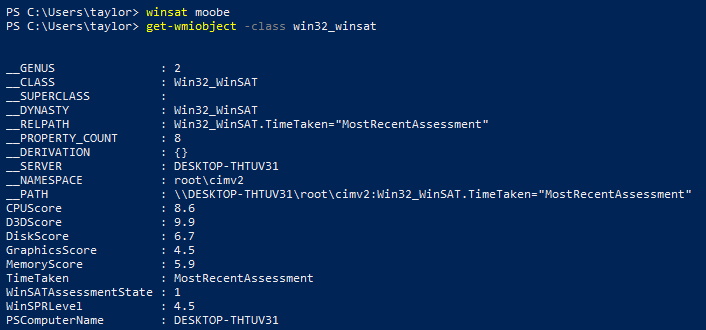 The above is a slower computer with an overall rating of only 4.5, notice. What's the bottleneck? GraphicsScore is pretty darn low, but the MemoryScore isn't that great either.
By contrast, here's a computer that's really got some well matched components: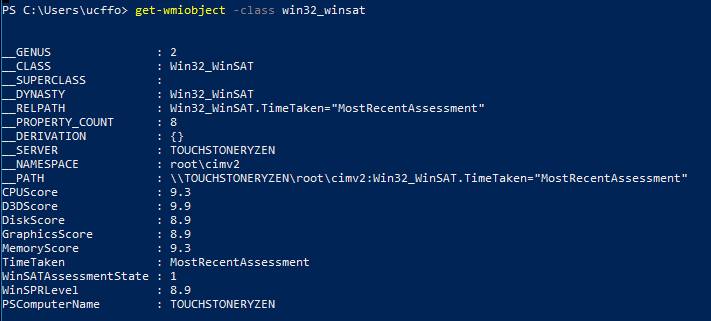 In this case, the lowest score is 8.9 and that's for both Disk and Graphics. Not too shabby at all!
One more example:
In this instance, the computer's weakest link is its hard drive, with a DiskScore of only 5.9. That's pretty easy to fix by getting a faster drive – or maybe upgrading to an SSD solid state drive – but otherwise this is a pretty good piece of gear and certainly well equipped for the modern office with its fairly low-demand apps and programs.
So that's my recommendation for a fast, easy and widely available performance benchmark: get-wmiobject. Hope that helps you compare devices and get the best computer for your needs!
Note: Many thanks to Aaron Turpen, Antonio Miranda, Bennett Hayes, Brad Waller, Mario Lurig and Phil Hollows for sharing their PC performance numbers!
Pro Tip: I have oodles of free PC help here on the site. Please take a few minutes and check out the extensive archives!