I'm a big fan of geolocation apps and have been using Foursquare almost since it first arrived on the scene. I like knowing where my friends are and having accidental, synergistic meetings with new friends based on my willingness to share my location information. Facebook, however, is a world where I share my status updates with over 1,300 people and I don't really want all of them to know where I am most of the time. If I did, I'd include it in a status update!
That's why when Facebook introduced Facebook Places, I was a bit leery. Worse, not only do they now have check-ins, but they'll show people who are checked in to your current venue even if you're not friends, and will let other people check you in if they're in the same place.
Disaster. But fixable…
I can remember even just a few years ago when the only time I knew where my friends and family were was because they told me. "I'm going to the hardware store, see you in a few hours!" was the original geolocation check-in, right?
Now we have tools that track our every move and can let anyone, from friend to stalker, know where you're going, when, and who else was there with you.
Yeah, that's pretty alarming!
I'll talk about how to use it – if you opt to share your location via Facebook Places with your friends – in a different post. Here I just want to bring the privacy issues to your attention and ensure you know how to tweak and modify your Facebook privacy settings to ensure that you are in control and fully understand how you are – or aren't – giving up your privacy.
First off, let's jump into the Facebook "Privacy Settings", somewhere you really should be checking on at least a monthly basis (as it's so constantly changing):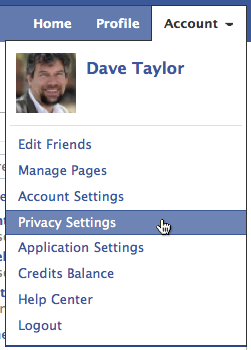 Chose "Privacy Settings"? Good. Here's what I have set (I have custom settings, as you can see):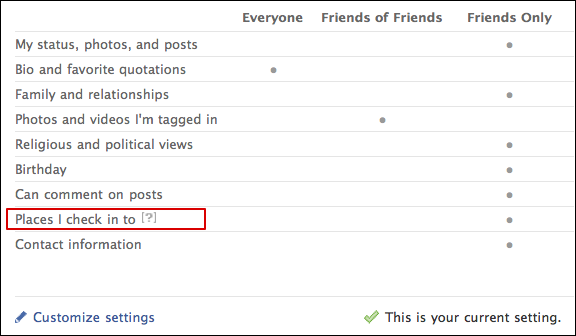 Note the new setting "Places I check in to" and its rather alarming small print:

Yeah, maybe something you want to change if you're not big on random people who happen to be in the same geographic location knowing you're there…
Click on "Customize Settings" and scroll down to find this:

Here's the first place you want to tweak, I suspect. Do you want the entire world to know where you are when you check in through Facebook Places? If not, change the "Places I check in to" setting to be just your friends, or friends of friends. More importantly in my eyes, if you want to be invisible to strangers even if you're in the same venue, uncheck the box adjacent to "Include me in "People Here Now" after I check in".
You're not done. There's an equally important setting just a bit lower down on the page:

Not sure what to do here? The choices are pretty straightforward:

Unless you are totally fine with having your whereabouts broadcast to the world at large, I encourage you to tighten up or minimize your security and privacy settings related to Facebook Places, and opt out of letting your friends check you in too.
Oh, and we haven't even talked about the fact that on Foursquare I limit connections to my close friends, to people I know and am consciously choosing to share my locations with, while on Facebook I connect with most everyone who asks, which is how I have over 1,300 friends in the first place. Trust me, I don't really have 1300 friends. I'd never survive Christmas cards if I did!