There seem to be two types of people when it comes to tabs in their Web browser: Either you have a few, or you have hundreds. The problem is that once you have more than a dozen or so, it's really hard to manage them. That's why Google's introduced Tab Groups to Chrome. Let's check it out…
Turns out that Google has been experimenting and refining Chrome tab groups for a few years, but in the latest release of Chrome – version 88 – the full set of tab management capabilities are implemented and work great. Which means it's time for you to learn more about it, whether you're the type of person who has just a few tabs or you're a tabaholic with fifty or more open at any given time. Don't worry, I don't judge you for your tab behavior within Chrome, and I oscillate between the two approaches myself!
In the early days of the Web, of course, we were all focused on a single page at a time. Why would you want to have multiple Web sites open simultaneously? It may surprise you then to learn that the first Web browser with tabs was launched way back in 1994. Not Netscape Navigator, it was BookLink Technologies's InternetWorks browser and to look at it today would undoubtedly be painful. We've come a long way in 35 years of Web evolution, for sure!
Of course, since you can have multiple Web browser windows with tabs on each, a simple management approach is to have a window for, say, school, another for work, and yet a third window for a hobby interest, then have the tabs associated with each constrained to that window. Minimize or hide the window and you can focus on the task at hand. But Google's latest iteration of Tab Groups in Chrome is way, way better than that. Let's check it out…
GET STARTED WITH TAB GROUPS IN GOOGLE CHROME
To start out, here's my current set of tabs in my Chrome browser window. I'm running Chrome 88.0.4324.182 on MacOS 11…
As you can see, the tabs are, left to right, Twitter, Facebook, the National Institutes of Health R&D Web page, LinkedIn and Pinterest. We could play "which one doesn't fit in", but instead, think about how often your tabs are sprawled across the top of your browser window in an equally random fashion.
You've probably already learned that you can hover your cursor over a tab to get a bit more information about that page, like my LinkedIn tab:

But did you realize that you could Command-click or right-click (Mac and Windows, respectively) and get a whole menu of options to appear?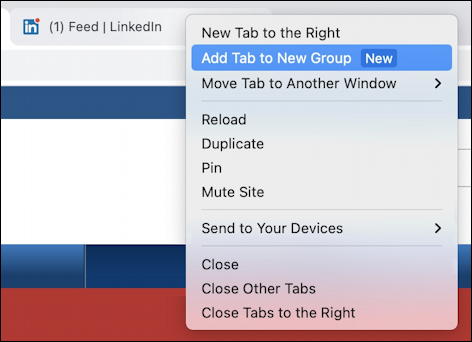 Chrome is even advertising the tab grouping feature as "New" in this menu to draw your attention to this option. Before we proceed, though, read through the list as there are a lot of really helpful options. The most valuable of all? "Mute Site" which can quiet down a Web page that has audio that's playing even though it's not in the foreground. Very helpful for some noisy sites!
In this instance, however, I'm going to create a new "social" group for all my social media sites, starting with LinkedIn. To do that, I'll select "Add Tab to New Group". This pops up a tiny tab group creation window: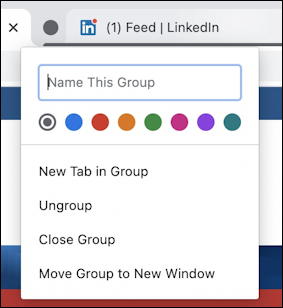 I'll name it 'social' and choose purple as the group color. As I do so, Chrome tracks the changes and shows the information in the tab area itself: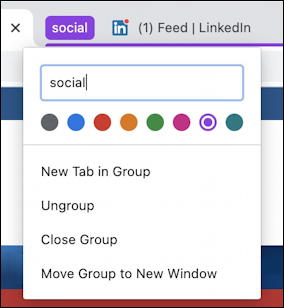 Now it's a breeze to go to the other tabs I want to group and add them to this new group:
Notice that since there's now a named tab group, the menu offers it as a secondary menu along with the choice of creating a new group if you want to have more than one tab group. I'll just add all four to the purple 'social' tab group.
Now the tabs ribbon in Google Chrome is a bit more visually interesting!
Where you suddenly realize the power of this feature is when you click on the tab group name.
In a single click all of the associated tabs in the group vanish:
Ahh, now you can see why this is so dang cool! You can have a half-dozen tab groups, each representing anywhere from one to dozens of individual Web site tabs, and simply have the group names show up on the window itself. Very neat!
COOL CHROME TAB GROUP TRICKS
There are some other really cool things you can do once you've grouped a set of tabs. Right click / Command click on the tab group name…
My favorite is to then move the set of tabs into its own Chrome window by choosing "Move Group To New Window".
Not only does Chrome immediately do that, but the visual representation of the group is pretty slick too:
What Google hasn't quite figured out yet is how to bookmark a tab group. I expect that'll show up in the next update, but for now I've quickly become a big fan of tab groups as a way to manage when I end up with a lot of different tabs open in Google Chrome. I encourage you to check it out too and see what you think!
Pro Tip: I've been writing about Google software since it was a Web site hosted on the Stanford University Network. That's a long time. While you're here, please do check out my extensive Google help area, including lots of useful Google Chrome tutorials to help you get the most out of this popular Web browser! Thanks.