Dave! Help! I post a variety of content on Instagram and sometimes my posts get a lot of really hostile comments. I hate it. But I'm not going to be forced to quit Instagram! Is there a way I can either turn off comments on existing posts or even share new photos with comments already blocked?
It's hard to say whether a century ago people were so mean to each other, but the global reach of the Internet has definitely expanded our ability to be mean to each other. And too many people have taken up that challenge and even find it fun and therapeutic to be sometimes shockingly mean and hostile to others. Every platform has this problem to a varying degree, and while Instagram isn't the worst, there are plenty of people ready to snark away at the first excuse.
Fortunately Instagram does let you post images where comments are disabled from the very beginning or disable comments on a post that you've already published. You can't delete comments from others, but if they're particularly hostile, you can report them to Instagram and hope that something might happen. I know, not too satisfying. But let's see what you can do, starting with…
HOW TO DISABLE COMMENTS ON AN INSTAGRAM POST
I recently posted a photo from my local coffee shop, Red Frog Coffee, in Longmont, Colorado, as part of a local promotion called "longmonster". Here's my post: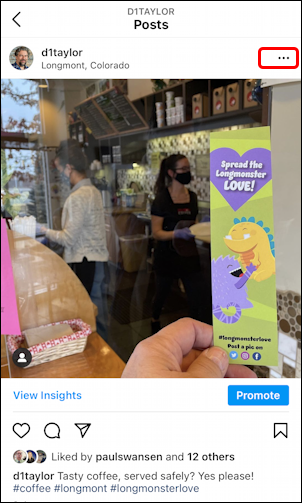 It's already picked up a lucky 13 likes but no comments, so far. Still, I suddenly realize that there's a reason that many of my friends might actually really dislike the place and leave negative comments on this post. I don't want that, so I'm going to quick disable comments. To do that, tap on the "•••" button on the top right of this specific Instagram post. You can see I've highlighted it above.
A menu pops up: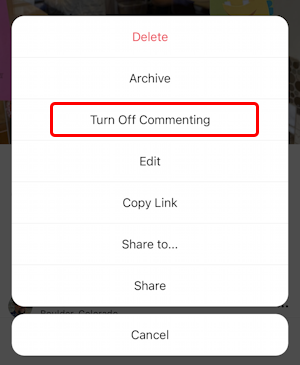 Tap on "Turn Off Commenting" and you're done. it's that easy. You can tell that's happened, though it's pretty darn subtle: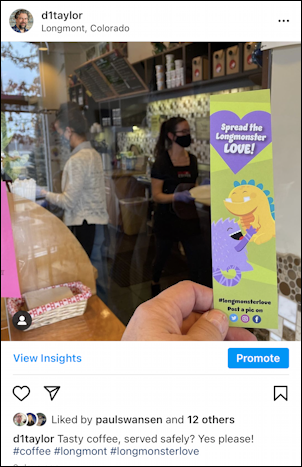 See what's different? No comment balloon icon! So there's nothing to tap on for people to leave a comment even if they wanted to. That's the only difference versus a post where comments are allowed, actually.
Now, changed your mind and decided you do want to allow comments? No worries, tap on the "•••" again and you'll get the same menu, other than that commenting entry is a bit different: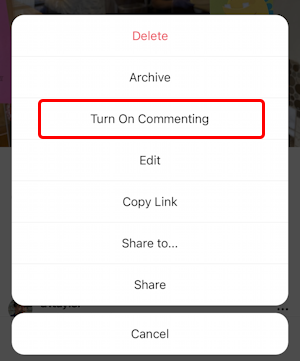 Easy enough. Now, what about….
HOW TO POST ON INSTAGRAM WITH COMMENTS DISABLED
What if you want to post something on Instagram and have the commenting disabled from the very first view? There's a way to do that too, but you have to explore a bit. Here's a pic of my daughter's cat that I'm poised to post on my Instagram account — @d1taylor – as you can see: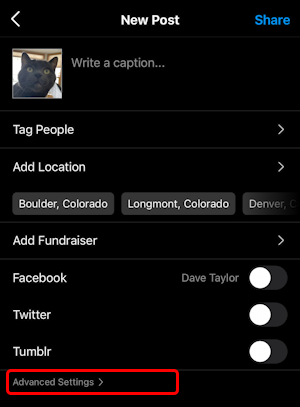 You might never have tapped it before, but you want to tap on "Advanced Settings". A whole world of additional options and settings appear: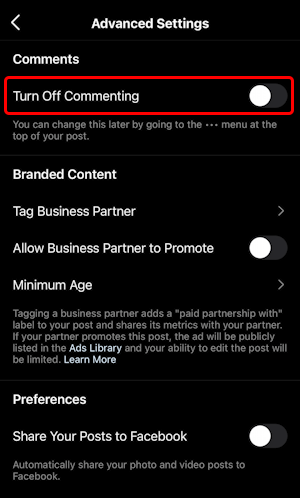 As you can see, the top option is "Turn Off Commenting". Choose that, go back, tap "POST" and you've just posted a photo to your Instagram feed with commenting disabled from the get go. Pretty easy, actually, once you know where to look.
One more fun thing before we wrap up…
HOW TO SHARE YOUR INSTAGRAM POST TO FACEBOOK
Love the latest Instapost? Even days later, you can share it to your Facebook feed by tapping on "Share To…" on that "•••" menu (you can see it in the above screen caps).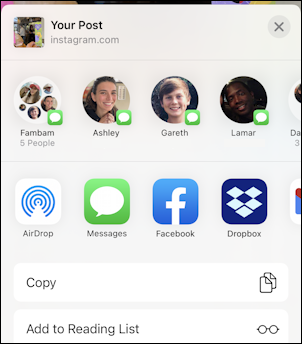 It's actually easy to share it to quite a variety of different channels, from text messages you send a friend or two, to wirelessly send it to another phone or computer with AirDrop, to Facebook or Dropbox! Tap on "Facebook" here to proceed and, assuming you're already logged in to your Facebook account on your mobile device, you'll immediately jump here: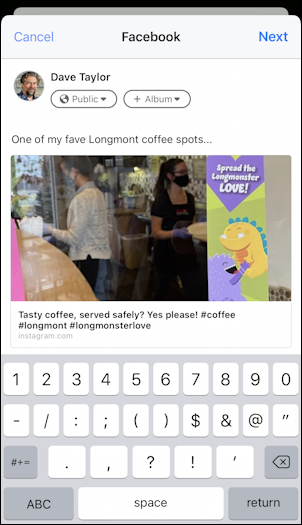 There's a bug that you should know about as you compose your caption, however: While the app shows the caption you included on the Instagram post itself, none of that shows up in the Facebook post. So make sure that your comment on the top encompasses anything you want to say. You can see what I mean when we view this post on my Facebook feed: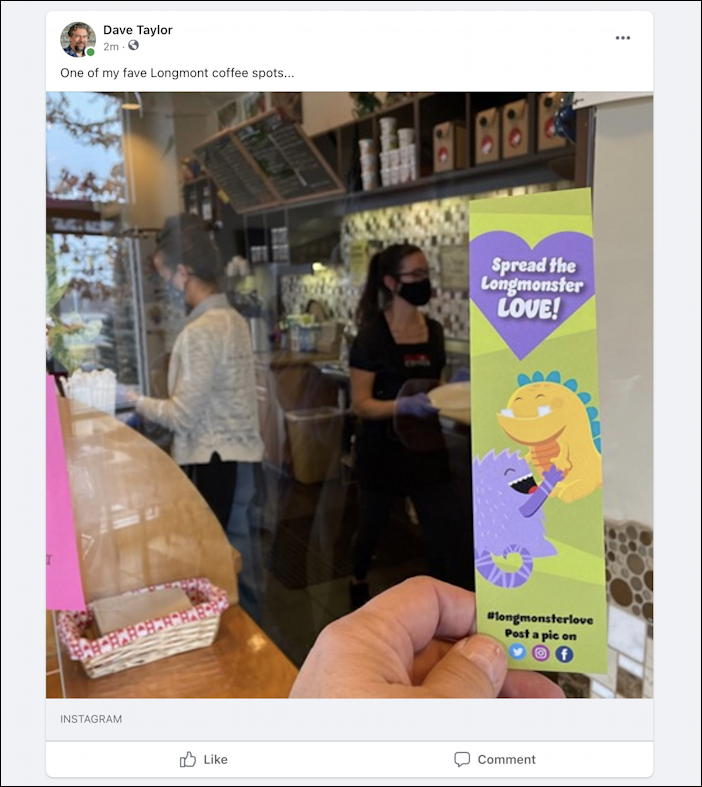 So there you have it. Lots of cool tricks with Instagram and exactly how to disable comments either before you post or after a post has gone live. Good luck with your commenters!
Pro Tip: I've been using Instagram for quite a while and have a lot of Instagram help articles here for you to check out. But why not follow me on Instagram too? Just click or tap on @d1taylor. Thanks!