I love that Starbucks has introduced a new feature where I can buy my cappuccino on the way to the store and have it sitting, waiting for me when I arrive. No lines! Yes! How do I actually get it to work, though?
It was perhaps inevitable that as Starbucks realized the benefits of electronic transactions and being part of the smartphone world, it would also get to the point where you can order and pre-pay for your beverage before you even walk into the store. I'm a big fan of Starbucks, so it's all good for me, and not only do I have the Starbucks app on my iPhone but also use it on my Apple Watch too. In fact, it's a great application of the Watch technology, and the tiny code scans just fine off the watch face directly. Now we just need a caffeine level measuring system so our wearables can alert us to lowered caffeine levels and pre-order another coffee!
In fact, I like Starbucks so much that it's how I invite you to "leave me a tip" here on the Web site. Check it out: Buy Dave a Cuppa. 🙂
If you already have the Starbucks app on your iPhone, it's a fairly straightforward step to enable Mobile Order and Pay. If you don't have it yet, grab the Starbucks app from the App Store.
Once it's set up, you'll see an opening screen just like this:
Ooh, two earned rewards. I need to use those!
To enable Mobile Order & Pay, simply tap on the Menu link on the top right. Most likely it'll show you a promo for the new service, as I saw, but if not, you'll see an option to enable it as a button. Here's what I saw since I enabled it immediately after Mobile Order & Pay was announced: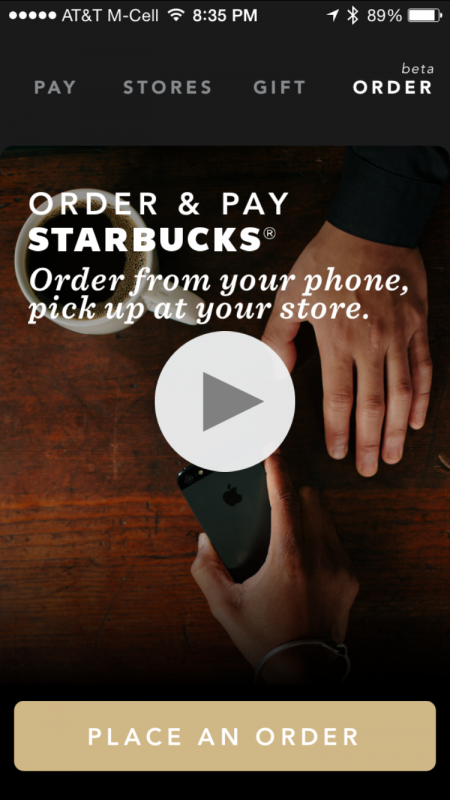 Tap anywhere on the main graphic and you're on the way to enabling the service.
After you approve all the legal gobbledygook, of course: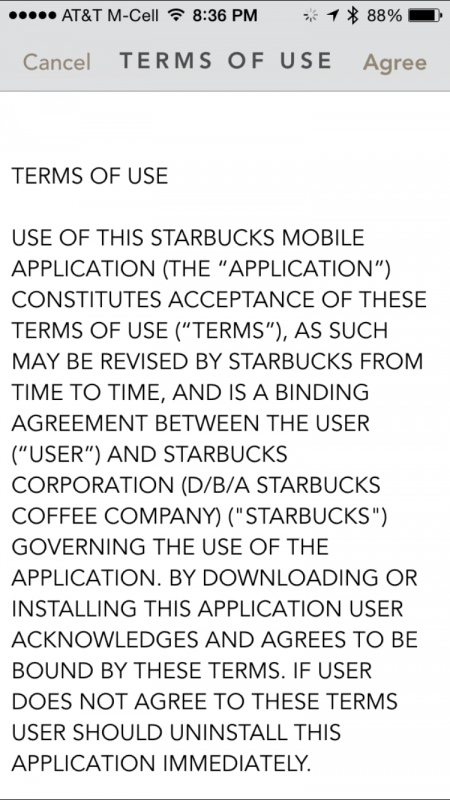 Yeah, sure, whatever. "Agree". 🙂
Now you're ready to go, booyah!
The app will locate the Starbucks nearest you that's open and working with Mobile Order & Pay (my guess is that's going to phase in over the next few months). For me, it's a 'bucks 3 miles away: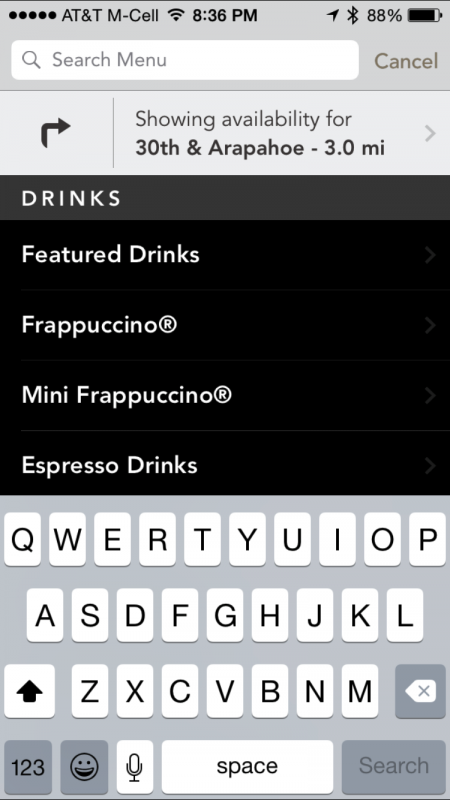 Not sure where the Starbucks it's picked is? Tap on the address and you'll see it on a map, with handy driving directions from your current location: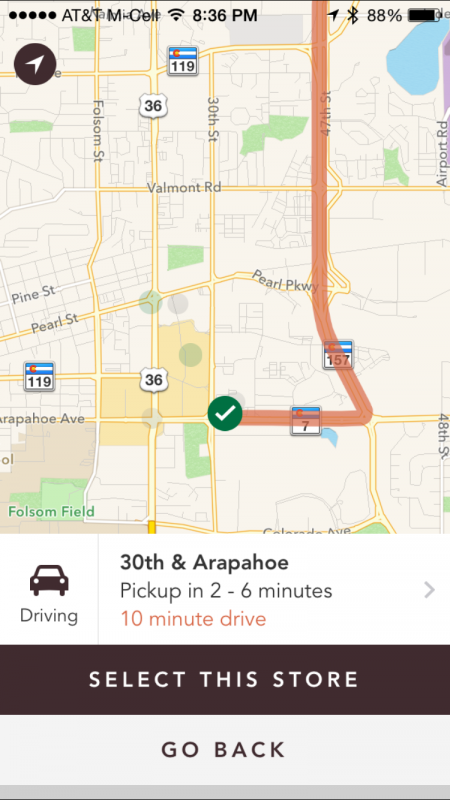 Now you can see the problem: since the store is apparently not swamped, they can make my beverage in 2-6 minutes, but the store's actually 10 minutes away. Meaning that if I ordered it and then jumped in the car, it could be sitting on the counter for up to five minutes. That translates into my coffee being warm, not hot. Dilemma!
One way that Starbucks could address this is to delay sending the order to the store for, say, four minutes (ten minutes drive minus six minutes, the longest time it'll take for it to be ready for pickup), but for now, I think the best way is to have the order basically pre-loaded on your phone, then wait to tap the "submit" button until I'm just a few minutes away. I'd rather wait a minute or two for my drink to come up, after all, than have it sit and sit, waiting for me and cooling off / melting.
Still, let's order something and try it out!
I'll tap on "Select This Store" and I'm back at the beverage menu. I'll choose a mini-Frappuccino. Now I have a ton of options for specific flavor: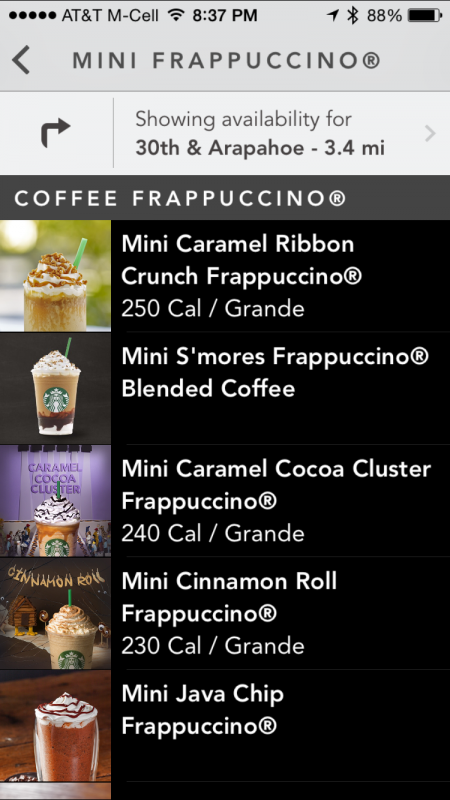 My personal preference is the Java Chip Frappuccino, so that's what I'll tap on this time, though these are some pretty exotic sounding flavors, aren't they?
That's all I want this time, so I'll tap on "Continue"…
You can see that it's selected my gold Starbucks card for payment (I told you I go there a lot!) and that it's ready to order. Just a tap on "Order".
But here's where I'd let the app sit until I'm within that 2-6 minutes of the store. My goal would be to walk in the store as they call out my name with a completed drink on the counter, so tapping on "Order" is a good mobile activity (though generally I don't recommend using a mobile device while driving, of course. A smarter solution would be a "delay submitting order by X minutes" option, and perhaps that'll appear in an update of the app once it's field tested more).
Still, ya gotta be impressed with the new Starbucks Mobile Order & Pay. Even if it's just that you walk into a Starbucks and see a monster line, it's great to be able to just shoot your order in electronically, pay for it digitally, and never have to slog through a line again. Grab a seat, play a little Candy Crush, and in just a few minutes your beverage will pop up, ready to go. Neat, easy.
And btw, now that you've enabled Mobile Order & Pay, you'll notice that the main menu options along the top of the Starbucks app on your iPhone have changed too: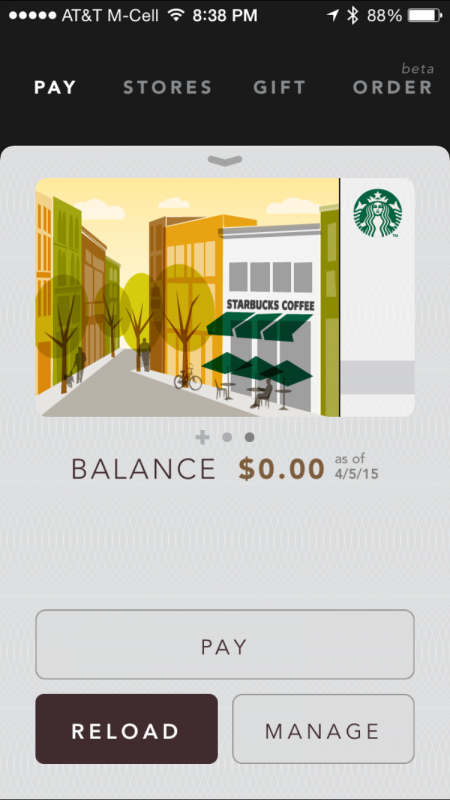 See it? Menu has been replaced by Order, currently with a "beta" disclaimer, but that'll go away soon enough.
Kudos to Starbucks for making things even more convenient. Now I better jump in the car and get my Frappuccino before some else grabs it! 🙂