Just downloaded a guitar tuning app and it totally doesn't work at all. Do I need to allow it to access the microphone on my iPhone 5 or enable mic access?
You are exactly right in your supposition, though either it's a poorly written app or you were moving a bit too fast when you first launched the program. Why? Because apps that request access to the microphone on your iPhone (or iPad, or iPod Touch) should pop up a dialog box indicating that it needs access and requesting permission. My guess is that when you first launched the guitar tuner app it did just that but you interpreted it to mean something else and said "no".
Making it rather dead weight on your iPhone, for sure. A tuning app that can't actually "hear" the note your playing is not useful at all!
Fortunately the fix is easy to implement, and I bet you'll be surprised how many of your apps already have access to your microphone (not to mention all the stealth apps installed by the National Security Agency. But I'm not supposed to mention those!)
Start out by going into "Settings"…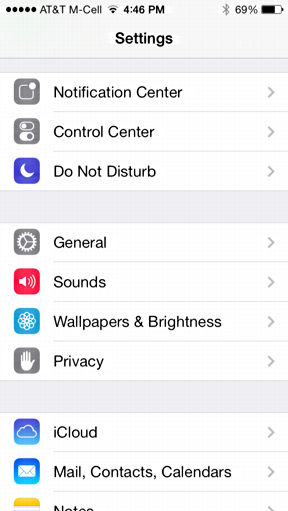 You need to go into "Privacy" to find what you seek, so tap on "Privacy".
Then scroll down and…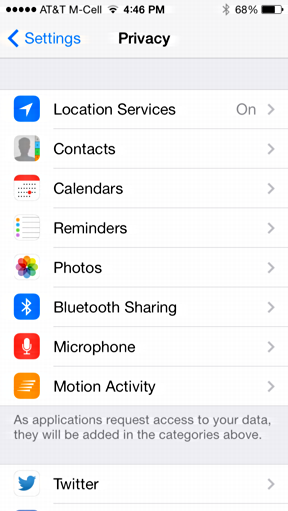 Hey! There it is: "Microphone". With the red icon.
Note the other capabilities of the phone here too, including motion activity. Lots to pay attention to if you want to lock down your privacy with the device.
For now, however, tap on "Microphone".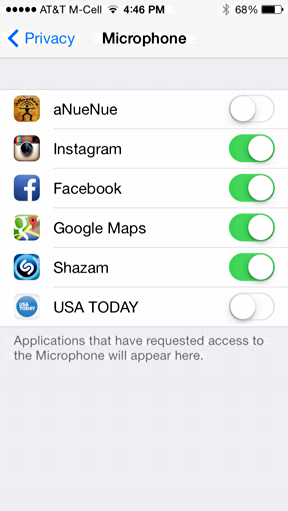 Here you can see that I have six apps on my own iOS 7 iPhone 5s that request access to the device microphone, and only four have been granted permission. I mean, why does USA TODAY need to get to my microphone?
My daughter has a new ukelele, however, so we grabbed a tuning app called aNueNue and, just as with your guitar tuning app, this one's completely useless as long as I prevent it from accessing the mic to hear the note played.
To fix that and make aNueNue useful, I'll simply tap on the on/off controller to change it to green: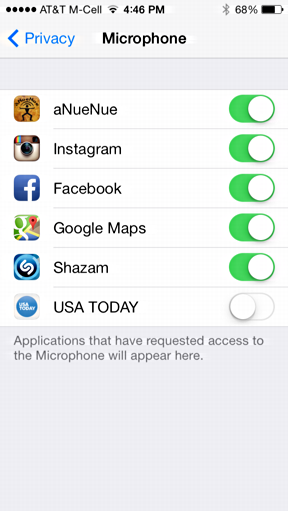 I'm still not too sure about USA TODAY, but otherwise, I now have to wrap up because I have an ukelele to tune!