I don't know whether to believe it or not, but I got an email saying that I had requested termination of my Gmail account and now it's queued up for cancellation. What's going on?
Your account is not going to be terminated. No-one requested that your account be cancelled. That's not even how Gmail works! What you received is actually just a spam message, a relatively crude phishing attack. So what's a "phishing attack"? Great question! It refers to spammers and criminal hackers who seek to trick you into revealing your account credentials or other information. Typically it'll be something like a fake alert from your bank about an issue that requires you to log in immediately to confirm you're still alive, didn't mean to send pay that unknown person $500 or similar. The trick is that when you go to the Web page, you think you're logging in to the real site, but it's a mockup designed to simply harvest your login credentials.
Phishing attacks, therefore, are usually a combination of email and a fake Web page or two. But the intention is the same in any case, and if your "Request to Terminate your Gmail Account" email is like what I have in my spam folder on Gmail, it even says something to the effect of "To cancel the termination, reply to this email."
If you did reply, they'd respond by asking for your login credentials (including password) so they can "confirm" your identity. Then they log in, change your password and you've just lost your Gmail account for real. ¡No bueno!
Here's a typical email for a scam like this: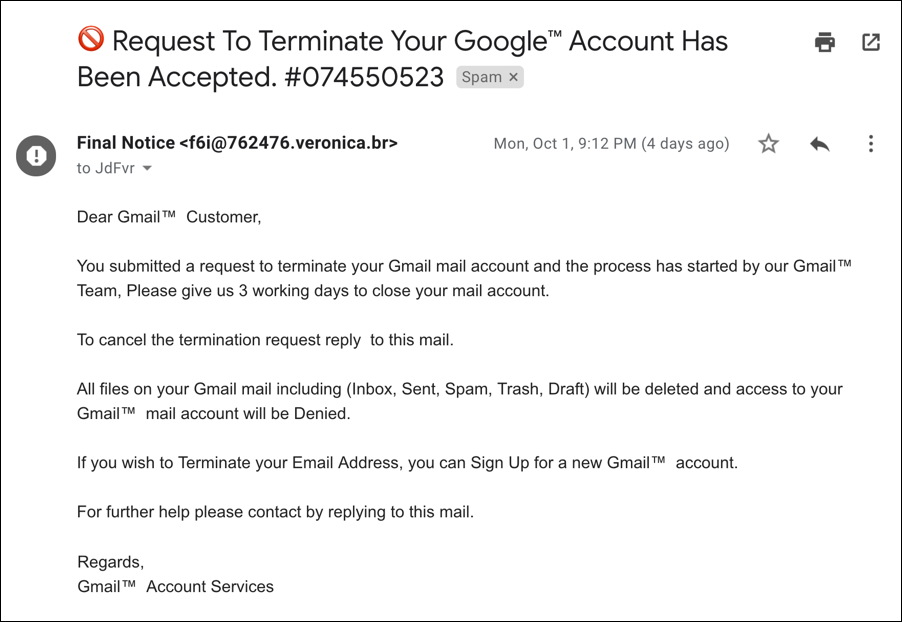 There are, of course, all sorts of reasons to be highly skeptical of this email, starting with the fact that Gmail has already moved it into my Spam folder. But even without that, look at the email address of the sender: f6i@762476.veronica.br. Why on Earth would Google be sending me an email from a non-Google site in Brazil of all places?? And with an account name like "f6i"? Dumb. The spammers could at least have an email address like "account-management@gmail.com" or similar, But… if they were smart, they wouldn't be trying to scam us in the first place, right?
Also notice the destination account name: JdFvr. In fact, click on the tiny triangle just under the sender and you'll get more details on the header and routing information of this particular email:
If you needed a red klaxon to go off, the "reply to" address should be plenty enough for you to immediately just delete this email without another thought. WHY OH WHY would Google's Gmail team want you to email to all of these random Web sites?
The answer? Because one of them is the scammers. The others will probably all bounce so you'll figure none of them went through, until you can't get into your Gmail account again. Oh, and did you see the recipient "To" address? JdFvr@pn6cmts.uk. That's sure not my email address.
The long and short of it is to always be vigilant and skeptical and to never – ever! – send your account credentials to anyone via email, however legit it may seem.
Got that? Good. Now delete this silly spam email and get on with your day. 🙂
Pro Tip: I have lots of useful computer and Internet tutorials here on the site. Please spend a few minutes checking it out…