I want to update the cover photo on my Facebook profile for the holiday season. I have a great picture all ready to go. What's the easy way to change this banner image and how big should the image actually be?
Since we never look at our own profiles on social media, it's easy to forget that they should occasionally be updated. The process is pretty easy, but you want to either use a photo you've already posted or have one prepped and ready to upload for the task. In terms of dimensions, the minimum size for a Facebook profile cover photo is 1125 x 633. If you upload a larger image, you'll be able to pan around to center it so it looks best, meaning if you have a 1500 x 1000 image, for example, it'll work great. Since this is one of the few online spots where a big photo will be displayed large, it's best to start with an image that's crisp and detailed.
If you don't have a suitable image, remember that there are lots of public domain and creative commons photo archives online that you can check. Or you can ask a photographer friend if they have any beautiful landscapes, ocean shots, sporting pics, or similar. Or, heck, you can just grab a photo from your favorite college or sports team's Web site!
Ready? Let's do this.
WHERE TO UPDATE YOUR FACEBOOK PROFILE PHOTO
Easiest is to start by logging in to your Facebook account on a Web browser. On the left side will be an extensive menu that includes the following top few entries:
Yours will have your name, of course. That's what you want to choose. A click or tap and you will be looking at your own profile page on Facebook: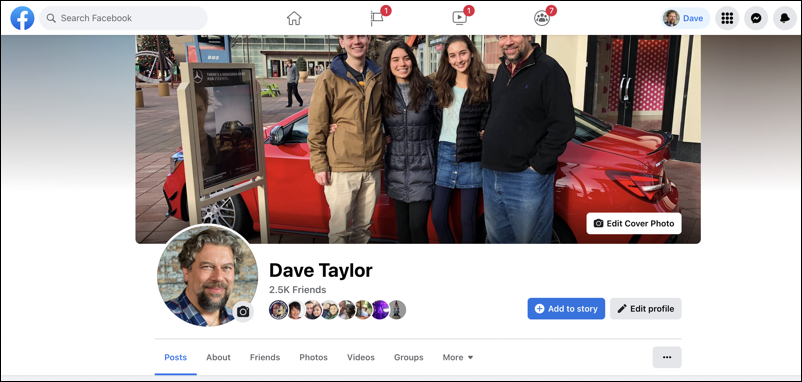 Now we should differentiate; I'm showing how to update the Cover Photo, the large image at the top of a profile page. The smaller image of you in a circle is what I call the Profile Picture or Personal Profile Picture. That you can edit by clicking on the tiny camera icon superimposed on top of it (because it's your profile page).
CHOOSE A NEW FACEBOOK COVER PHOTO
For the Cover Photo, click on the "Edit Cover Photo" button on the lower right of the image and a small menu appears…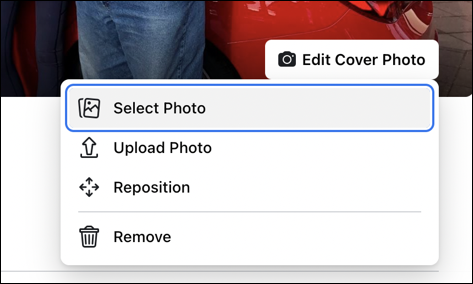 If you have already uploaded or posted a photo on Facebook that you think would be a great choice for your Cover Photo, choose "Select Photo". Have one on your computer ready to upload? Choose "Upload Photo". If you like the photo that's there but want to move it just a smidge, choose "Reposition" and I'm pretty sure that "Remove" is self-explanatory!
I have a number of photos I've posted to Facebook so I'm going to choose "Select Photo", which offers this view:
Fortunately, I can indeed find some potential images, starting with an abstract mountain graphic. A click to choose it and I can preview it as the Cover Photo on the page:
Notice the "Drag to Reposition" in the center. Try it!
Tip: If you see that but can't seem to reposition anything, it's because your image is the minimum acceptable size so there's no "extra" image to work with so reposition is essentially disabled.
If you like the image, click on "Save changes" on the top right. Or "Cancel" if you want to try a different image.
In fact, I'm going to choose a different image for my profile!
That's a very different image than the graphic design, for sure. A quick reposition and I'm ready to save. Click on "Save changes" and… done.
That's it. Mission accomplished.
Pro Tip: I've been writing about Facebook since the very beginning of the service, and encourage you to follow AskDaveTaylor on Facebook. Not only that but please do check out my extensive Facebook help area with hundreds of other helpful tutorials and guides! Thanks.