You've written about how to print email messages in Gmail before, but that's out of date! What's the modern way to print a Gmail message?
You got me on this one. The older article how can I print one message in a discussion thread in Gmail is indeed a bit outdated due to recent changes in the user interface. Mea culpa, things change! 🙂
The good news is that the basic idea of looking for the message menu and choosing "Print" from there is still the solution, but the way Google Mail is managing printing is subtly different now too, so let's actually look at the top level question of how to print a message or discussion thread, because there's something really cool that Gmail does…
To demonstrate, I'm going to print a message and step you through the process.
I'm already viewing the message, so the print everything icon (which used to be a text button) is on the top right: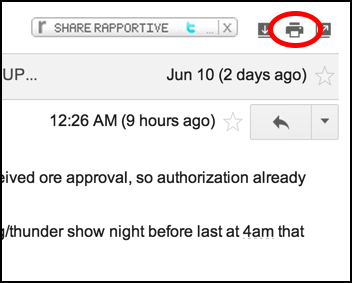 But I want to print this specific message, not the entire thread, so to do that I'll choose the "Print" option from the Reply menu, as shown here: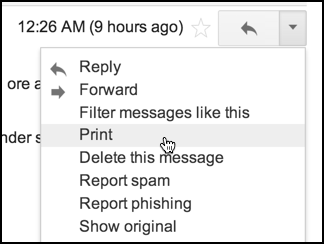 Since I'm running Google Chrome, the next page is the Chrome printer dialog.
Notice that it shows a preview of the message — without any of the Gmail navigational elements or other "noise" — on the right, and the print options of choosing specific range of pages or which destination on the left:
But that's not the cool part, though it's how you print out the page you want. What's cool is that Gmail has also popped open a new tab in your browser that has this austere, navigation-free view of the page:
As you can see, it's a very clean way to read a message and it turns out that I use this feature quite a bit when I'm in Gmail and want to read a message without additional clutter on the screen.
Anyway, that's the update on the Gmail printing. Hope it's helpful!