Hi Dave! My local history club wants to have Zoom meetings and somehow I've ended up being the meeting host. What's the easiest way for me to send everyone a link so they can join the meeting at the proper time?
Turns out that there are a lot of different ways you can invite people to join you for a Zoom meeting or schedule one for the future. Because Zoom wants to be as accessible as possible, however, these invites can often be a bit baffling to create and share, however, with confusing information about international dial-in numbers and much more. For most of us, however, all we need is a URL link and possibly a password and we're online and ready to go!
While there is a Zoom Web interface, the best way to use the popular video conference and meeting service is through its dedicated app. If you don't already have that installed on your Mac or Windows system (or tablet or smartphone), grab a copy by going to zoom.us/download and grab the client app, the first one on the list of programs. Launch it, log in to your account (or set up an account if you don't have one yet on Zoom) and you should be looking at a window like this: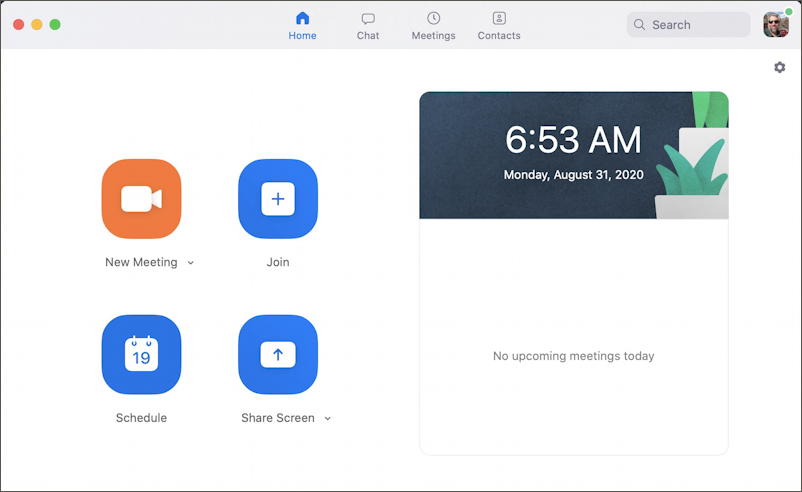 The absolutely easiest way to get a meeting going is to click on the "New Meeting" link and start a meeting. But a better strategy might well be to instead click (or tap!) on the tiny downward facing "V" just after the words "New Meeting", which will bring up a couple of options in a menu: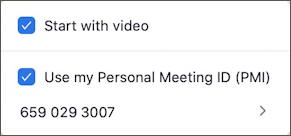 Every single Zoom user gets a Personal Meeting ID (PMI) – mine is 659 029 3007 – and knowing someone's PMI lets you jump into their meeting if they have one in progress. But click on the ">" after your own PMI and there's another menu that appears: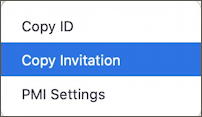 As shown, you can choose "Copy Invitation" and now you have in your copy/paste buffer a big, long message from Zoom detailing how people can join your meeting (once you start it; as the host, your meeting won't actually start until you click on the big orange "New Meeting" button). That email looks like this: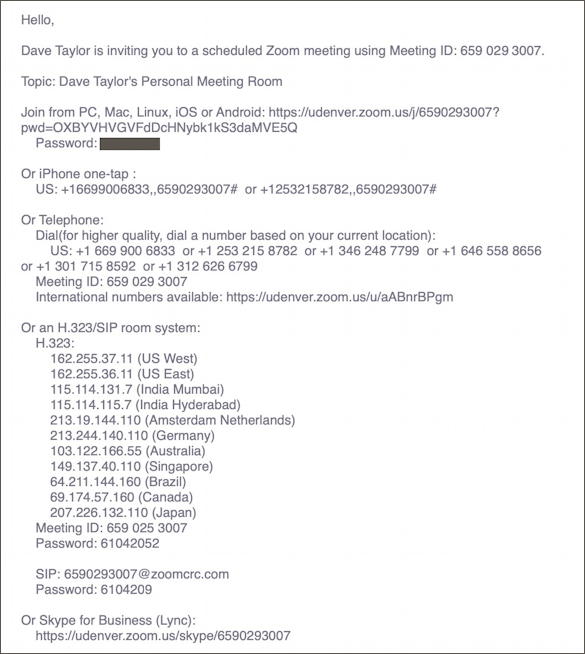 You can just open up an email message to your history club members and paste this into the message body or post it to the group's Facebook page or similar, but since people really just want a link, not all this complicated information about H.323/SIP rooms (whatever they are), you can also just grab the link and password (if you have one set) from the paragraph that starts "Join from PC, Mac, Linux, iOS or Android…" and delete everything else. MUCH easier.
Too complicated? Okay, here's a second way to get this information that might be easier. Start a meeting! Yep, just click or tap on that big orange "New Meeting" button. You'll soon enough see something like this: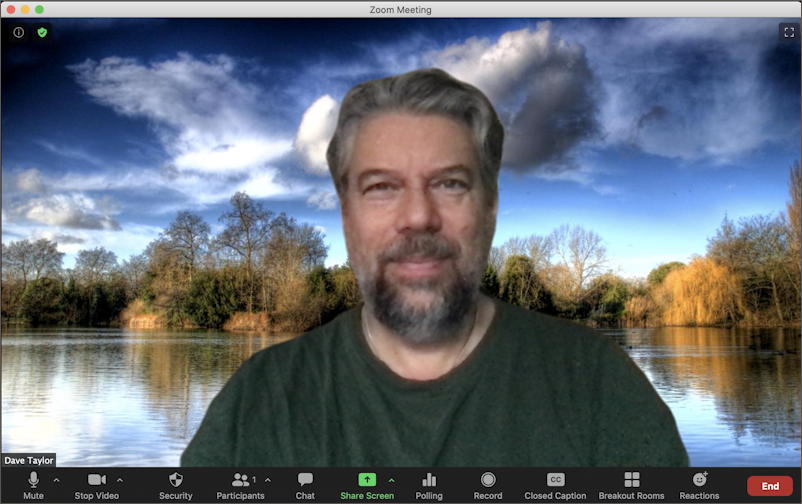 Well, you probably won't have me looking at you, but you get the basic idea. 🙂
Now, along the bottom are a ton of buttons, but the one you want is "Participants". Click on that:

Choose "Invite" and it'll bring up a big window of contacts from various sites that looks like this: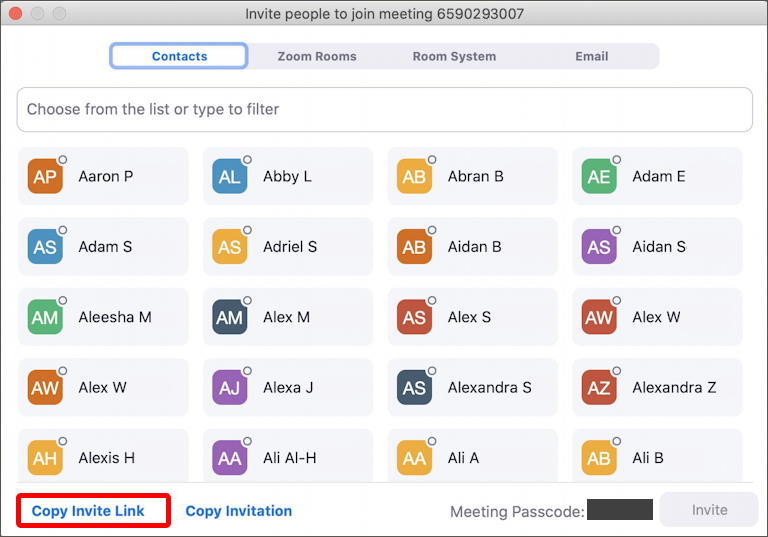 Lots of options, including email as one of the tabs, but all you really need is the link on the lower left (highlighted): "Copy Invite Link". Do that and you'll now have just the URL Zoom Web link in your copy / paste buffer. It'll look something like this:
https://udenver.zoom.us/j/6590259007?pwd=OXBYVHVGVFdDcHNybk1kS3daMVE5Q
Since I'm affiliated with the University of Denver, our Zoom links include "udenver" but yours will be more like "www.zoom.us" instead. This is the link that you want to share with your friends, colleagues, family, club members, whatever. You can text them (again, it's in the copy / paste buffer so  Edit > Paste will do the job), send it in email, post it to a Facebook or LinkedIn group, whatever you'd prefer.
Note: Your meeting link is the same regardless of when your meeting starts or whether it's running or not, so this technique will also work if you want to start a meeting just to get the link, then quit the meeting until the appointed time and date. 
SCHEDULE YOUR ZOOM MEETINGS
For bonus points, try using the Zoom meeting scheduler instead. Click on "Schedule" instead of "New Meeting" on the home screen of the Zoom app and you'll see this set of options for your upcoming meeting: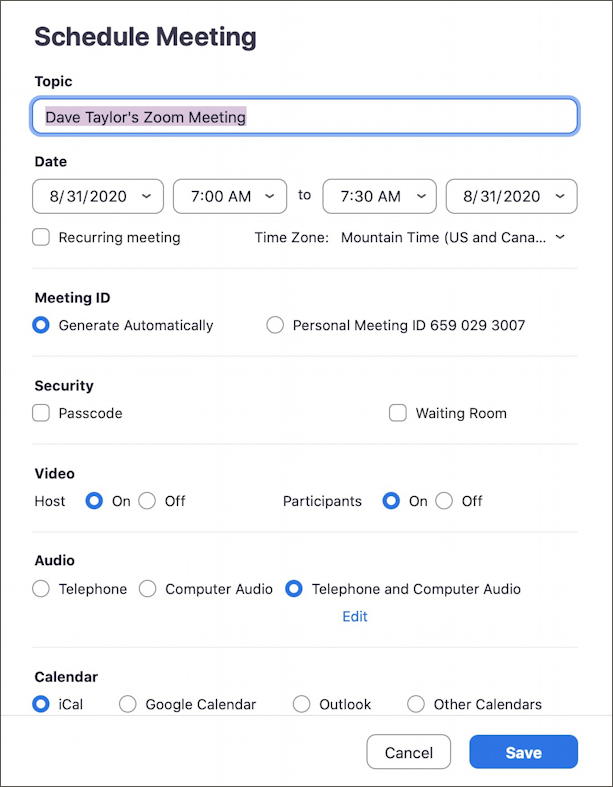 Here you can name the meeting (like "History Club Monthly Meeting"), specify start and end dates and time, mark it as a recurring meeting, use a passcode or waiting room to ensure random folk don't join and mess things up, disable participant video (sure to get your club members upset!) and more. All quite handy if you want to experiment with the Zoom meeting scheduler, or, as I said in the beginning, you can just get that meeting URL and go from there. Good luck!
Note: I've scrambled my own personal meeting ID information on the screenshots above so don't be surprised if you try to join me on Zoom just to find that the URL or PMI doesn't work. Just protecting my own privacy and that of my students, ya know.
Pro Tip: I've been writing about Zoom since it started to become popular! Please do check out my other Zoom help pages for lots more useful tutorials to get you up to speed. Thanks.