I've been borrowing my Mom's Infiniti QX30 and need to give it back to her. I want to delete my phone from the bluetooth infotainment system beforehand. What's the easiest way to do that? It's a 2021 Infiniti.
As with most car companies, Infiniti keeps upgrading and improving its infotainment system, sometimes faster than they improve the rest of their vehicles. I don't have a 2021 Infiniti, but I do have a 2022 Infiniti QX80 to work with, so I can demonstrate how that system makes it (relatively) easy to forget or unpair Bluetooth smartphones – or even Wireless CarPlay or Android Auto – from the system and expect it'll directly apply, even if a screen icon or two might be slightly different.
It's smart to unpair your phone when you're done with a vehicle too, because typically when you pair your iPhone or Android phone via Bluetooth with a car, the system then downloads your entire call history and contacts database. Every phone number, every street address, every call you've made in the last few weeks, is now stored in the vehicle, and still there when someone else drives off with the vehicle even if your phone's safely in your pocket. When you're using the car, it's great to be able to say "call mom" and have it know how to fulfill that request, but once you're done, unpairing and forgetting your device is just smart!
HOW TO UNPAIR AND FORGET A PHONE IN INFINITI VEHICLE
The QX80 has a big double-wide display, which I don't think is in the QX30, but, again, the process should be similar. After going "Home" here's what I see: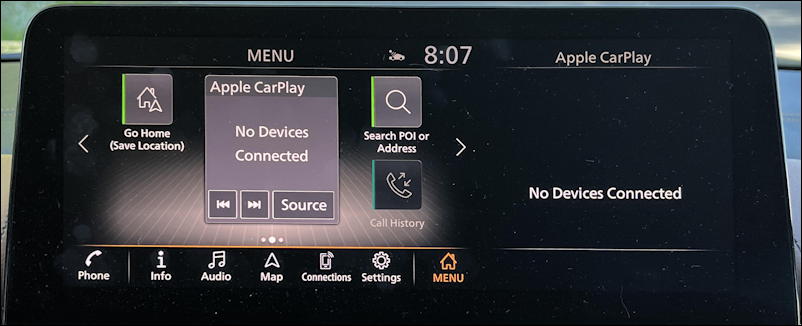 You can see that there are no currently connected devices on the Apple CarPlay pop-up window, but my phone is still in the connection database, with all of its data. Tap on "Settings" to get to the main settings screen: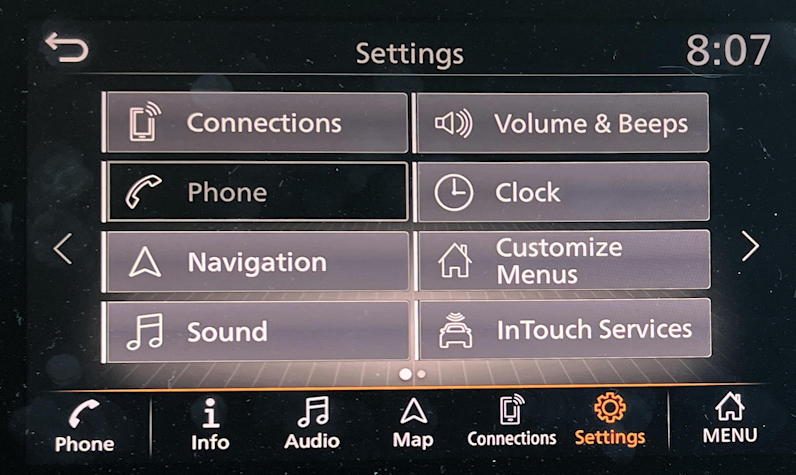 Since there are no actively paired phones (I disconnected mine for this demo) that button is unavailable. Confusing, since that's a reasonable place to look for phone settings, but instead tap on "Connections".
Now you can see that I have two of the six slots taken up with smartphones that offer CarPlay (it's the first of four icons shown for each device). Delete? Not obvious. So here's the secret: tap on the "i" information icon instead.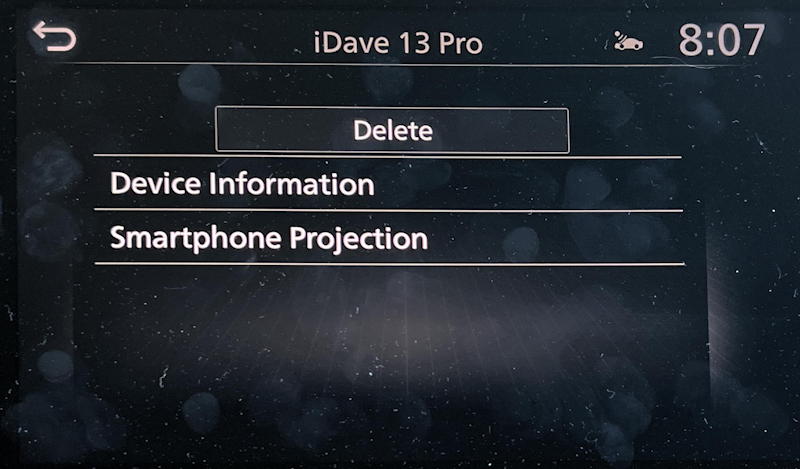 There's that Delete button! You can check out what Device Information the Infiniti has stored from your phone if you're curious too.
A tap on Delete and it'll confirm that's what you really want to do:

Sure you want to proceed? Of course, you can also pair it again if you change your mind or get the vehicle to drive again. Tap on "Yes" to proceed!
That's it. Mission accomplished.
CONFIRM PHONE DELETION FROM INFINITI INFOTAINMENT SYSTEM
It's easy to ensure that it worked; Go back to "Connections" and now you should see this: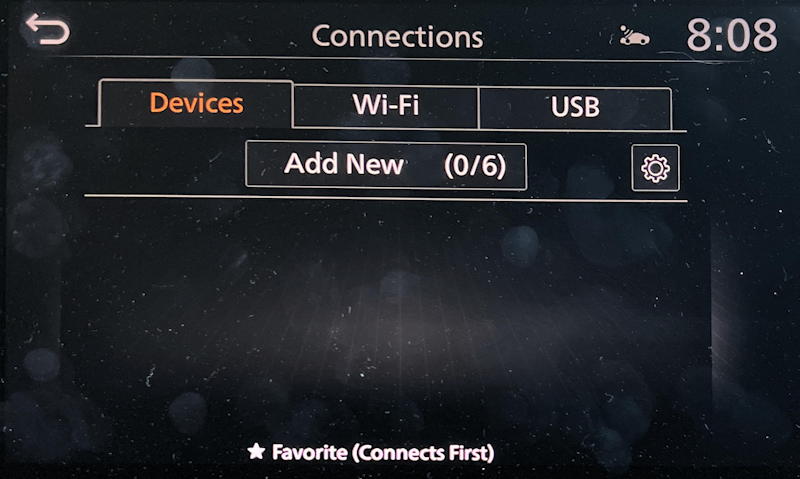 No connections. You can add a new phone from this point by tapping on "Add New", but there's also a shortcut that's even easier. Tap on the "Phone" icon along the bottom of the home screen and it prompts: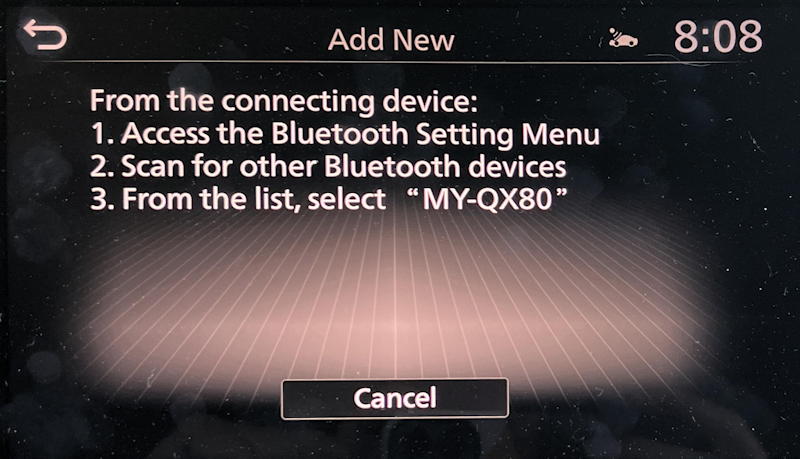 Easy enough! Now don't forget to fill up the tank before you return the car to your Mom, as a thank you. 😀
Pro Tip: I've been writing about the tech and devices in your vehicle for many years, including lots of tutorials about how to get the most out of your infotainment system. Please check out my Auto Tech Help area while you're visiting for more useful content!