My friend was showing me that on his Android phone, the detailed information about a wireless network includes network performance numbers. But they seemed ridiculously high. How can I reliably ascertain network speed from my phone?
When asked the question of network speed, the proper response is always "which network?" In other words, the very concept of the Internet is that it's an interconnected network of networks, so accessing a Web site's home page might involve your own local network, your ISP's network, a long-haul network connection across the state, country, or world, followed by the hosting company's network, to finally reach the actual computer that's responsible for those pages. Then the information reverses, zipping back at the speed of light through all those networks to you again.
This is logical if you think about the Web and Internet as a network of networks and explains why Web pages from companies in your local area are likely to be serving up information far faster than those on the other side of the globe. If nothing else, there are the physical constraints of communication itself. Web pages from Mars or Pluto? It's going to be pretty darn sloooowwww…
LOCAL NETWORK PERFORMANCE
The first question to ask then is how fast is your connection to your wifi router? That's precisely the question answered by the Settings info on your Android phone.
It's worth noting that iPhones have no analogous information in their Wi-Fi detailed settings info. Apparently, Apple wants to avoid confusing its users, whereas Android is indulging in what might be a bit of oversharing! 🙂 
On your Android phone, go into Settings, then choose "Network & Internet". When I did so, here's what it showed me about the network connection options currently available at my location: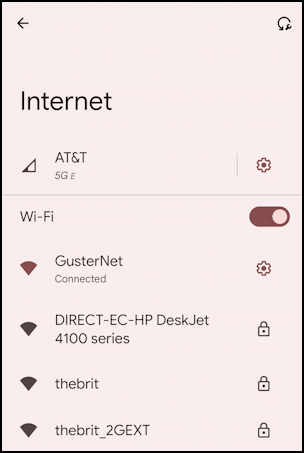 I'm connected to "GusterNet", so it's easy to get more information by tapping on the gear icon adjacent.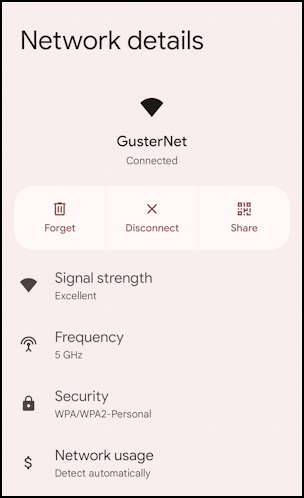 Excellent signal strength. Good. A secure network with WPA/WPA2, reasonably good (there are more secure protocol options that could be utilized instead, but this is still 100x better than no password). Connected via 5Ghz band, not 2.4Ghz band. Also good.
Swipe down a bit further and the speed stats appear: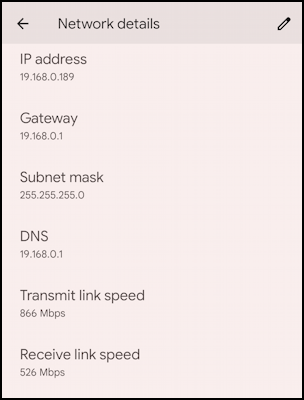 Transmit link speed: 866 Mbps and Receive link speed: 526 Mbps. That's crazy fast, for sure, but it's not the Internet access speed, it's just the speed of communication between the phone and the wifi hotspot or base station. For the speed of the hotspot to the Internet itself, we'll have to do something a bit more complicated…
SPEEDTEST.NET FROM AN ANDROID PHONE
One of the most popular programs for testing Internet connectivity speed is Speedtest from Ookla. There's an app but there's also a Web-based interface, so let's start with the latter… To do that, simply go to speedtest.net and tap on the big "Go" button. Grant permissions as requested (it needs system-level access to properly test and measure download speed).
During the test you'll see something like this: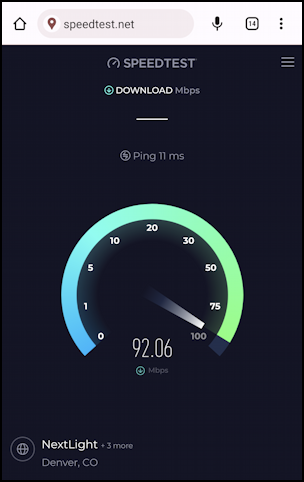 Can you see the faint "Ping 11 ms" info? That's important information too because it indicates the speed of the connection from your device to the "other end" of the ISP's connection. Not to the Internet overall, faster is definitely better, and 11 milliseconds is entirely respectable.
After a few moments, it'll offer up a download speed result: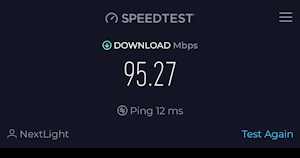 This particular network has a download speed of 95.27 Mbps, meaning it's a pretty fast connection to the Internet. What it doesn't show, however, is upload speed, something that most people don't care about but you might want to know. I care a lot about that figure myself because I upload lots of video content to my YouTube channel [please do check it out if you've never seen any of my reviews!]
DOWNLOAD AND UPLOAD SPEEDS WITH THE APP
To measure both download and upload speed, you'll need to install the Speedtest by Ookla app. Easy enough, go into the Google Play Store and search for "speedtest":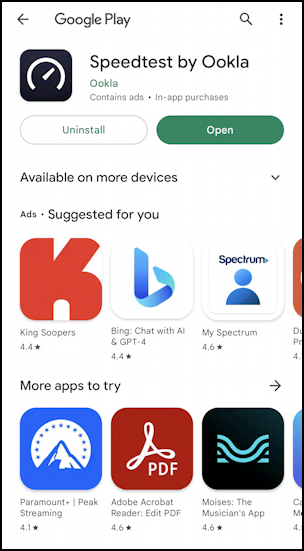 I've already installed it so the green button is labeled "Open", but you'll see "Get" instead. You know how to download and install Android apps, so go to it! Then open the app and tap on "Go"…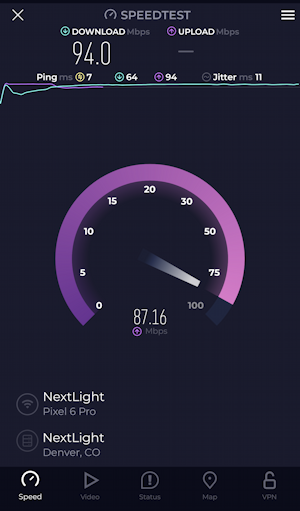 This time it will both test download speed and upload speed (which it's doing in the above image, as shown by the purple gauge color). After a few moments:
It's showing 94 Mbps down and 95.4 Mbps up, which is atypically symmetrical. Usually, network connections have far faster download than upload speeds, but this is a speedy fiber optic connection which is offering solid performance in both directions. By comparison, on a typical public wifi connection at a local coffee shop, I saw 48.3 Mbps down and 8.3 Mbps up, a far more typical result.
That should hopefully clear up any mystery surrounding network performance on your Android phone and what those figures in the Settings app actually mean!
Power Tip: I've been writing about Android for many years and have an extensive Android help library here for your edification! Please check it out while you're visiting. Thanks.