I was on LinkedIn the other day and noticed an advertisement based on a search I'd done on Amazon. What the heck?? How can I turn this off?
Everything we do on the Internet is now being tracked and linked together, so it's hard to find Web sites that don't have a history of your searches, site visits, even search queries. It's creepy at times, actually, and dumb too: Sometimes you'll do a search, buy the product, and still see ads for it on other sites for days or weeks into the future. This sort of behavioral tracking is done through third-party site cookies and it's easy to understand if you remember that even on a single Web pages there are boxes and areas that have content produced and managed by completely different sites. Here on AskDaveTaylor, for example, there are squares and rectangles completely managed by the Google AdSense program: I have no idea what's being displayed and it's likely different for each visitor.
LinkedIn is no different in this regard, seeking the maximum revenue for each advertising display region. The fact that it can be an apparent violation of your privacy, or at least your expectations of privacy, is rather pushed back onto each of us as users of the modern Internet. I mean, when you do a search on Amazon, do you realize that information is being disseminated?
LinkedIn makes it easy to change these settings, however, so before we grab our pitchforks and burning torches, let's just turn this feature off on the site and be done with it. Other sites make it a bit more tricky, unfortunately, but that's another story…
On LinkedIn start by clicking on the tiny downward triangle below your picture on the top right:
As you can see, you'll want to choose "Settings & Privacy" from the menu. This offers up a huge number of different options – rather overwhelming, actually – but click on "Privacy" along the top to get here: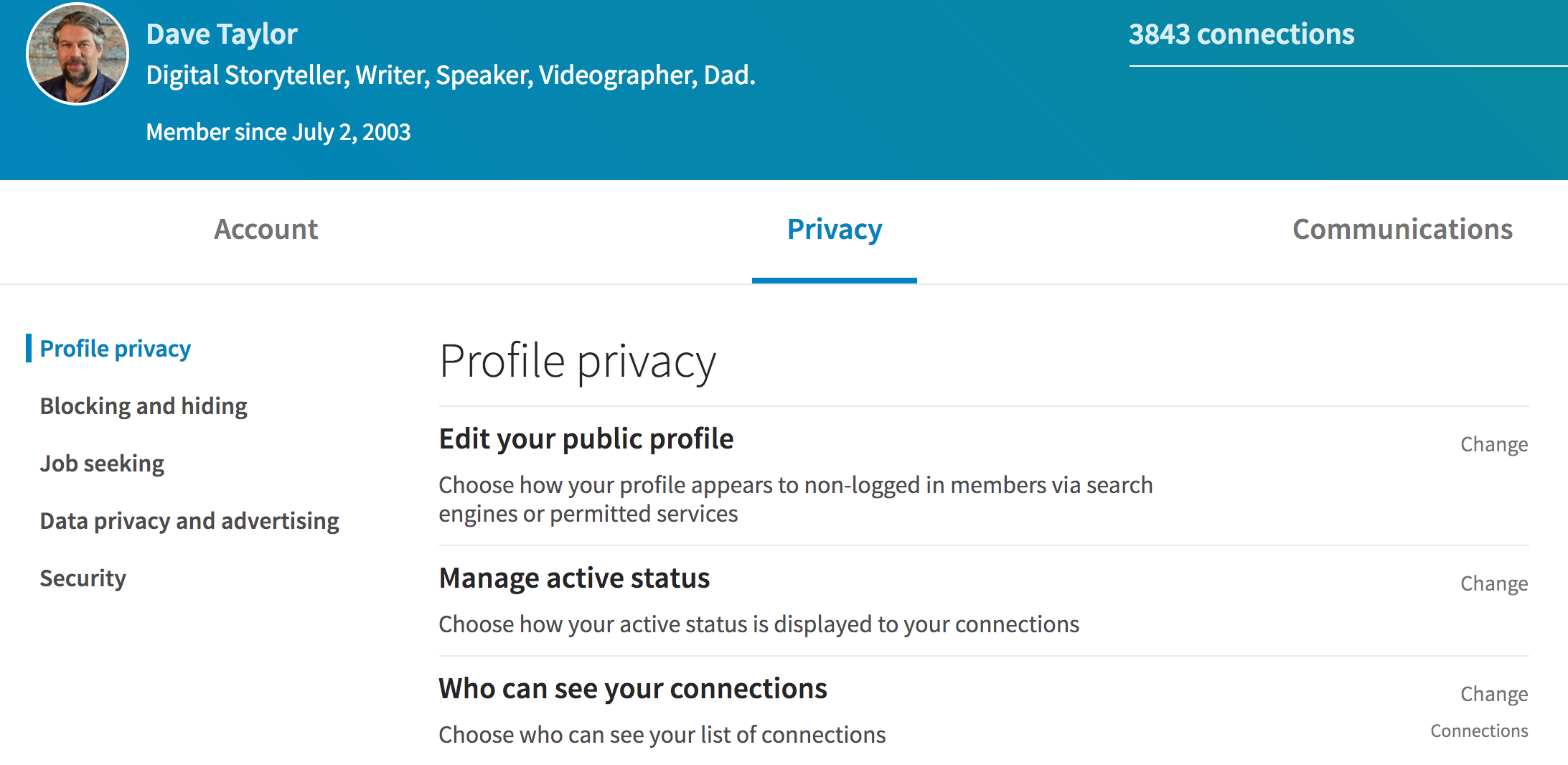 Now look on the left side at the options. You want to choose and click on "Data privacy and advertising". Do so and here's what you'll see:
You'll want to have a close look at each of these settings, but for our task, find and click on the words "Advertising preferences". You'll get a good explanation of exactly what's being controlled with this setting:
Make sure it shows "No" (as above) and you can leave this area because you're done. No more creepy third party tracking ads should show up on your LinkedIn pages. Easy enough.