My girlfriend is a bit obsessive about me texting her as soon as she messages me, and it's annoying. I'm wondering if there's a way to disable read receipts in text messages on Android to avoid the hassle?
Read receipts on SMS text messages are surprisingly controversial, as it happens. Since I don't personally pay attention to them, I figure most people also basically ignore them, but based on a recent Facebook discussion, I am apparently wrong. Your girlfriend seems to confirm that too, watching to see when you receive her text messages and them presumably timing to see how long after until you respond.
Honestly, there's a relationship issue you might want to explore with her because the technology is just a symptom of what sounds like an underlying trust issue of some sort, but I'm not a therapist, just a guy who likes tech, so that's up to you to address. Or not.
From the technological perspective, however, you certainly can disable read receipts. In fact, I just wrote about how to disable text message read receipts on iPhones, so this is a good follow-up post for Android fans.
HOW TO FIND TEXT MESSAGE SETTINGS
You might be tempted to think that the settings for the Messages app are in the main Settings program, but… you'd be wrong. The program has its own Settings area and it's not at all obvious how to find it. For example, here's a top view of just a few conversations in Messages (this is Android 12):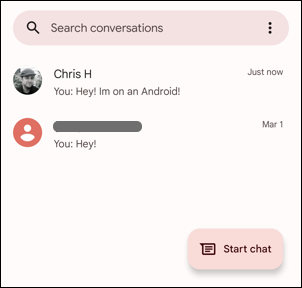 Probably looks quite a bit like yours. What you might never have done, however, is tap on the vertical ••• icon on the top right. Once you do, quite a few interesting options appear: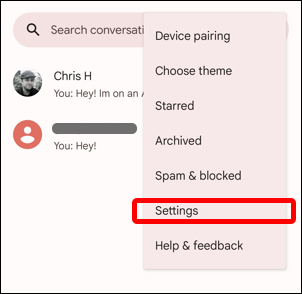 As highlighted, you want to tap on Settings. At least, once you've finished up exploring some of the other fun options, like "themes" for messages.
DISABLING READ RECEIPTS ON ANDROID MESSAGES
Once you do tap on "Settings" you'll get this menu: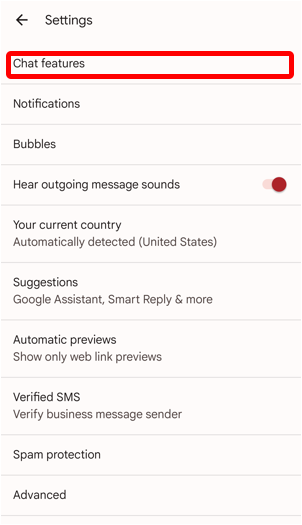 Again, quite a bit to check out – and you definitely want to check your "Spam protection" settings, if nothing else! – but when you're read to disable those pesky read receipts, tap on "Chat features", as highlighted.
And, finally, here are the options you see:
You can disable read receipts by simply tapping on the red icon adjacent. You can also disable "show typing indicators" while you're at it, to have even a smidge more privacy with your text messages on your Android phone.
That's the scoop. Now you know how to disable send read receipts on sms text messages from your phone. How you address the subsequent conversation with your girlfriend, however, is up to you. Good luck.
Pro Tip: I've been writing about Android since the beginning. Please check out my rather extensive Android help area while you're visiting for lots more useful tutorials and guides! Thanks.