I don't know what changed on my iPhone but my friends can now see when I read their text messages. This ends up a problem because sometimes I don't respond for an hour or two because I'm busy with other things. How can I disable read receipts in Messages?
It's hard to understand the logic behind the creation of read receipts in SMS text messaging, actually. Knowing that your message was successfully delivered, that'd be useful, but knowing exactly when someone read it? That seems a bit invasive and probably too much information too. It can certainly lead to situations like what you indicate, when people have their feelings hurt because they see their message was received, was read, but they didn't get a response. It's a very 21st Century problem, really, but that's what it is.
Fortunately, you can disable Read Receipts in both MacOS and iOS, if you know where to look. Do that, and after a short period, your friends won't realize that you've disabled it and therefore won't be able to track when you do or don't read their texts. Having said that, let's get things fixed up!
HOW READ RECEIPTS WORK IN SMS TEXT MESSAGING
First off, let's have a quick example of read receipts. The below is a text that my son sent me and a timestamp – in Spanish – of when I actually read his text message:
"Leido" is "Read" in Spanish, in case you're curious, but you can see, it showed him that I read his text message at 11.25am. Even if I didn't want him to know I'd read it.
You can disable read receipt, however, and that's just what we're going to do, first on the iPhone, then I'll also show you how to do it on your Mac too, in case you have messages sometimes show up in the Messages app on your system too.
DISABLE READ RECEIPT IN TEXT MESSAGING ON IPHONE / IOS
As with everything on your phone, start by launching Settings then search for the word or phrase that describes the setting you seek. In this instance, "receipt" does the trick:
Not sure what the second option is (related to the Plex media player app) but the first is a shortcut to the Messages settings.
A tap and you'll be looking at quite a lot of different settings and preferences: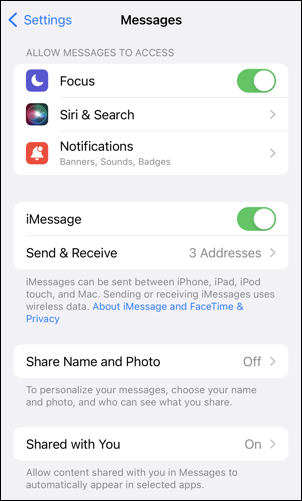 Interesting settings, but not what you seek. Swipe to scroll down a bit, however, and Read Receipts are pretty easily disabled:
It's that middle choice – Send Read Receipts – and with a single tap you've disabled it for all your text message interactions.
DISABLE READ RECEIPTS IN MESSAGES IN MACOS 12
Disabling this feature on the Mac is actually easier; fire up Messages, then go into Preferences… and choose iMessage, as shown: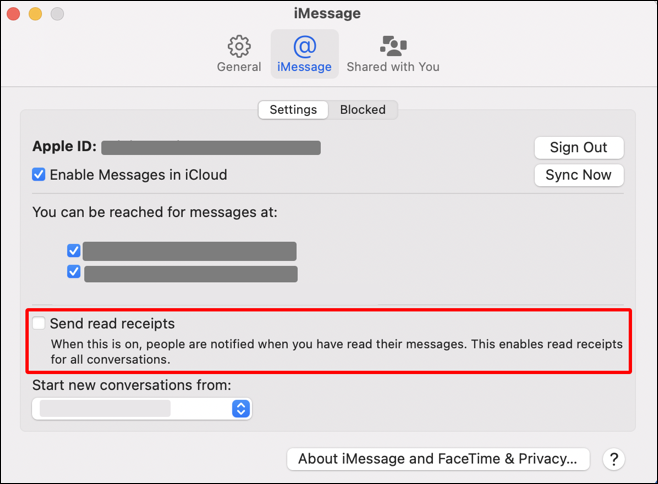 Uncheck the box "Send read receipts" and you're done. Close the window, go back to your conversations in Messages, and you will no longer be sending read receipts to others when you receive and view their SMS text messages. Phew!
Pro Tip: I've been writing about the Apple iPhone and its many apps for years. While you're here, please do check out my extensive iPhone help area – and my MacOS help library! – for lots more tutorials!