I post my best photos to Facebook for my family to enjoy and in honor of my grandma's 80th birthday, I want to make a photo book from them. I hear Kodak has some cool solutions for this that work on Facebook?
Kodak Alaris (the newly resurrected Kodak) has been in the photography business forever, with film, photographic paper and cameras, along with a ton of stuff for the pros. It's no surprise that they have a surprisingly slick solution for producing photo albums that lives on Facebook and can be given easy access to your entire Facebook photo gallery for easy creation of individual prints and photo books.
To learn more about how to use it — and here's where the disclaimer's going to show up! — Kodak Alaris invited me to check out their My Kodak Moments app and create a photo book of my own. That's what I've done with this article, and I'll be sure to follow up with my assessment of the end result once the printed book arrives via mail.
I enjoy working with this sort of app, so I didn't mind spending a few hours picking through all my different albums, but you might find it easier to reorganize your photos first into an album where each pic is designated as ready for printing. Either way, the basic process is the same. Log in to your Facebook account and in the search box, type in, well, you can see:

The app shows up as the first option, so simply click on it to go there.
A big page shows up with lots of information:
You can see the sample books, preview of the layout utility, etc. All good. Click on "Go to App" on the right.
Now, if you're in Google Chrome as I was, well, bad news:
Blech. Fortunately Silverlight is installed in my Safari browser, so a few seconds later I go to the same spot in Apple Safari on my MacBook Pro and it's up and running!
If you look closely along the bottom, you'll see that there are four choices: make a photobook, make a greeting card, make social prints and print photos. You can explore the other options at another time. For now, click on "Make a Photobook" to proceed.
When I did, it presented me with six different kinds of photobooks, of which these are the three most interesting: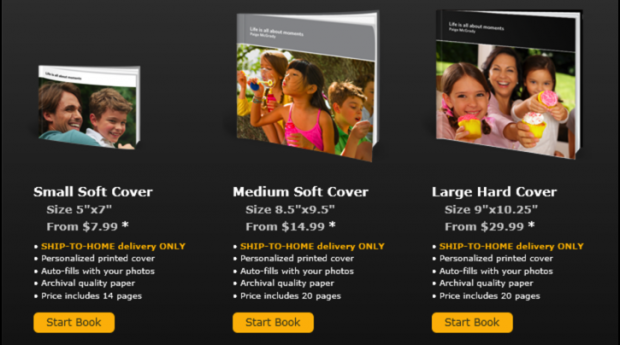 Since I wanted to create something small and easy to carry (and gift) I opted for the "Small Soft Cover", a book that's really like a bound album of 5×7 photos, so fairly small. And the base price is $7.99. Certainly nothing that's going to break the bank!
A click on "Start Book" underneath that description got me started…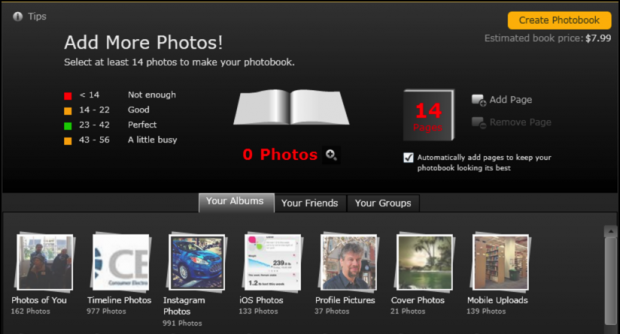 It takes a second or two to realize what's going on, but you start out with 14 pages to play with and all of your Facebook albums are in the lower pane. As recommended, for 14 pages, they suggest 23-42 pics total as the "perfect" number of images to include. My Kodak Moments automatically lays things out once you pic your photos, so that part's easy, at least.
I started by opening up albums and simply clicking on those photos I thought would be a good addition to the book.
After a short while I had a couple I'd selected:
Notice that things are still in red on the top. Okay, I'll pick more.
And so I did, until I had identified 27 photos that I wanted in the photo book:

That was it for picking photographs, so I was ready to move to the next step: laying things out.
To do that, click on "Create Photobook" and…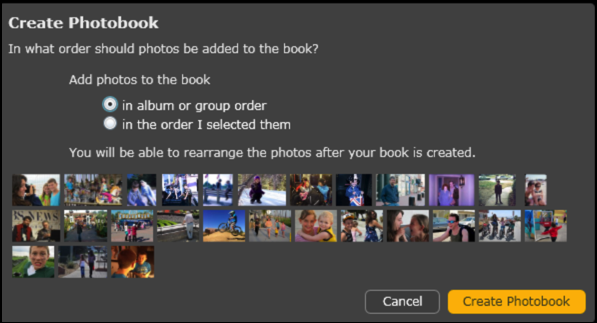 As you can see, there are tiny thumbnails of each photo I selected, along with the option of either having the My Kodak Moments app put them in the book in album order or let me choose them in the order I prefer. I'm lazy, I chose the former!
Another click on "Create Photobook" and I was off to the (proverbial) races!
The top half of the window now shows a preview of the page with any title or caption specified, but it's the bottom half that caught my attention at this point:
Neat little thumbnail previews of all the pages in the photo book. As you can see, no page has more than two images, generally all side-by-side.
Hmm…
Also notice that there are four tabs here: Pages, Themes, Add Photos and Clipboard. I strongly encourage you to go to Themes and pick something more exciting than a dull white background for the pages.
Here are a few of the tons of options:

I actually picked a theme called "nostalgic postcard", as you can see in the background of this preview of one of the pages in my own picture book:
Turns out that the app has a ton of capabilities to fine-tune each page.
To demonstrate, I took one of the photos from the right side and dragged it onto the left page.
Without any additional work on my part, here's the result:
Very nice, sophisticated layout. Of course, in a 5×7 book I fear those small photos will be really small, but still, at photographic quality that's fine, they'll still be fun to see. And the full-page photo on the right side? Lovely.
You can also tweak and tune individual photos too, including recropping them, applying enhancements and much, much more. Simply move the cursor into the image and click on the resultant pencil icon that appears.
Here's the menu of options that appears: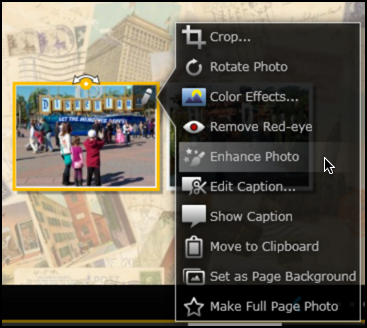 I absolutely expect Kodak Alaris to have some terrific options and am not surprised by these options. Notice that you also have lots of control over the captions (which I disabled by default as a personal preference). A lot of people who build photo books have fun with the captions, and now you can see how to tweak and tune them juuuust so.
Done with all the editing and fiddling? Nice. Took me over an hour to get the 14 pages the way I wanted them, with what ended up being 25 images, the low end of "perfect" according to the Kodak Alaris design team.
When I was finally ready, there's a bright yellow "Checkout" button. I clicked it and…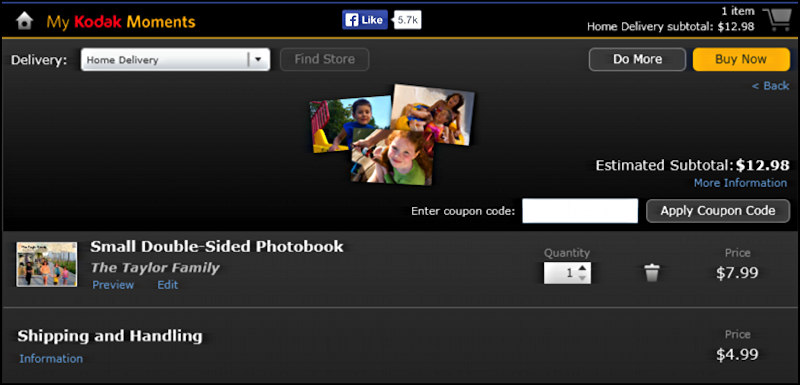 Okay, so I kept my book at $7.99 by resisting the urge to add pages, and shipping and handling is a super reasonable $4.99, making the total for this photo book $12.98 (plus tax, that'll be added on in the next step). A no brainer. Under $15 for a photo book I can easily share with friends and family? Excellent!
A click on "Buy Now" and it's time to enter address and payment information. Submit it and after just a few moments your order is submitted to the system and you get an order number, along with a chance to – surprise! – share your experience with your Facebook pals:
Overall, I was quite impressed with how quick and easy the entire process was to create my own My Kodak Moments photo book. In a week or so it'll show up in the mailbox, and that'll be splendid, I'm really looking forward to seeing the end result.
We live in a digital world, but for all the photo sharing on Facebook and Instagram, there's still something very tangible and pleasant about a physical print, about a photo book that can be left on the living room table, shared at work, and laughed at and enjoyed for years to come. I rarely go through old digital pics, but I definitely flip through old prints and photo books.
How about you? Tried My Kodak Moments out yet?
Disclaimer: Yup, as I said earlier, Kodak invited me to check this out and paid for the printing. That doesn't change that I'm a big fan of printed photos and quite eager to see how this all came out. Think "gifts" and how it can make birthdays and holidays a breeze. I know that's what I'm contemplating…