I rarely if ever check my Xfinity Comcast inbox, but I'd really like to get the "bill available" messages. The other stuff? That can just sit ignored forever. Can I set up a mail rule or email filter or something to just forward those messages to my real email address?
Surprisingly in an age with sophisticated Web-based email interfaces like Google's Gmail and Microsoft's Outlook.com, there are still lots of people who are working with 90's throwback systems like Yahoo.com and Xfinity Comcast. What's odd is that it's pretty darn straightforward for these companies to upgrade their interface to take advance of modern drag-and-drop-in-browser (AJAX) and related technologies: just plug in a new app and everyone instantly gains the benefit. But they don't, so I completely understand your desire to ignore the Comcast Xfinity system!
Having said that, there are definitely some messages that you likely want to see and while it's not too difficult to remember to pop in occasionally and see what's new, it's also not that difficult to set up an email rule or filter to identify certain key messages and forward them along — or forward all messages you receive! — to another email address.
To start, log in to your Xfinity account and click on the "Mail" link on the top right. You'll then see your inbox:
I've highlighted what you want to do next: Click on the "Actions" button on the right.
Well, hang on. To make this easy, before you click, select a message that you'd like to forward. It'll make things easier in just a sec. For me, it's "Your bill is ready".
Now click on "Actions" and you'll see a few choices: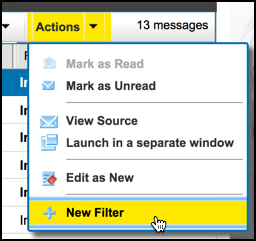 Choose "New Filter" to create a new email message filter.
A new window opens up with some rather complicated options and appropriate rules filled out to match the message you already highlighted:
The basic idea of these rules is "if (conditions) then (do this)". The default is to have the conditions of "from contains" and the from address of the bill notification message, and "subject matches exactly" followed by the selected message's subject ("Your bill is ready"). Notice that I'm specifying that both of these conditions must be true (see the "if [all] of the following conditions are met" near the top?) for the action to be triggered.
In addition to From and Subject, there are a ton of other options you can use to trigger an action, conditionals that check who the message is sent to, its size, the date it was sent, whether it has an attachment, whether the sender's address is in your contact list, and more. Having worked with email filters for years and years, however, I'll say that "To", "From" and "Subject" are sufficient for 99% of most people's needs.
There are five major actions you can take, and you can specify more than one of them if you'd like too! I'm just going to specify "Redirect to Address" and enter my Gmail address since I use that way lots more. Add a name to this particular filter at the very top, click "OK" and you're done!