I read that you can now hook all your Amazon Echo [Alexa] units together into a speaker group and play music on all simultaneously. Very cool! How do I set this up with my own Echo and Dot units?
Since the first Amazon Echo was released, creating the voice-activated personal assistant and speaker category, people have been comparing it to the slick multi-room Sonos sound system. Though not really the same product at all, since so many people do use their Echo for music, being able to stream music to multiple devices simultaneously and in sync would be an obvious benefit. And the good news is that you can. Sort of.
The issue ends up being about licensing rights: Amazon Music, TuneIn, iHeartRadio, and Pandora all work great over multiple speakers, but neither Spotify nor Sirius XM work as of today (though Amazon assures customers that both are "coming soon", so we can only wait and hope). If you have one of the former as your main streaming service, you're good to go. If you're on Spotify – like we are here at AskDaveTaylor – then you'll be eager for the update.
In terms of setting it up, the process is pretty easy so grab your Android phone or iPhone and let's get started! I'll go through the steps using an Apple iPhone 7, but since it's all in the Alexa app itself, the screens should be identical.
Start by tapping on the so-called hamburger menu on the top left of any Amazon Alexa app screen to reveal the main menu: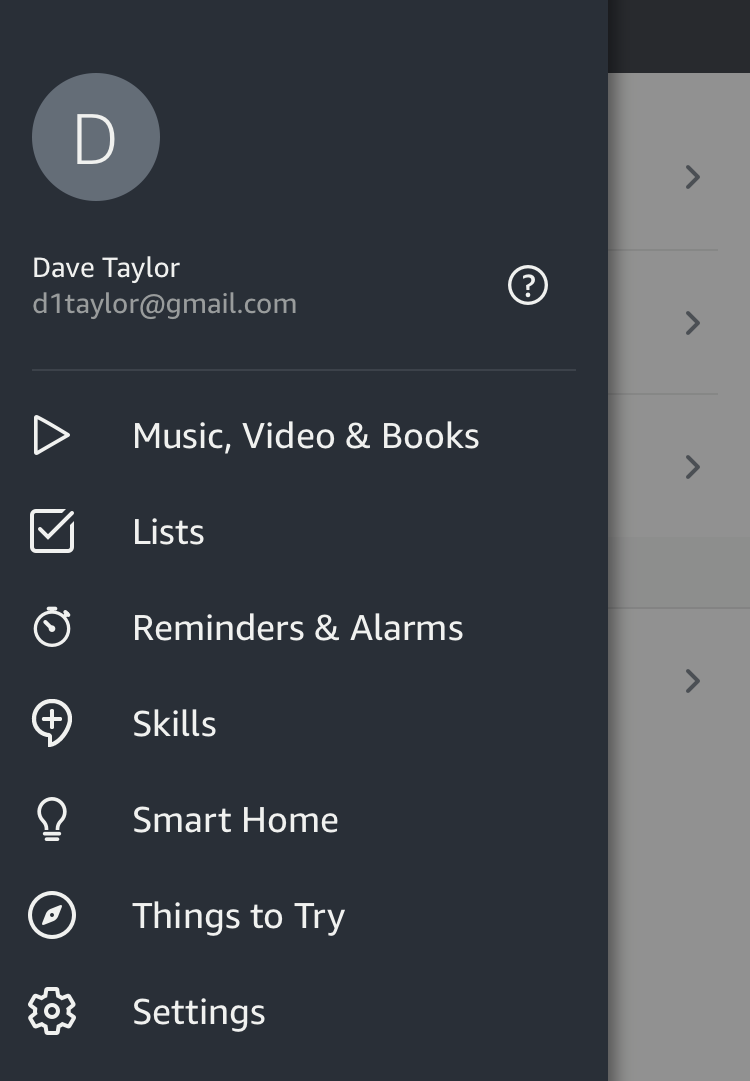 From this point, tap on the "Smart Home" link. Hopefully you already have at least a device or two hooked up to your Alexa anyway, but whether or not you've been "smartening up" your home, that's how to proceed. A tap shows that there are three main categories of Smart Home entries you can set up:
Scenes are fun, and Devices are useful, but in this instance, you want to tap on "Groups" to create a named group that contains whichever speakers you want to have in your speaker group (or groups!).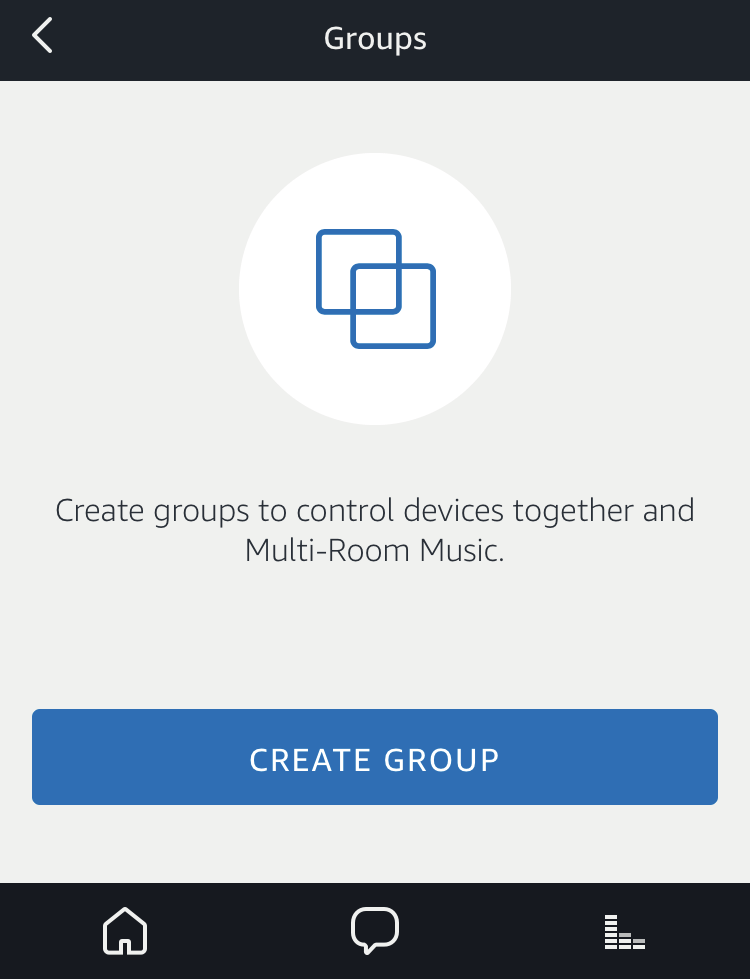 Ready? Tap on the blue "Create Group" button to proceed. Now you'll have to specify that you want to create what Amazon calls Multi-Room Music, not a Device Group. Of course, hooking up all your smart lights to the same group makes it easy to say "Alexa, turn on house lights" as you walk in, which is cool!
But we're focused. Yes, we are. 🙂
Tap on Multi-Room Music here in the Alexa app and it will show you a list of all known Amazon Echo, Amazon Dot, Amazon Tap and even Amazon Echo Spot and Amazon Echo Show in your account: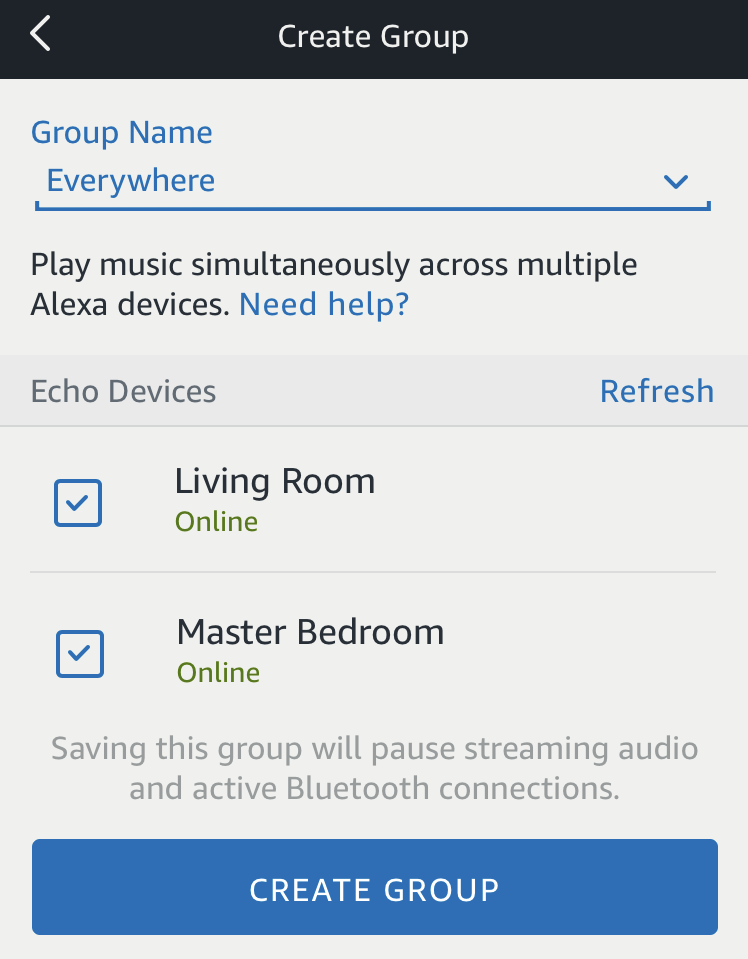 I only have two and want both of them hooked up, so I check both by tapping on the adjacent buttons. Notice above I have also given my multi-room music grouping a name: "Everywhere". Why? So I can say "play jazz everywhere" and have it work!
Specify the group name, check off which devices you want to include, and tap on the blue "Create Group" button.
Now the Alexa app will reach out and check each device's availability…
Eventually, you'll get to the next step: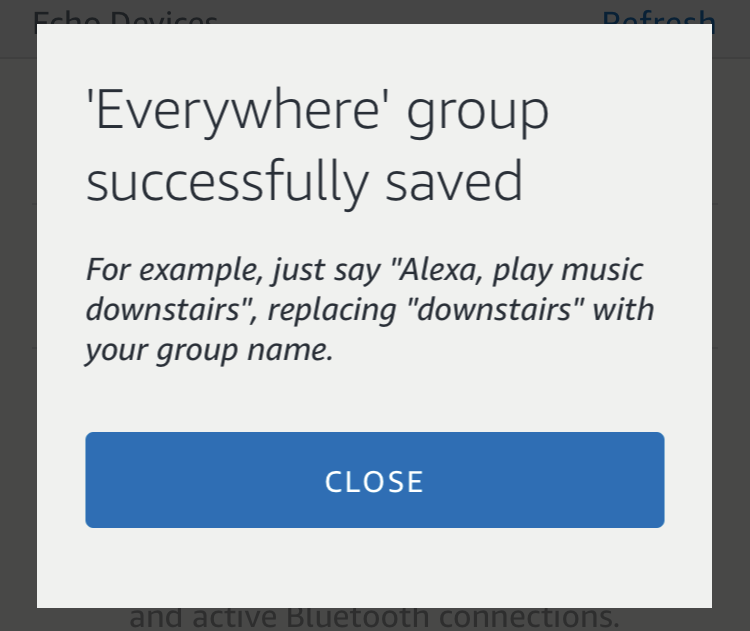 And that's it. Done and ready to go. Why this message doesn't actually incorporate your own group name in the examples is a bit puzzling, but… it's all set up, so it's good.
Now I can say  Alexa, play smooth jazz everywhere  and it actually works. Ridiculously cool! Now to get Spotify in the fold…