I went onto my girlfriend's computer to see what she'd been searching for on Pinterest but it has zero search history. How did she clear her Pinterest search history?
I'll assume that you want to spy on your girlfriend's Internet usage for legitimate reasons, not creepy ones, but of course the solution is the same whether you want to do some after-hours forensic analysis or whether you simply want to find a fabulous present for her based on what she's been looking at on Pinterest. I definitely don't endorse spying or spyware, but let's assume this is all for a worthy cause, like an upcoming birthday or anniversary present, ok?
Modern browsers have a habit of having their own cache of searches and data entry, and you can often dig through the page cache if you're really interested — or the browser history, for that matter — to find out where the person's gone, but Pinterest has its own search system and search cache too.
To clear your own list of previous searches, for whatever reason, is pretty straightforward actually.
Using your Mac or Windows system, go to the Pinterest home page and look on the top right for the menu options. It'll look like this:

To proceed, you'll need to click on your name, which takes you to a page that shows all of your own Pinboards.
More importantly, though, on the top right you'll also see some new buttons: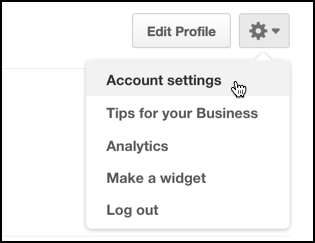 Click on Account settings then scroll down until you find this:

Click Clear Recent Searches and, voila, all previous searches vanish. Done.
And that's what your girlfriend did too.