I somehow changed the language from English to Japanese on my Apple iPhone 4; how do I change it back?
An interesting problem, for sure! To solve it you really need to be able to read Japanese, but since it sounds like you cannot, the alternative plan is to understand how the different screens in the iPhone iOS preferences are set up and basically tap based on region location rather than knowing what it actually says.
Kind of a leap of faith strategy, if you will, but it'll work!
To show you how to change your language from Japanese back to English, the first thing I'll do is show you how to go through the screens to change your language from English to something else, so when we go into the Japanese screens, you'll have a sense of what's going on.
Ready? Let's go!
Once you tap on "Settings" you should already be familiar with this screen: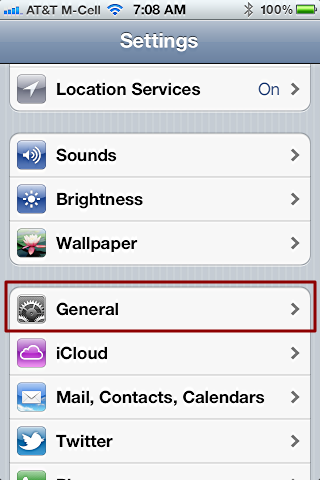 As I've highlighted, you want to tap on "General", then scroll down a bit to find…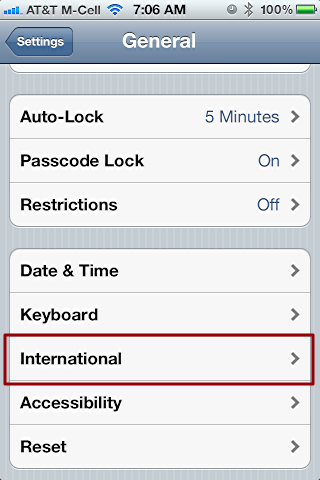 You guessed it, "International". Tap on that and you'll find that iOS is quite a capable little operating system, able to change a ton of elements to work with different languages and locales.
We want "Language", which is the primary language that'll be used for every prompt, error message and system information: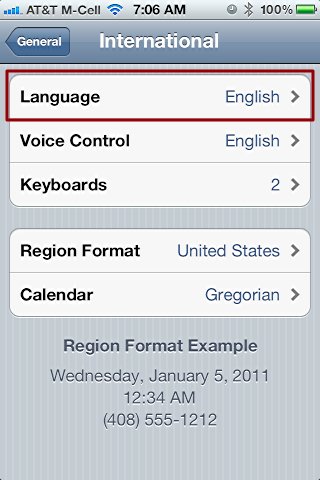 Tap on "Language" and you'll see a remarkable number of choices. They seem relatively random but in fact they're always shown in the same order, with the current language as the topmost option. (You'll see what I mean in a minute):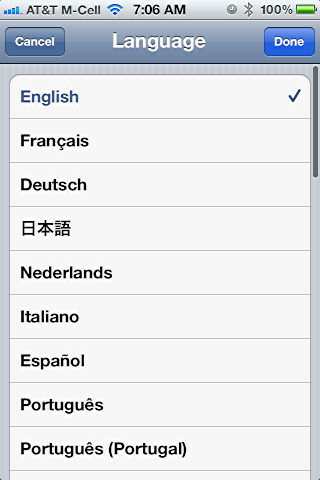 I'll tap on Japanese to switch the phone over and all of a sudden everything looks remarkably different. Pretty darn cool, actually!
I'll find the "Settings" icon and tap on it to see what the primary Settings menu looks like in Japanese: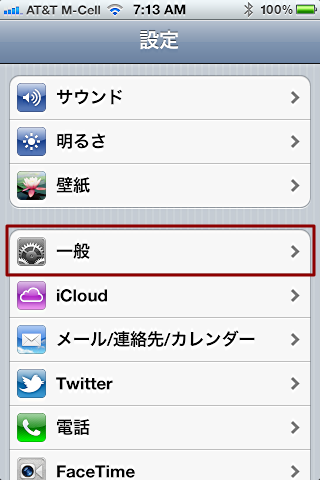 Now we're going to simply have to count entries or pay close attention to icons. Fortunately, the little gear icon looks the same, so that's our first tap. It gets us to the "General" menu: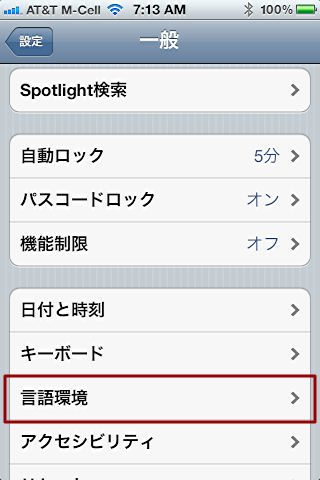 This time we'll want to tap on the third entry in the third section ("International"). Do that and you'll see the various options:


Recall that the first of these options is "Language". Tap on it and you'll see a list of languages – in their own native words – which will make it easy to switch to "English":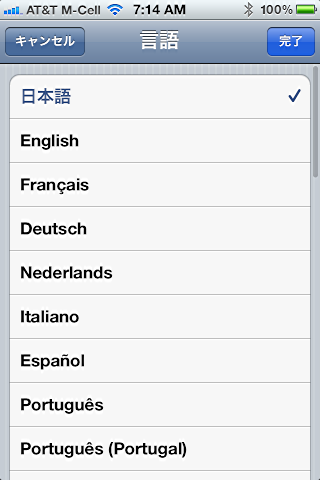 Tap on "English" and be prepared, the phone has to reconfigure itself:


After a few seconds you should be in great shape, back to English and ready to go!