I'm tired of my Twitter profile pic. Is there a quick way to update it from my desktop computer, or do I need to use the mobile app?
It's a sign of the times that you are asking about whether the desktop / web interface to Twitter duplicates the functionality of the mobile app, rather than vice-versa. Used to be that it was your big computer that gave you access to the complete functionality of a site like Twitter, but now it's flipped around. A sign of the rise of mobile, for sure. Then again, Twitter evolved from SMS text messaging, so perhaps its mobile interface should always be the most powerful?
You can definitely update your Twitter profile picture from either mobile, tablet or desktop, and I'm not sure that any one of them is easier than the other. Well, maybe a device where you have lots of great photos of yourself is the best!
Let's go through the process of updating your photo on Twitter from within a Web browser…
To start, click on your face on the top right of the Twitter Web interface and choose "View profile":
The top of the following page will show all your stats, and have a very important button on the right side: "edit profile".
Like this:
While we're talking, please follow me on Twitter — @DaveTaylor — so you can keep up on all our postings and adventures!
Once you click on edit profile, you'll see your own profile. All good, move the cursor over your profile photo and it'll change: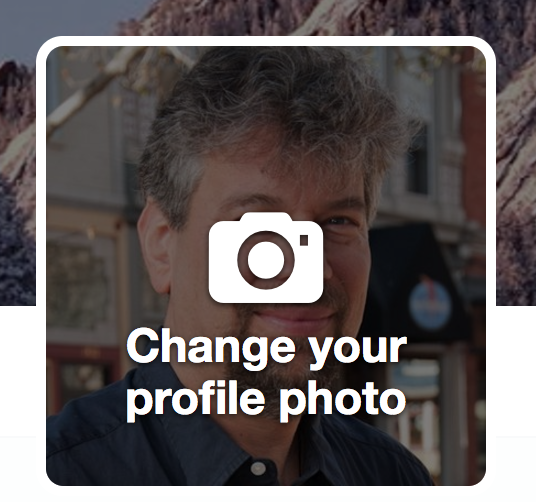 Now click on the camera icon and a little menu pops up with a few choices and options for what to do next:
If you guessed you should click on "Upload photo" you're correct! Booyah! Click on that. Now you'll need to find and choose the photo you'd like to use. Don't worry if it's not perfectly cropped, we can fix that in a second:
I'll choose KiaDad20…oto71.jpg and after a moment Twitter shows me the photo with its default cropping:
At this point you can drag the dot along the bottom to zoom in and out, and click and drag to move the selection box to make the crop perfect. Try a pretty tight crop, by the way, as Twitter shows your pic pretty small. Head and shoulders is my recommendation.
Here's how I cropped my own photo:
If you look closely between the two photos, you'll see I've tightened the crop just a bit and moved the top up a smidge to get a bit more background so I don't feel so "cramped" in the frame. I'm done, so a click on "Apply" and it's my new Twitter profile photo!
Looks good. A final click on "Save" and it's done.
Want to see the pic in action? Click on over to my Twitter page and check it out. Oh, and follow me too, please!