When I join a Google Meet Hangout, it's often using the wrong speaker and microphone since I have a headset. If it does connect wrong, do I need to use my system settings, or is there some sort of option within Google Meet to change audio input and output?
First off, yes, you can change your camera, microphone, and speakers in Google Meet (formerly known as Google Hangout, if you're confused about the name). The challenge is figuring out which of the many buttons actually lets you access those settings. Can you also do that with your system settings in Windows or Mac? Well, maybe. But it's better to make the changes in Google Meet.
So let's figure out how to make those changes in Google Hangouts, errr, Google Meet.
FINDING THE SETTINGS OPTION IN GOOGLE MEET
Whether you're the first one to a meeting or joining a group of a dozen or more, the general Google Meet screen layout is: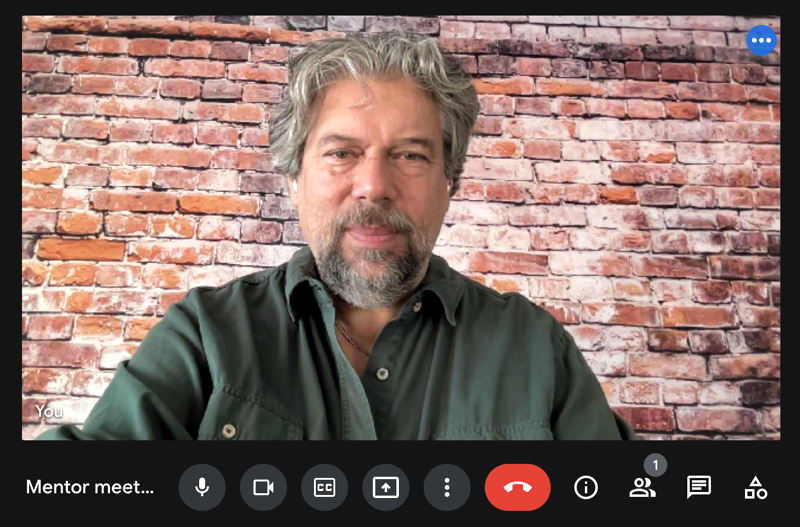 I imagine that most people think that the blue "•••" on the top right is how you access settings, but a click demonstrates it's not. In fact, it doesn't do anything if you click on it. Which means we need to examine the control bar along the bottom.
Left to right, it's the name or ID of the meeting, the mic to mute yourself, the camera box to turn off your video webcam, CC to enable closed captioning, the up arrow to share your screen or another app, the three vertical dots (we'll come back to that, it's how you get to Settings and quite a lot of other options), the big red hang up (end call) option, and the "i" for information about the meeting. The last few let you see who's on the meeting, access the chat window, and launch additional meeting "activity" tools like breakout rooms, polls, or a shared whiteboard. In a wide view, you can also see a shield icon that lets you view information about the meeting's online security, encryption status, etc.
To proceed, no surprise, click on the three vertical dots icon in the middle. A menu appears: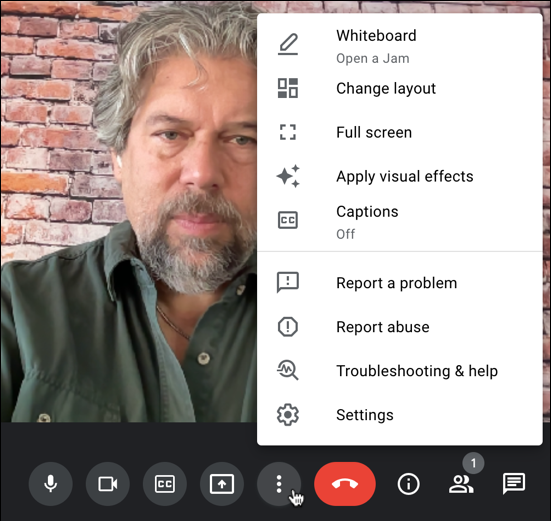 Lots to explore here, including screen layout and fun visual effects (blur, fake animated backgrounds, etc). To proceed, however, choose "Settings".
CHANGE AUDIO SETTINGS IN GOOGLE MEET
Once you've chosen Settings from the menu, a modest set of options appears:

On the left side, there are three icons: audio (highlighted), camera, and the other settings gear. If you want to change camera in Google Meet, it's the camera icon here you'll want to choose. Other settings are really about Google tracking your usage and connection quality, so that's relatively uninteresting. Choose Audio, as above, however, and you can immediately see both your current Microphone and Speakers choice.
Click on the tiny downward triangle adjacent to one and it'll show you all the options:
In this case it's easy for me to switch to my AirPods Pro by choosing "AirPods". If you aren't seeing a device and think you should, check the overall system settings to ensure it's showing up and has the appropriate drivers etc.
Note finally that you generally want to choose the same device for both input and output if possible. Otherwise you'll get the dread echo warning:

Oh, and I should mention that you can test your microphone and speakers from this same window…
The three blue dots in the circle? Talk or make a noise and you should see it change to indicate it "heard" you. To test the speakers, simply click on the word "Test" and listen. Hopefully, that'll get you all set up!
Pro Tip: I've been writing about video conferencing and screen sharing tech for quite a while. Please check out my Zoom, Skype and Google Meet help area here on the site for more useful tutorials!