My son has just come home from his uncle's house with a new iPod. Very nice. Full of a wide variety of music, some of which I don't want him to listen to. He says "ya can't get rid of any songs without removing them all" but I don't believe him. Is there some way to remove a half-dozen of the worst songs without redoing everything on the iPod Touch?
Until I experimented myself, I would have said that your son was right and you were going to need to copy everything off his iPod Nano (using something like Senuti, as documented here: Copy everything off an iPod), but in fact, iTunes is smarter than that, and you can indeed delete individual tracks from an iPod, iPad or even iPhone, even if it isn't sync'd with your computer.
How did I come to experiment with this particular feature? Because I have a very similar circumstance with my son, as it happens. He has a nice little orange iPod Nano but when I looked at his music, there were a number of tracks that were explicit or were just so head-banging that I wanted them off the device. Where'd they come from? His new cousin-in-law. Yeah, nice. 22yo boy, meet 11yo boy who might not be quite ready for all the music you enjoy. 🙂
Anyway, to remove individual tracks you need to plug the iPod into your computer and wait for it to pop up this warning message about removing and replacing all the content on the device:


At this point your son will doubtless be hyperventilating. No worries. He can breath. Click on "Cancel" and the device still shows up in iTunes, as you can see on the left side: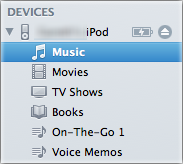 Note that I've clicked on "Music" here. That what you need to do if you want to remove music from the device.
Now on the right side you'll see a list of all the music on the iPod, neatly organized:
In this instance, I want to remove the track "Lighters" from Eminem and featuring Bruno Mars and Royce da 5'9. To do that, I Cmd-Click on the specific track information and select "Delete" from the context menu: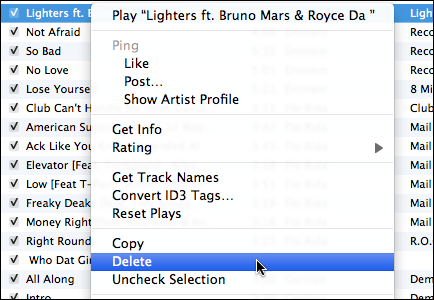 iTunes confirms this is what I really want to do with a dialog box:
Yup. I don't want my pre-teen son listening to this Eminem track, so I click on "Remove" and after a moment or two, it's gone.
That's all there is to it. Now go and clean up your son's iPod Touch and congrats on being an aware, involved and digitally savvy parent.