As part of my job, I need to post on Facebook during the weekends. Not a fan. Is there a way to schedule posts within Facebook?
You would think that the answer to a question as straightforward as "can you schedule posts in Facebook" would be straightforward too, right? It's not. It's… well, complicated. For the most part it comes down to the type of page or account you want to post the update on, but there might be nuances to that too. Generally, if you don't have a business page, however, you're out of luck.
And yet… I have occasionally seemed to be able to post a status update on my personal wall that was a few hours in the future, though other times — like when I tested everything for this article — it failed abysmally. Let's have a look at the various options, shall we?
To start, you are hopefully familiar with this status update box. It's a standard personal account on Facebook: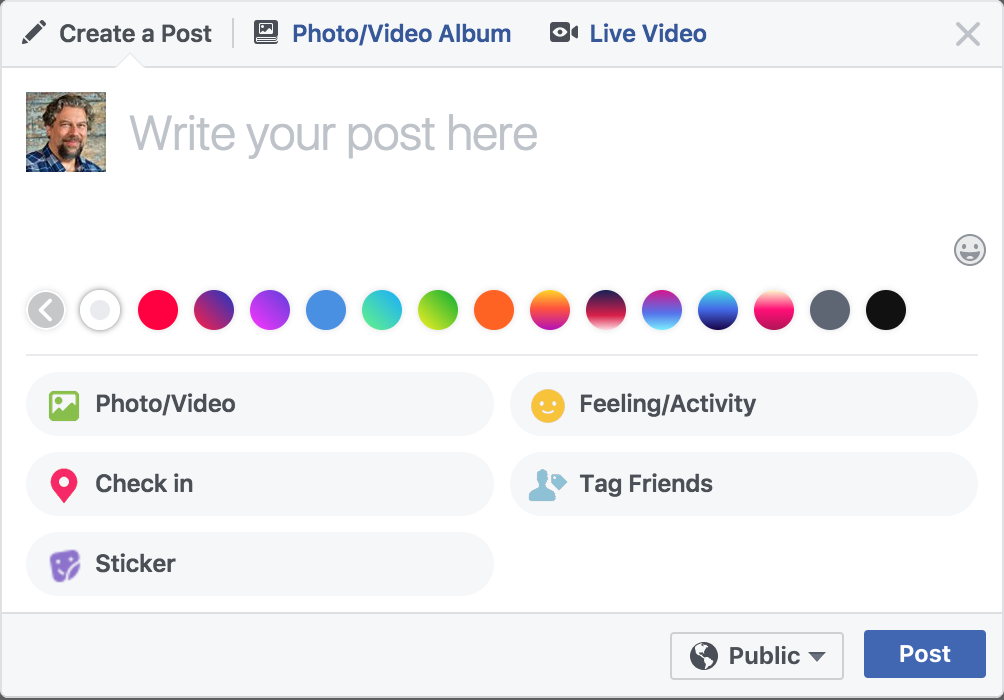 Other than the cheery row of background colors, not much of note here. Certainly no "Schedule" option or button being displayed.
And yet, if you're looking at your own profile page (old timers might still call this their "Facebook wall"), the status update box on that page is surprisingly different:
Look closely along the bottom. The "Aa" button gets you background colors (not sure of their icon logic there) and the tiny calendar page does get you to a spot where you can enter a date and time for the post:
In this case, I've backdated it about 6 hours to have it look like I posted it at 2:00am. Still today, just a few hours ago.
If I were instead to try and schedule it to post at 11pm tonight, many hours into the future, I'll get this:
But I can swear that sometimes it'll let you schedule into the latter part of the same day and have done so myself sporadically. Odd.
Meanwhile, if you do backdate a post, it looks like it was posted at that time and date:
At 8am, posting something at 2am does indeed mark it as "6 hrs" earlier, as shown. Another reason you can't believe what you see on Facebook! 🙂
On a business page, of course, there is indeed a scheduler that lets you specify when in the future you want a status update to go live:
The scheduler is easy to work with too:
You can see here, since I'm writing this on 5/18/2017 that I'm going to schedule the Facebook status update to go live at 9:03am two days into the future. When that day and time rolls around it'll show up as if I'd entered it exactly at that point.
Once submitted, you can even see what's in the scheduler and update it if necessary:
Other than weird aberrations in the system, then, the only real way for you to schedule posts within Facebook that you want to show up in the future is by having an actual Facebook business page. Now you know!
Tip: While we're talking about it, don't forget to follow us on Facebook and check out all our Facebook help too!