My Android phone is overrun with apps and programs, to the point that it's hard to find things. Is there a way to set up folders or boxes or something to contain like apps and make things easier?
You're in luck. Android offers a very slick and easy to work with folder organization system for your phone or tablet apps. It's as easy as dragging one app on top of another. But there are some nuances to get it to work best for you and a tiny trick to removing apps from a folder if you decide you want them standalone after all. I also strongly recommend spending the time to name these folders so you can easily remember what's in each of the various spots, which will significantly help you proceed quickly and effectively!
On an iPhone? Apple's iOS features a very similar solution that you access the same way too: Simply drag an app icon on top of another one and it'll automatically create a folder for those two apps. Drag a third and you're growing that folder as desired.
Great, let's get to it!
CREATING FOLDERS IN ANDROID
To ensure we're talking about the same thing, I'm not talking about how to organize files that might be associated with an app, but the specific app icons themselves…
Now, here's a bunch of video streaming apps I have installed on my Android device: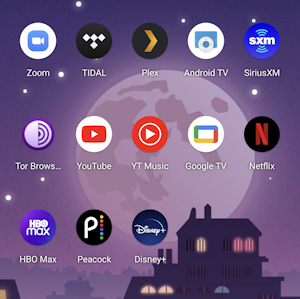 If I tap and hold down on the Peacock app icon, a tiny menu pops up above it:
But you can also now drag it to another spot on the screen. In this instance, I'll drag it on top of the Disney+ app icon, at which point a tiny white background circle also appears:
At this point, it's safe to release my finger. A tap on the new folder icon and here's what I've created:
Pretty slick, really. It's easy to tap and drag other apps into the same folder…
Think "what logically goes together" for this to work best.
HOW TO REMOVE AN APP FROM AN ANDROID FOLDER
Want to move an app back out of the folder? Tap so you can see the individual app icons, then tap, hold, and drag the app anywhere outside of the folder, then let go. It's back on your home screen!
RENAME AN ANDROID APPS FOLDER
To rename a folder, tap so that the name is visible, then tap and hold on the name. Selector handles show up, along with the on-screen keyboard:
I'll relabel this "Video". Now it's easy and darn helpful:
Much neater. A single tap and all the apps are front and center:
That's it. Fast and easy once you know the trick. Once you have that folder, by the way, you can also tap, hold and drag to move it to another spot on your home screen setup too, as if it were a standalone app.
Pro Tip: I've been writing about Android since the beginning. Please check out my rather extensive Android help area while you're visiting for lots more useful tutorials and guides! Thanks.