I occasionally need to use a Spanish or German phrase in my email and can't figure out how to get the special characters ["diacriticals" –DT] to show up. What's the secret?
While the first generation of keyboards and, of course, physical keyboards are generally designed for a specific language, digital keyboards have some neat tricks up their proverbial sleeves, tricks that let you gain access to dozens of different letters and vowels that are either unique to a specific language or shared across multiple languages. iOS does a very nice job of this, actually, whether you're using an iPhone or iPad for data entry.
Better, the subtleties of diacritical usage, like whether a capitalized "U" retains its umlaut versus the lowercase letter (that varies depending on region) is left to you, the user. Smart, those Apple developers.
The trick to getting the special characters is to tap and hold your finger on the virtual keyboard. After a second or two, the available alternative versions of the letter are displayed. At that point, you need to drag your finger to the version you want, then pull your finger off the screen. Easy enough with a bit of practice!
For example, here I am entering a note to myself about getting coffee for señor garcia: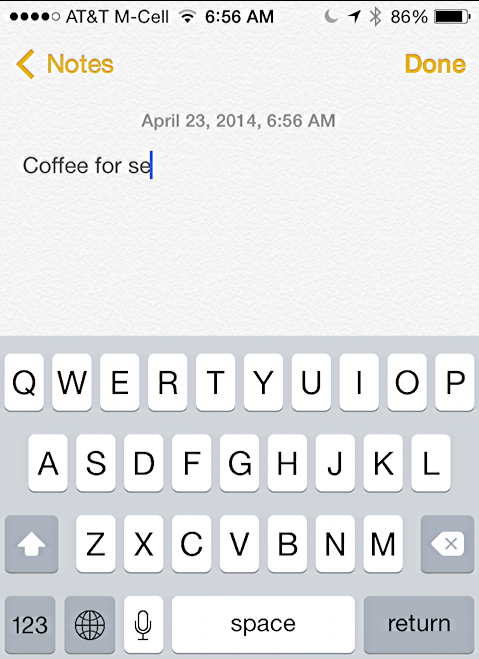 So how do I get the "ñ" when it's not shown as an option on the keyboard?
Tap and hold the "n" key, and…
Again, from this point, drag your finger to the letter you desire, then release.
What other options are there? Well, I'm glad you asked. Here's a subset…
First, "s" variants:

and "u" variants:

and "i" variants (though I don't recognize this: is it Czech?):

and "e" variants:
and the popular letter "a" variants including the cool "ae" dipthong:

and letter "y" variants:

and letter "z" variants:

and, finally, letter "c" variants:
Quite a range. And we haven't looked at upper case or symbols. I'll leave that one up to you…