I've started reading the various news media through Google News (gnews) and really like it. How can I customize news.google.com to make it my own, however?
Oh, there you go, adding the URL and everything. Nicely done. I'm also a big fan of Google News, which you can find at news.google.com. Google describes the service thusly: "Google News is a computer-generated news site that aggregates headlines from news sources worldwide, groups similar stories together and displays them according to each reader's personalized interests."
Worried about bias? This is Google, it's all about the computer software and the algorithms. Again, they explain: "Our articles are selected and ranked by computers that evaluate, among other things, how often and on what sites a story appears online. We also rank based on certain characteristics of news content such as freshness, location, relevance and diversity. As a result, stories are sorted without regard to political viewpoint or ideology and you can choose from a wide variety of perspectives on any given story."
You're already a fan, so you don't need to be evangelized, but I find that Google News is a great addition to my daily lineup of news sources (which also includes BBC News, Al Jazeera and the Washington Post, among others). None of them, however, are as flexible as Gnews!
To start, go to the Google News home page and click on the gear icon near the top right:

Ironically, on this screen capture, it's on the lower left, right? You know what I mean, though!
You'll see that my feed is already quite customized: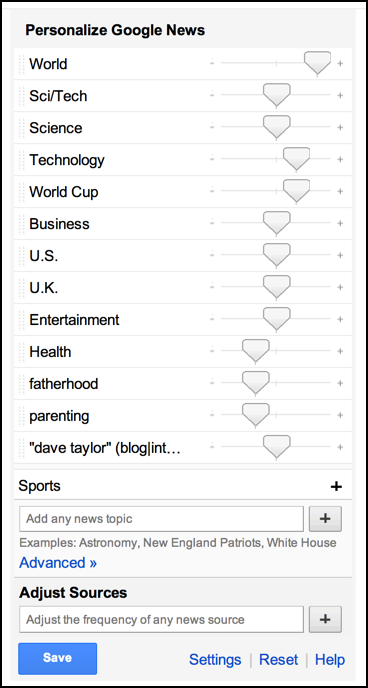 You really can fine-tune your page layout, including what sections, what sports you follow, and more! You can also adjust the order of the sections, as shown when I drag "U.K." up:

There's also a trashcan icon that appears once the cursor is over a section too: click on it and that section shall not appear again. Once the World Cup is over in a few days I'll doubtless do that on my page too, as the news coverage dies down to a tiny trickle…
Want to track a particular person, event, location or keyword? Type it in!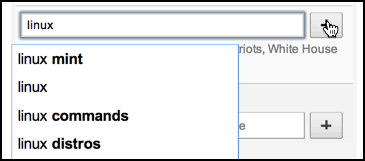 You get suggestions, but you can also just ignore them all and simply click on the "+", as I'm about to do above.
Once you've added the new section, use the slider to indicate how often matching articles should show up on your Gnews page:

You can go back to the second screen shot in this article to see how I've used the sliders to tweak the various sections.
Want to get something more interesting on the page? Look closely at the settings and you'll see "Advanced" just under the add news topic box. Click on it and there are a bunch of predefined sections, some from Google:
Space is a good one, as is Marco's "WTF" section. I mean, we need some additional entertainment, right?
Go back to the main settings window and near the bottom is another link to visit:
Click on "Settings" (kinda like Inception, Settings within Settings!) and you can make some additional customizations for your layout: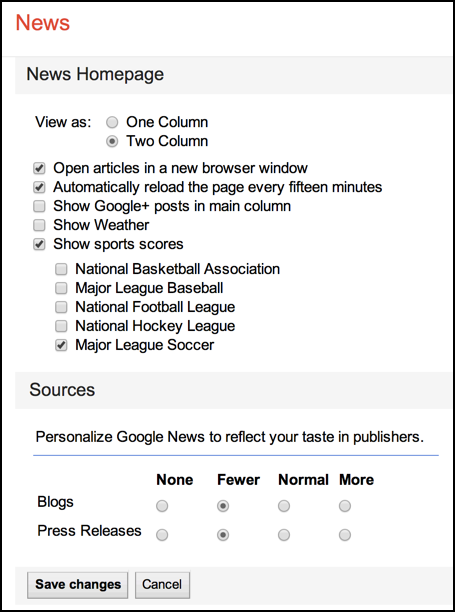 What's always surprised me, however, is that there aren't skins or other more sophisticated layout options for Gnews. I suggest to Google that it's time to give Google News some UI love, but it's not clear whether it's a significant project there in Mountain View or not.
In any case, between all of these different sections and settings, you should be able to really fine tune your Google News experience!