I have a friend who pesters me on Facebook all the time via chat. I like her and everything, but want to stop her seeing if I'm on Facebook. Can I block her from chatting without Facebook telling her I've done so?
Over the years the optimists at Facebook have learned that in addition to a lot of people whom we do want to chat with, share content with and generally keep in the loop on what's going on in our lives, there are also some people who are best left in the dark, whether completely blocked, having their status updates hidden from our newsfeed or, as in your case, blocked from chatting with you.
Okay, so you can't block them from chat, per se, but what Facebook lets you do is block them seeing you change from "offline" to "online", which means that after a few times ignoring their "hello? are you there?" they'll never know if you're online and will stop bothering you.
It is worth pointing out that if you're "offline" and you're posting content that can blow the ruse, but the vast majority of people aren't paying that much attention so you're probably safe in that regard. But if they're really psycho crazy or stalker-y, then it might be easier to just block them on Facebook completely and be done with it.
The easiest way to block someone is to do so from the chat window, believe it or not. Let me show you – I blocked, and then unblocked, my friend Bruce while we were chatting and it was only because I pointed out what I was doing that he even noticed. He just thought I'd gone offline halfway through our conversation!
To start, here's how Bruce shows up on my "available for chat friends" column. I show up similarly on his:
You can see him half-way down the list. The green dot indicates that they're online and available for chat.
I open up a chat window and here we are chatting:
Notice along the very top there are four icons: two profiles with a ~ez_ldquo+ez_rdquo~ symbol that lets you add aditional people to a chat session, a (greyed out) video camera icon that lets you switch your chat to a video chat if you're so inclined, a gear icon for settings, and the "x" to close the window as desired. It's the gear icon we want. Click on it:
As you might guess, "Turn Off Chat for Bruce" is what I want to choose if I want to hide myself from his "available to chat" list. It doesn't really block him from communicating with me, but it does stop my log in or checking my page from having me pop up as newly available on his list of friends on chat.
Facebook tries to clarify this:
Nope, that's what I want.
Now not only do I not show up as available on his Facebook, but vice versa too: compare the following with the very first image in this article: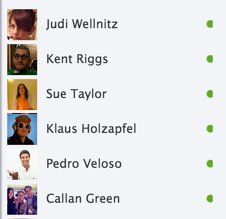 He's gone!
Hope that helps you out, and good luck.
Oh, and Bruce? Yeah, you can chat with me again now. 🙂