I don't know what to do, Dave. My ex-girlfriend is a nut-job and somehow whenever I try to use Facebook she sees what I'm doing and emails me about it. One time she showed up when I was on a date and was very unpleasant. How is she seeing what I'm doing, and how can I stop her? Needless to say, we're not friends.
With the rise of the digital age and social media we've also seen amazing new tools for stalkers, creeps, weirdos and, yes, crazy ex's. Whether it's mobile apps that report where you are or something as innocuous as a Facebook Wall post, there's a lot more information out there than ever used to be the case for those of us that have dove into the digital age. Heck, did you know the original code name for Twitter? "We struggled with a codename and a product name. "It's FriendStalker!" joked @Crystal".
One thing about Facebook that most people don't realize is that if your updates, photos, etc are marked for "public" access, that means people who aren't actually your friends can see them and, in some cases, even comment on them. Could be an issue with your ex. It's all too easy to forget that and wonder how people who you don't know are aware of your activities.
To change that, make sure that when you post things, they're marked for "friends". Even "Friends of friends" could be problematic if any of your friends is also a friend with your ex, right? Yeah, a drag.
Fortunately you can change that on a per-posting basis, as shown here:

See that "Custom" option? You could use that to explicitly exclude your ex, but if she's not your friend, she won't show up. To block her you have to do something a bit more complicated. To do that, you'll need to change your privacy settings. From the top right, click on the small triangle and a menu will appear: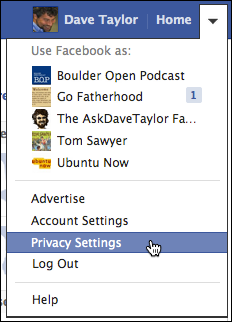 Choose
Privacy Settings
and scroll down a bit. You'll see "Blocked People and Apps":

Choose "Manage Blocking" and you'll find that there are two options here:

The first (pretty small, I know) is "Add friends to your Restricted list" and it says "When you add friends to your Restricted list they can only see the information and posts that you make public. Facebook does not notify your friends when you add them to your Restricted list." Again, that's useful if you're Facebook friends with your ex but you don't want her seeing everything you post to friends only.
That's not what you're talking about in this instance, so instead you'll need to look at the next option:
"Block users" is what you want. As Facebook explains: "Once you block someone, that person can no longer be your friend on Facebook or interact with you" along with some small print that makes sense when you think about it, though it's a bit of a drag: "(except within apps and games you both use and groups are both a member of)".
Ready to block your ex? Okay, I know you are. Type in her name into "Name" or her email address into the email box, then click "Block".
To demonstrate, I'm going to block my friend Klaus — then unblock him because he's my friend, not some stalker 🙂 — by typing in his name and clicking "Block". A window pops up with the possible matches:
I click on the "Block" button adjacent to the correct Klaus then click "Close" and his name now shows up on the status page:
Done.
If you were to change your mind and decided it was safe to unblock your ex, click on "Unblock" and Facebook has an interesting warning message: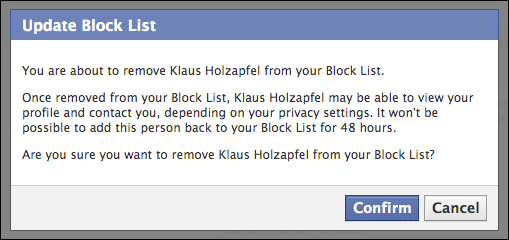 Are you totally sure? Okay, then click "Confirm" and they're off the block list. (Actually, it appears to take some time for them to process the unblock so don't be surprised if your newly unblocked friend doesn't immediately show up).
Good luck with your ex. It's an all too common problem and one that makes me wonder how many people who design these programs and apps realize that life isn't always a proverbial bowl of cherries.