A friend of mine keeps posting status updates on Facebook that use bold, italics and underlines. How are they doing this neat trick?
It's hard to understand why Facebook resists implementing even basic text formatting like bold and italics, actually, but resist it they do, and while you can get these formats in a status update or comment, it's rather due to the site supporting the international Unicode standard for more complex languages like Arabic than any generosity on the part of the Facebook developers vis-a-vis allowing us to bold or italicize things we want to emphasize.
Meanwhile, Google Plus has offered support for both formats since the very first day it launched, using notational conventions that have been part of online communication since the very dawn of time. You know what I mean, using a prepending and appending underscore to denote italics — like _this_ — and using asterisks to denote bold — like *this*.
Easy enough, right? But not on Facebook. Here's what happens if you try to use these notations:

As I point out in the status update itself, the secret is to use Unicode, a multibyte encoding standard for world languages. In Unicode, you can indeed specify bold, italics, and quite a bit more.
But how to do it? Well, there are plug-ins and apps you can use within the Facebook world, but I don't like to let apps from third party developers gain access to any of my Facebook account: too many bad ones out there that are actually just harvesting personal data for nefarious purposes.
Instead, there are also Web sites that can convert any text you type into the Unicode equivalent, making it easy to cut and paste. Let's use the cheerily-named yaytext.com for a demo. Go to the site and here's what you'll see: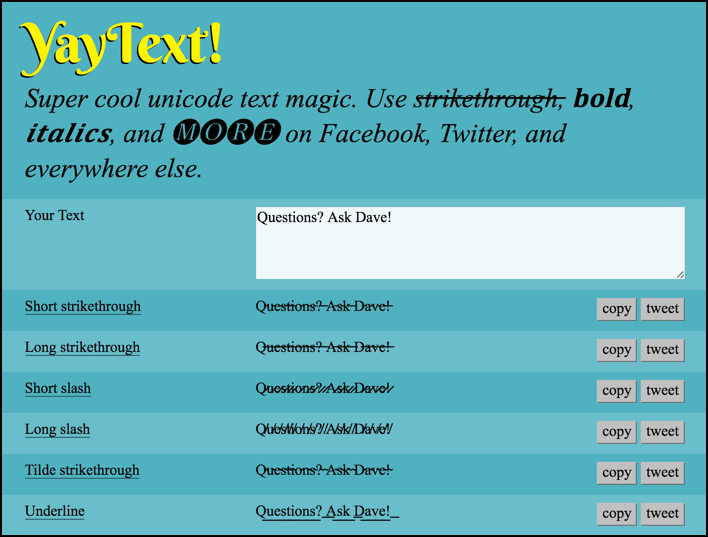 You can see that I've typed in "Questions? Ask Dave!" and it's showing me the results with a short strikethrough, long strikethrough, short slash, long slash, tilde strikethrough and underline. All marginally useful at best, but scroll down a bit on the page and the more useful formats are shown near the bottom:
Want to add the bold text? Type in the word or words you want to the box at the top of the page, then click on the corresponding "copy" button to get the Unicode equivalent in your copy/paste buffer:

That's almost all of it. Now go to Facebook and just paste directly into the status update or comment box. Done composing? Click "Publish" as you would any other Facebook update and you've just produced something in bold, italics, script, Fraktur, or whatever combination you prefer. Me? I just picked bold/italic as a single format:

Very nice. You can also accomplish this by working in a Unicode-friendly app like Notes on the Mac: Create the formatting you want, then copy and paste the formatted text into the status update window.
A big huge warning, however: It ain't particularly mobile friendly, as the iPhone version of this same update demonstrates:
Definitely not a good result. So before you get too excited about adding sophisticated formatted text, test it out for yourself and make sure it's going to be visible and legible for your entire audience, not just those folk on computer-based Web browsers!