I need 2 know where is the best place to get a psp (playstation portable) for the cheapest price but still a good deal and how many song can a PSP hold? I live in miami FL
This is a pretty common question and I call this a "how do i shop smart online", an important question in this day and age. Let me show you how I do this kind of research.
First off, there are a number of interesting price comparison Web sites so I usually go to a few of them, starting with Shopping.com. Go to Shopping.com and type in "Sony PSP" and you'll be inundated by every related peripheral, game, and gadget associated with the PSP. Not good.
Instead, narrow your focus by looking at the results and figuring out a more specific description. For example, a search for "PSP" generated 105 matches, but most of them aren't what we seek. Digging around a bit, however, it turns out that one of the categories that matched is "Video Game Consoles". Click on that and you'll see that there's a match for Sony PlayStation Portable (PSP) Console with prices from 33 stores, ranging from $208 to $750. Click on that and you'll see the matching products (click on Total price to ensure that they're sorted from lowest to highest too):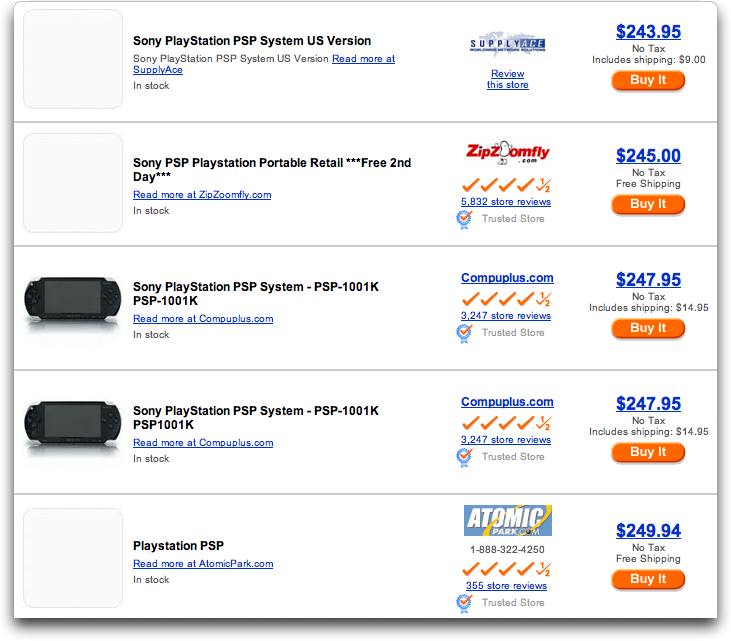 None of these are that great because I generally shy away from commerce sites that I haven't either heard of or done business with before. Scrolling down the matches, however, shows that lots of big shopping sites like Amazon.com, Ritz Camera, and PC Connection are all in the same ballpark of $250 for the Playstation Portable Value Pack. For example, Amazon is listed with:
Now, let's go to another shopping site and see how the Amazon price for the "PSP Value Pack" compares. One of my favorite alternative venues is
Yahoo! Shopping
, since one search shows you results across thousands of merchants. Again, click on
Search by Price
, then skip the obvious false matches and you'll see something like this: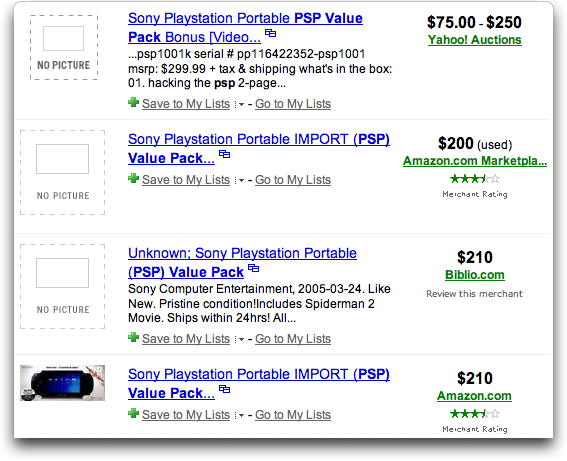 I would suggest that you skip auction sites because something in high demand like a Sony PSP is unfortunately more likely to be a rip-off or con than a legit new merchandise sale. So "Yahoo! Auctions" is something I personally would steer away from.
However, look here! Yahoo! Shopping shows Amazon.com offering the PSP Value Pack at only $210, rather than the $250 that Shopping.com displayed. Most odd. Click on it and you find out why: it includes a less popular game (Gretzky NHL) and it's not being sold by Amazon itself, but by sellers that are part of Amazon Marketplace. No free lunch after all. 🙂
Yahoo! Shopping does lead you to
Mobile PC
's $199 refurbished Playstation Portable, however, so if you're okay with one that had a problem and has been fixed by the manufacturer, you can save a cool $50-$60 on the purchase. Not bad for under $200.
Finally, I always just Google what I want to buy and see what advertisements show up. Try searching for
buy sony psp value pack
and you'll get various Web sites in the so-called "organic results area", but instead look at the advertisements on the page.
Buy.com
shows up with an ad promising $237.99 for a new Value Pack, the best price yet, and on the right side, I see a pile of interesting ads too:

Note the very bottom link,
More Sponsored Links
. Click on that (or just click
here
if you'd like) and you'll see all the advertisers who want to match our specific search – all of whom would be worth checking out if you want to do a comprehensive search.
Finally, after all this research, it does indeed appear that
Buy.com has the best price
after all, with its $13 discount making the PSP Value Pack, new, only
$237.49
.
And, speaking personally, I think that the Sony PSP is an amazing game system and device. I watch movies on it, listen to music, show photos to my friends and play various games. It's a superb device for on an airplane, that's for sure. Highly recommended! 🙂
Hope that helps you see how to do the legwork to get the best possible price on a device on the Internet. Sometimes it's hit or miss, but these basic steps should almost always lead you to the best
trustworthy
price. Remember, if someone's selling the device for an unbelievably low price, it's probably a rip-off, trick, or con. 'Taint no such thing as a free lunch, after all.
And happy shopping!