I have a Starbucks card with auto-load enabled so I never run out of money when buying my coffee. I love Starbucks. But I'm always a bit worried about losing my card or account access. Is there a way to enable 2-step or two factor authentication on my Starbucks account?
Imagine you're sitting outside at your local Starbucks, logged in, when you realize you need to update your credit card to ensure that autoload keeps working. Without thinking you log in through your PC on the Starbucks network, just to get an email a few hours later notifying you that your password has changed. Whaaa? You didn't change it. But someone grabbed it off the wifi at the café and now has control of your account. With that control, they can switch autopay to their Starbucks card and use it all they want. Quite a hassle to fix, and unfortunately even with relatively minor accounts like Starbucks, security is important.
Fortunately Starbucks recently added support for, you guessed it, two factor authentication (or 2FA as they say in the security biz). With this enabled, someone would need both knowledge of your account and password and simultaneous access to your phone, because the login process includes two factors: what you know (account and password info) and what you have access to (your phone's text messages). Much more secure. So let's turn it on before that nefarious hacker hijacks your Starbucks account! 🙂
To start jump jump over to starbucks.com on your Web browser (it's easier to set up from your PC browser than your phone). Once you're logged in, look for the main menu on the top right, which you can reveal by clicking on "Account":
Lots to explore, but for now, click on "Settings" then look for this in the main Settings area:
There's what we want. 2-Factor Authentication. To enable it, click on "Turn on".
Now you'll need to enter a phone number where you can get phone calls, voice mail or text messages. I use my smartphone and use the default setting of "simple messaging service" (SMS) text messages. Enter your number, then click "Send code".
On the computer you'll then be prompted to enter that code:
and meanwhile, in iMessages on your iPhone or Messages on your Android phone, you'll receive a text message very similar to this:
Every single time you are prompted to enter a security code, it'll be different, so there's no risk to my account by sharing this code above. Plus Starbucks sends me a 666 code? Suspicious. Nonetheless, five digits is easy to remember, so enter it on the Web browser screen, click the big green "Verify" and you should be all set up and more secure! Now the Security will show "Edit" rather than "Turn on" (which is a bit subtle):
Different sites use a different number of digits for their two-factor authentication so before you worry that five digits is too low, remember, that means that there are 10**5 or 100,000 possible codes. Guessing 1 out of 100,000? Not such good odds for the hacker, I'd say.
LOGGING IN TO STARBUCKS WITH 2-FACTOR AUTHENTICATION
Now that you have it set up, log out of your account and log in again. You'll see the usual account and password prompt:
But now once you're past this point, you'll be prompted for that second factor authentication key: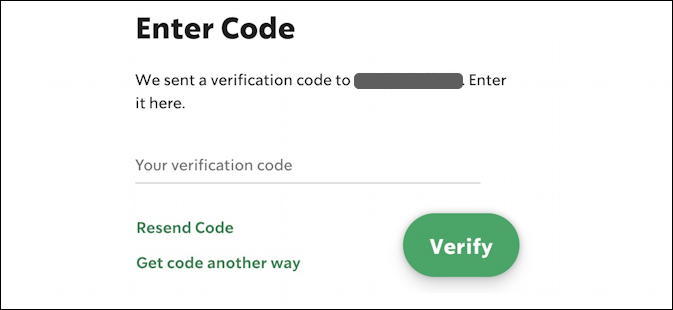 That'll show up on your phone in just a few seconds. Enter it too and you're in, good to go, and ready to update your account safely and securely. Now, let's go grab a drink!
Pro Tip: I've been writing about security and online safety for many years. Please check out my account security help area for lots more tutorials, including guides on how to add 2-factor authentication to dozens of different accounts online. Thanks!