Searched for a few things on your site and I hit pay dirt! Thank you. I'm am nonetheless uncertain on how to pick a MP3 player. I don't know what factors to take into consideration in order to guide my choice. What do you suggest? I'll use it mostly to listen to music on the train as I commute to work. I'm no tech wiz and one of the first things I'll need to master is how to download, so a complicated gizmo won't work out for me. So what should I consider : memory (how much is good?), size, weight, crash proof, compatibility with other technology that might be coming up, keys? As you can read, I have no clue!
There are two critical questions that I think you need to ask before we can proceed: Mac or PC and ripping your existing music or buying music online?
Given the predilection of mp3 companies to support Windows computers and ignore the Mac community, if you're running an Apple Macintosh, there really aren't many viable choices out there other than the ubiquitous Apple iPod in my opinion.
On the PC side, however, there are hundreds of choices, from the slick offerings from Creative Labs to the SanDisk and Coby devices to the "we try harder #2" Microsoft Zune player. Heck, there are even also-rans from major companies like Sony's mp3 Walkman and oddball devices like the Pirates of the Caribbean, Barbie and Playskool Mp3 music players!
The real question is more about where you're going to get your music, frankly. If you're going to use a subscription service then most of them have specific players that they require you use, or work with Microsoft's PlaysForSure digital rights management system. For example, Rhapsody recommends the Sansa Rhapsody, a Sansa player designed for the service. Of course, at $89 for a 2GB player, it's not a bad deal, but remember that you'll need to pay for the $14.99/month fee thereafter to access the Rhapsody music library.
If you already have a large music library and are going to rip it (that is, convert the music on the disk into a digital form you can put on your mp3 player) then you have two choices: Windows Media Player or Apple iTunes. Some players include their own music management software too, but generally I've found that Mp3 players all seem to work with WMP on the Windows side, while iTunes is designed specifically for Apple's iPod players.
Here's how Windows Media Player looks, in case you haven't seen it: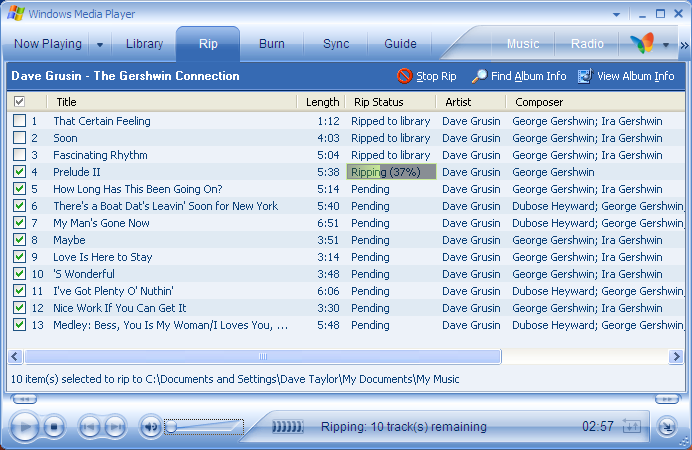 Now, which is the most durable? Toughest? Most flexible? I think you'll find that if you ask three people you'll get four answers. My experience is that each and every device has its limitations. For example, the iPod will undoubtedly drive you crazy if you want to try and synchronize it with more than one computer, while buying a less popular third-party device like a Creative Labs Zen player will mean you don't gain access to the tons of cool third-party accessories that make the iPod experience so much fun, with its hundreds of cases and external speakers.
Size-wise, you should figure that each song you add will be about roughly 5MB/song or 50MB/CD. Using that basic math you can calculate that the 2GB Sansa mentioned earlier should hold about 400 songs or 30-45 CDs. Sounds like a lot, but if you only ever load one set and play them for months on end, you'll likely get bored, so you can see where 10GB, 20GB or even 80GB players seem terrific! (more about disk size can be found here:
how many songs fit on an sdcard or flash memory card?
)
I have about twenty mp3 players in my library, as far as I can tell, and they all end up sitting on the shelf except for two iPods, an older nano that I use for audio books exclusively (my little workout iPod) and a big 80GB iPod Video that lets me carry my entire music library with me when I travel.
Finally, If you are going to use iTunes, start with my tutorial on
How to have iTunes rip music CDs into MP3 format
. If you're going to use Windows Media Player, I have a tutorial for you too:
How to convert WMA music from Windows Media Player into Mp3s
. In fact, I have lots of help for different Mp3 players here, all accessible at:
Mp3 Player Help
.
Oh, one more point: just about all Mp3 players have the same audio playback quality from my experience: the best additional investment you can make is to buy better headphones, and there are many, many on the market. If you travel or listen in noisy environments, I
highly recommend
noise-reducing headphones! My favorites are the
Sennheiser PXC-300
headphones, but there are plenty of other great solutions out there too.
Good luck with your purchase!