Hi Dave. I want to buy a new ipod or mp3 player. which one you suggest? And which company you suggest?
I have to answer that by saying that I've had a lot of different music players in my time, from a Microsoft Zune to a Sony Walkman, and the most critical issue is how you manage your music library, not the player itself. Sure it's nice to have good ergonomic design and if it has a little screen that lets you view photos or even watch a tiny postage-stamp size movie that's fun, but if you can't easily manage your audio content, you're just going to be grumbling and complaining for a long time.
While it has its detractors, I have to say that my experience is that iTunes works great for me in this regard, and I use my iTunes music library to sync and manage content on about a half-dozen different devices, ranging from the iPod Touch in my gym bag to the iPhone 4 in my pocket, to the iPad 2 that travels with me as a great portable entertainment device.
That was the key shortcoming with the Microsoft Zune too, in my opinion. For all the company's effort to make Windows Media Player useful, the design always suffered from being really confusing, a messy hybrid of player with UI skins and content library management system. I'm not alone either: Late in 2011 Microsoft finally threw in the proverbial towel and withdrew the Zune product line from the marketplace.
Then again, if you want an iPod but don't like iTunes, there are some good third party music library management apps available that do work more or less properly with iPods, so you do have lots of options, even if the player itself is never going to look particularly sexy or slick on your desktop.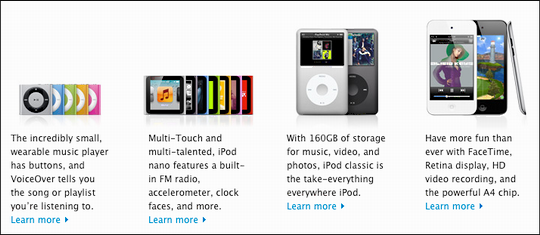 Apple's iPod Lineup, late 2011
In terms of the
iPod line
, it appears that it's breaking down into the tiny iPod Nano, the iPod Touch as a sort of everything-but-cell-service large screen device and the iPod Classic with its expanded storage capability. Or is it? Rumor also suggests that the Classic hasn't been selling very well and might become obsolete too, in which case we'll have two choices. There's also the screenless iPod shuffle, but those too will shortly vanish and I have to admit that while I own one, I haven't touched it in years. The screen's just that important.
If I were buying a new iPod, I'd look seriously at the iPod Nano. I think it's the best mix of capabilities, size, and great design. Heck, you can buy a watchband for it and use it as a rather clunky, but remarkably powerful, wrist watch! I'm also partial to the 5th gen iPod Nano, the previous generation device with it's FM receiver and video recording capabilities. You can often find them at terrific prices through the Apple refurb store, among other places.
The key to happiness with any mp3 player, however, is spending the time to organize and properly tag all of your music. Trust me on that, it's well worth the effort.
Good luck with your purchase!