I have the razr phone from verizon. On the bottom tool bar there is an icon of a man as if he is speaking I am thinking this means voice command. How do I get this icon off my bottom toolbar. I got it on accidentally when I was fooling with the phone. Thanks so much!
Y'know, I see some mystery icons when I use my Motorola RAZR V3c too, now that you mention it, and I too have been curious about what they all mean. Unfortunately, Verizon changed the OS of the phone, which means that it also changed the icons in use, so the user's guide on the Motorola web site is useless in this instance (weirdly enough).
Nonetheless, with some earnest digging I did find some information on the Motorola site that offers some up some clues about the different icons that can be displayed on the phone, though I apologize that their graphics aren't quite as crisp as I'd like: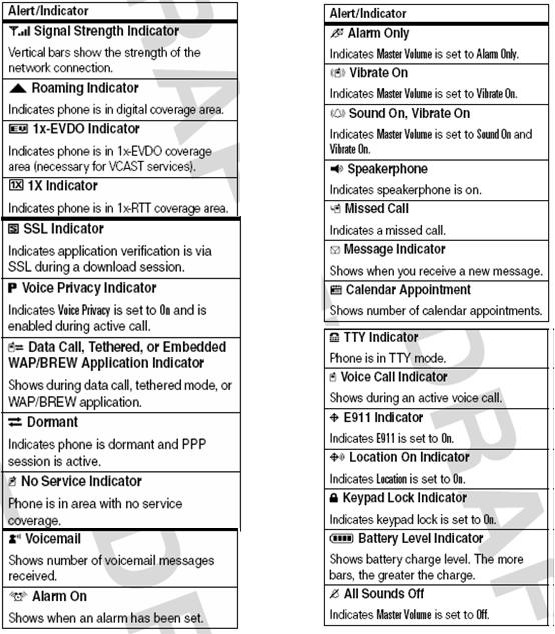 The icon that I believe you're talking about is actually the one that indicates you have new voicemail, and is in fact nothing to do with the speakerphone or voice command subsystem!
In terms of the original Motorola icon set, here's the information on the standard RAZR icons from the user's guide: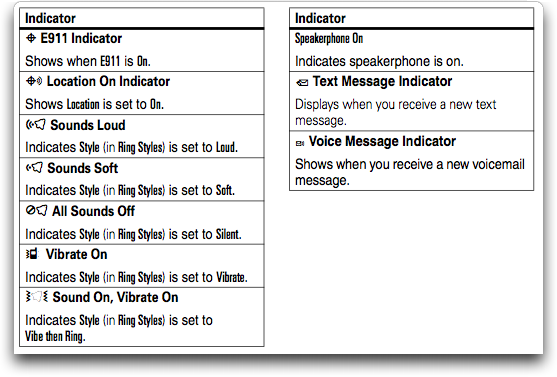 As you can see, different icons, different meaning.
Anyway, hope that helps clear up the mystery of the unknown icon on your RAZR!