For the new year, I'm switching to the Brave Web Browser to regain some of my online privacy. Wondering if you can explain all the different buttons and features on the address bar in Brave so I can know what's going on? Thanks, Dave!
I'm always in favor of people spending more attention to their online privacy, so this is a great question. Brave is a relatively new Web browser on the scene, built with a focus on tracking, ad blocking and other aspects of privacy. There are more aggressively private browsers – I'm a fan of The Onion Router (Tor) browser, for example – but Brave seems to be a good balance between the relatively loose privacy of Chrome, Edge and Safari and the occasional obstacle race of using Tor for daily Web surfing.
Switching to any new browser has a bit of a learning curve, however, even though they all do the same basic function: Show you Web pages. Brave is no different in this regard, particularly since it has some rather unique features including a rather confusing "rewards" program. But we'll get to that once we reach that button on the address bar.
BRAVE WEB BROWSER TOOLBAR GUIDED TOUR
To demonstrate, I'll use the National Weather Service web site, one I visit every day and one that you would hope has very few privacy issues as it doesn't include any advertising and is run by a US Gov't agency! The base URL is forecast.weather.gov, as shown: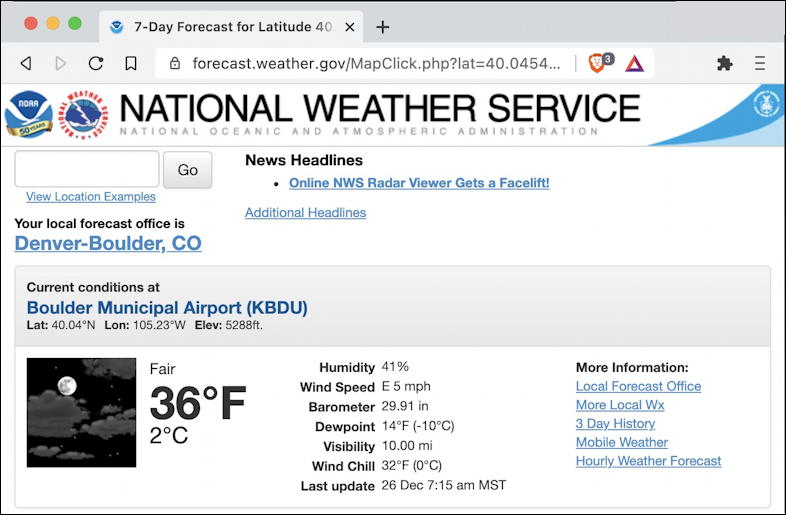 While it shows city and location names, it actually tracks based on your latitude/longitude on Earth, as you can see in the address box.
Let's look a bit more closely at that address / toolbar:

I'm on a Mac, so the red, yellow and green buttons allow you to manage the specific window (close, minimize and maximize), then the 'x' after the site name lets you close the tab and the "+" lets you open a new tab. Those are basic, so you already know those!
On the address bar / toolbar in Brave, there's a back arrow, a (grayed out) forward arrow, a reload button then all the mystery buttons. Left to right they are bookmark, site security (the padlock), the URL, the Brave Shield showing cookies and other privacy factors (it has a tiny '3' on it), Brave Rewards status, and further to the right, extensions manager and the main menu triple-line button.
Click on the pennant outline and you can add the current site to your favorites / bookmarks list: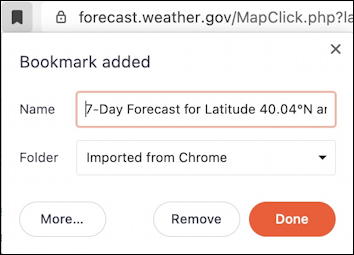 Worth noting is that you can – and should – rename the bookmark as desired. You can also save it on the main bookmarks list that can show up just under the address bar (choose Always Show Bookmarks from the View menu) or in a folder you've created to keep your favorites neat and organized. Easy.
What about that tiny padlock? Nowadays in late 2020 every site should be secure and have this padlock. It denotes that the site is using SSL to keep your data more private on its way to and from the Web site server. It's why the URL has an "https://" prefix instead of the old school "http://" prefix.
A click on it and you'll see what's up with this site's connection: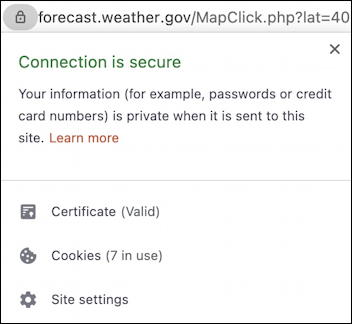 It's really important to highlight that even with a perfect secure connection between your computer and the server, there's no guarantee that the site has good security measures with its stored data and transaction records, so don't be lulled into buying something on a suspicious site because it does have a security certificate.
In this case, it shows that there is a valid security certificate and that the site is using 7 cookies. Not too bad; some sites can use 30 or more cookies to keep state and track you! Click on "Certificate" and you can check to see that it's associated with the site and company you expect: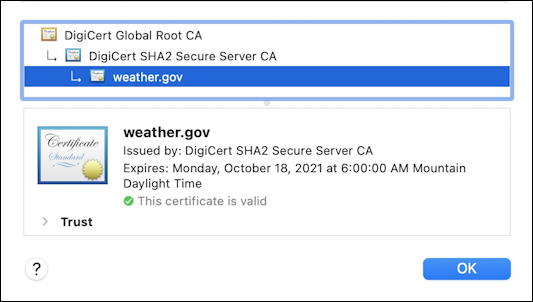 Since you're working on your privacy and security, these certificates are good to check. If you're on a site and the certificate is for a company or organization you don't expect, that's a warning flag and worth exploring. A hacker might be able to create a site that masquerades as your bank, but they can't get a security certificate for the bank's name.
Click on "OK" then click on the link "Cookies (7 in use)"…
Click on the tiny triangles to dig around in the cookies. You can see above that there are some cookies associated with parent domain weather.gov, and a cookie called CFIWebMonSession tied more specifically to forecast.weather.gov. Lower on the window it shows the content of the cookie; nothing to worry about! If you do like digging around in this sort of thing, look for passwords, account names, email addresses, etc. Those can be potentially problematic from a privacy perspective.
Notice that you can select any cookie and click on the Block button on the lower left to reject its future use when you visit the site, or Remove to clear it and see what happens on your next page load. Done? Click Done.
Now click on Site Settings, still on the padlock window. It opens a new tab and offers up the ability for you to see and manage every single thing it's allowed to access:
The list of elements you can grant or block for a given site is quite remarkable. Literally dozens of possibilities. Probably not critical to analyze, but you might ask "why would a weather site need access to my motion sensors?" or similar, based on individual sites…
Close this new tab so you're back on the original site, then click on that Brave Shield. I know you've wanted to do just that! Here's what forecast.weather.gov shows: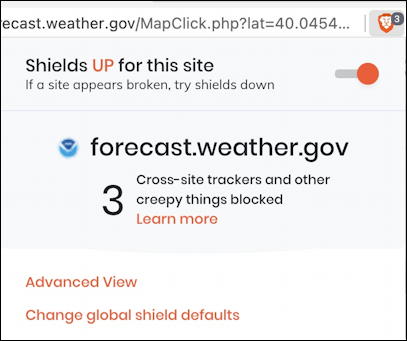 Generally speaking, if you're using Brave, you should have "shields up" and have it protecting you on 100% of the sites you visit. You can turn it off for a specific site if things aren't working, but then that rather defeats the whole reason you're migrating to Brave in the first place!
Here you can see a quick summary; three cross-site trackers and "other creepy things" (though that's not always an accurate assessment). Click on either Learn More or Advanced View as they both take you to the same next window:
It's a nice summary, albeit a bit redundant with the information we identified from the padlock link. That's okay, it lets you quickly see if there's anything really suspicious from the page you're viewing.
One more window: Click Go back and then click on the Brave Rewards triangle:
Honestly, I find the Brave Attention Tokens (BAT) and entire concept of Brave Rewards convoluted, at best, but if you want to learn more, check out About Brave Rewards on their site. This window is how you see your status on any given month…
Anyway, that's basically all you need to know about the buttons and icons on the Brave address bar / toolbar. The jigsaw puzzle piece lets you see what extensions you've enabled, and the triple bar button offers quick access to the main settings and preferences menu. Now ya know, have fun with Brave!
Pro Tip: I've been writing about Web  browsers and other basic tech topics for quite a while. Please check out my extensive computer and Internet basics help area for lots more useful tutorials. Thanks!