I'm a bit confused about my new Linux computer showing time in 24-hour format. I don't think in "1700 hours" notation, however, I think in "am/pm" notation. How can I switch how my Ubuntu Linux system shows the current time?
While tracking time on a 12-hour clock that switches back to the beginning at the moment of the princeps meridiem has been around for thousands of years, lots of people have found it more efficient – and more accurate – to denote time based on a 24-hour clock. We wouldn't meet at 7pm for dinner, we'd meet at 19oo hours instead. Most military organizations use this notation, with some additional flair like "zero-dark thirty" to denote, well, what time does that denote? Actually, the 24-hour clock starts with hour zero, so that would be 0:30, or 30 minutes after midnight.
Like all modern operating systems, Linux can work either with a 12-hour am/pm time display or a 24-hour time display. The trick is to know where to adjust it to your preference, and that's what I'll cover in this tutorial.
Before we get there, however, do you know what am and pm stand for? It's Latin: ante meridiem (literally, "before the point that the sun is directly overhead") and post meridiem (literally, "after the point that the sun is directly overhead"). Earlier I referenced princeps meridiem, which you can now puzzle out to be "the point when the sun is directly overhead", or high noon. The Am/Pm notion wasn't widely adopted until the 1600s. Prior to that they really didn't much know what time it was, they just watched the sun and tried to figure out if it was closer to morning or evening.
Okay, back to our task!
TIME DISPLAY FORMAT IN LINUX
The easiest way to see what time display format is being used on your Ubuntu Linux system is to glance at the very top bar. If you're in 24-hour notation, you'll see something like this of an afternoon:
13:58 is also known as 1:58 pm, of course. But how to fix it? Well, you can try clicking on the time itself, but that shows notifications and a calendar:
Helpful except there's no settings shortcut to get to the right spot to fix the time display format. Instead, go to Settings from the All Apps view on your Linux system.
UBUNTU LINUX: SETTINGS: DATE & TIME
Go down the left side until you find "Date & Time" and click on it. Here's what you'll see: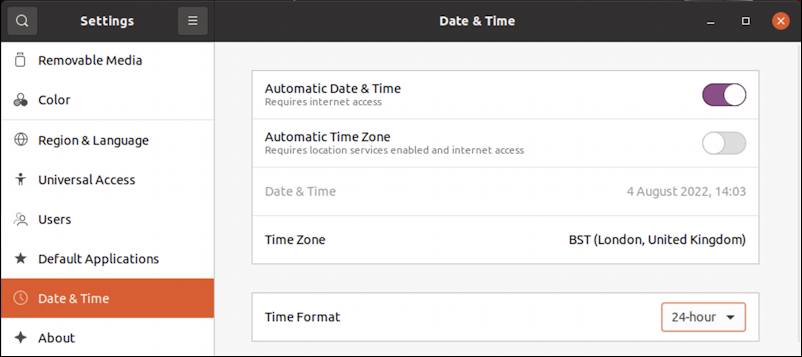 In this instance, you can see that the system is using the network for date & time, but not for the current timezone, which is why I'm in Kansas City, Missouri – which is the same timezone as Chicago, Illinois – but my computer thinks I'm still on British Standard Time in London, England. That's pretty far off!
Before we fix the timezone, however, let's fix that time format. On the bottom, it denotes "24-hour". Click on that and you'll see the other format possibility:

Aha! Choose "AM/PM" and the time will be displayed in the format you desire.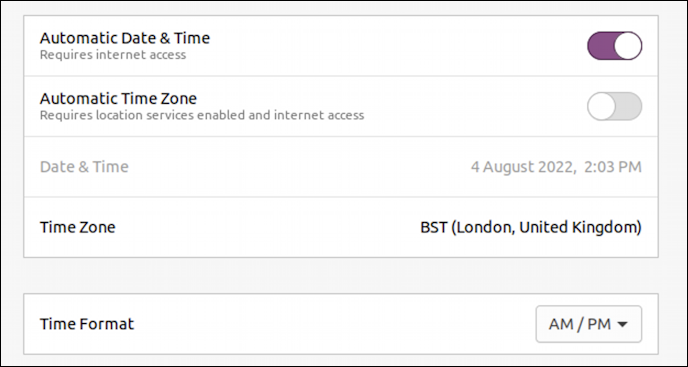 Notice on the third line, greyed out, it now shows 2:03 PM as desired.
CHOOSE YOUR CORRECT TIMEZONE IN LINUX
But what about the timezone problem? One solution is to enable "Automatic Time Zone" and give your computer a minute or so to figure it out, but it's more fun to click on the current Time Zone and choose another one from the resultant map: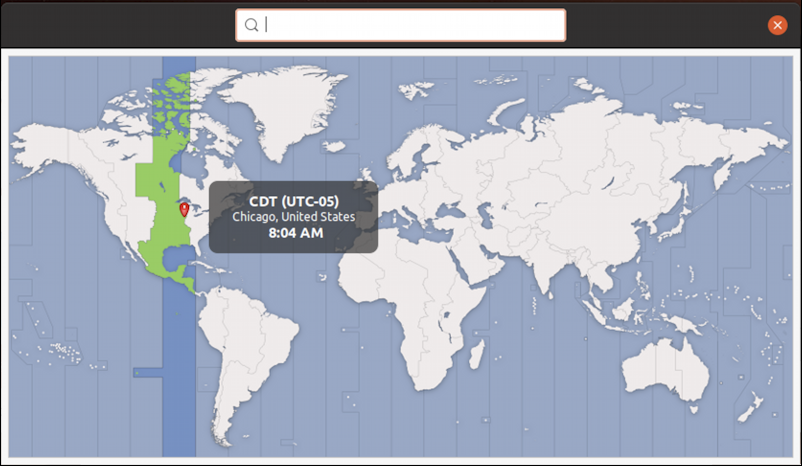 You can see I have clicked at the right spot and chosen Chicago, United States, where it's now 8:04 AM, not 2:04 PM. 🙂
Close the window and you're all set. In fact, why not enable Automatic Time Zone now that everything's as you desire?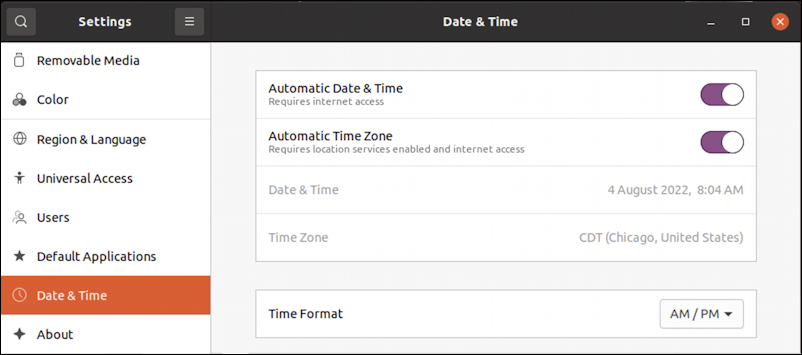 Mission accomplished. Now, did you want to learn more about why we have 24 hours in a day, not 15 or 47? 😁
Pro Tip: I've been writing about Linux since the dawn of the operating system, and Unix before that. Please check out my extensive Linux help area for lots of additional tutorial content while you're visiting. Thanks!